Hurricane season in swing after slow start | Insurance Business America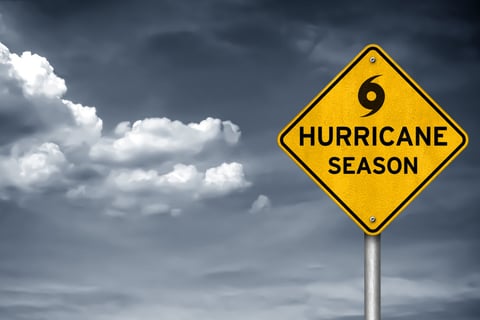 Storm activity in the Atlantic basin has started to heat up this month after a quiet start to what NOAA has predicted will be an "above average" season for hurricanes.
There were no extratropical cyclones formed in the Atlantic throughout August for the first time since 1997 and only the third time since 1950, the National Hurricane Center (NHC) has said. However, September has seen a burst of activity that will see insurers – and those on the ground – remain cautious.
Read more: Triple-I issues warning over upcoming hurricane season
Danielle became the Atlantic basin's first named hurricane of 2022 on September 2 and was swiftly followed by Earl on September 6. Neither made landfall, though Hurricane Kay brought record rain and strong winds to southern California after hitting Mexico's Baja Peninsula, reportedly killing four, from the Pacific.
Two named storms have this week formed in the Atlantic, and experts are closely watching a tropical wave, known as Invest 98L, a couple of hundred miles east of the southern Windward Islands.
Hurricane Fiona, which the National Hurricane Centre (NHC) said on Wednesday had strengthened into a category four storm, is predicted to track over parts of Atlantic Canada over the weekend, with the Canadian government warning of "multi-provincial" impacts.
The storm could be "shaping up to be a potentially severe event" for Canada, the government warned on Wednesday morning.
It is first expected to track in the direction of Bermuda late on Thursday, with the NHC having warned that the storm will bring storm surge and large and destructive waves across the coast, and two to four inches of rainfall.
Fiona has already brought destructive winds and rains to Puerto Rico, Turks and Caicos, and the Dominican Republic, with flash flooding posing a risk to life.
US President Joe Biden approved an emergency declaration for Puerto Rico on Sunday, with the Federal Emergency Management Agency (FEMA) having confirmed on Tuesday that it was rushing hundreds of additional personnel to the territory to assist with disaster relief. The death toll in Puerto Rico could be as high as eight, Reuters has reported.
Eyes remain trained on Invest 98L, which had a 90% chance of formation over five days and 70% chance of formation over 48 hours as of Wednesday afternoon, according to the NHC, and would be known as Hermine. The wave is expected to move towards the Central Caribbean Sea later this week, according to the NHC, and meteorologists are waiting to see whether the storm enters the Gulf of Mexico.
AccuWeather meteorologists warned that US interests "from Miami to New Orleans" should be closely watching the weather system over the coming days.
Should Invest 98L intensify and hit the US, it would be the second Hermine to do so in the past decade; its namesake made landfall in 2016 as a category one storm and was the first hurricane to hit Florida since 2005's Wilma.
Model runs indicate that the state could sustain a direct hit from a could-be Hermine, an Insurance Information Institute representative has cautioned.
US state Florida is already struggling with a homeowners' insurance crisis, with several major carriers having exited the market and five domestic insurers having failed in recent months, and market sources have warned that a major hurricane hit to Florida this year could be catastrophic from an industry perspective.
Storm Gaston became the seventh named Atlantic storm of the season on Tuesday, though it is expected to remain over the sea.
Read more: What are the costliest natural catastrophes in the US?
North America may have escaped a major storm impact so far this year, but in September alone three typhoons – Hinnamnor, Muifa, and Namnadol – have slammed into Asia, causing damage and loss of life.
Super typhoon Hinnamnor, the first storm to reach category five status in 2022 at the end of August, made landfall in South Korea in September as a category two storm. The death toll was at least 10, including seven people who died when they were trapped in an underground car park, according to BBC reporting.
Japanese officials had urged the evacuation of up to nine million people, the news publication said.
Typhoon Muifa, which made landfall in Eastern China last Wednesday, was widely reported as the strongest tropical cyclone to ever hit the populous city of Shanghai and saw 1.6 million forced to evacuate their homes.
Super typhoon Nanmadol reportedly left at least four dead and 114 injured in Japan. The typhoon first hit Kyushu on Sunday night before tracking through Honshu, leading to record rainfall and mudslide warnings.
Nanmadol is likely to cause insured losses "totalling several billion USD", insurance specialist investment manager Twelve Capital said in a note earlier this week.
Last September saw 10 named Atlantic storms, of which five were hurricanes and of these two were major hurricanes, according to NOAA. The East Pacific saw just one named storm, hurricane Olaf, while the West Pacific experienced five named storms, including category five super typhoons Chantu and Mindulle.