Three insurance coverages that will make a difference in a total loss wildfire | Insurance Business America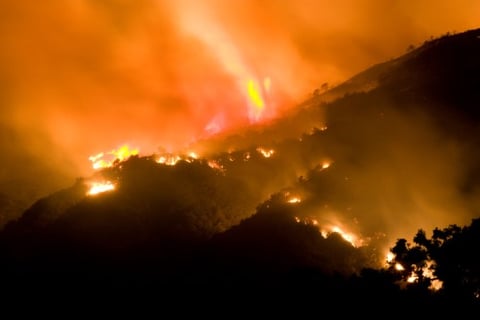 Meteorologists at AccuWeather have forecast an ominous outlook for the 2021 wildfire season. Dangerously dry conditions in recent months, with more than 75% of the western United States experiencing drought, have set the stage for potentially significant wildfire activity, offering no reprieve from 2020's record-smashing wildfire season.
AccuWeather senior meteorologist Dave Samuhel has predicted that 9.5 million acres of land could burn across the western US in 2021, which would be 130% of the five-year average and 140% of the 10-year average. In 2020, fires devoured upwards of 4.3 million acres in California alone, which is more than double the state's previous record, and Colorado also witnessed four of its largest fires in state history.
In the past three years 40,000 structures have been destroyed, 100 people have been killed, and $40 billion in insured losses have been incurred due to wildfire, according to the National Fire Protection Association (NFPA). Each year, the US spends at least $2 billion supporting fire suppression, and yet structure loss due to wildfire has increased more than 160%.
Read next: Insurance for properties in high-risk wildfires zones has 'dried up'
While there are many things that homeowners and business owners can do to mitigate the impact of fire on their properties – such as creating defensible space and clearing or reducing fuels located immediately around the structures of a property, or using fire resistant building materials - it's also important for property owners to prepare for the worst-case scenario of a total loss.
"Preparing your finances is very important, because if you do end up having a loss, you want to be able to rebuild," said Janet Ruiz, director - strategic communication at the Insurance Information Institute (Triple-I). She suggested three insurance coverages that insureds should ask their agents or insurers about during their annual renewal because they "will really make a difference if you have a total loss in a wildfire."
Extended replacement cost coverage
After a major catastrophe like a wildfire, a phenomenon known as "demand surge" often increases the costs of construction because the price of building materials and construction workers go up due to the widespread demand. This sudden uptick in costs could push rebuilding fees above the insured limits in a homeowners' policy, leaving the insured unable to cover the costs of a total rebuild.
With an extended replacement cost policy, insureds can get an extra 20% of coverage above their homeowners' policy limits (possibly more, depending on the insurance company). This is somewhat similar to a guaranteed replacement cost policy, which will pay whatever it costs to rebuild a home as it was before the disaster.
Building code upgrade coverage (Ordinance or Law)
"This is one that a lot of people don't think about or plan for," said Ruiz. Most homeowners' insurance policies will not cover extra expense related to rebuilding properties to new building codes and standards. Triple-I encourages property owners to consider adding an endorsement to their policy called an Ordinance or Law, which pays a specified amount toward bringing a house up to code during a covered repair.
IBA Talk: Wildfire risk - key trends and the future outlook
This isn't just for homes in wildfire-exposed areas. Ruiz commented: "It could be [important] if you're in a floodplain as well, which happens to be where I am based. My home was built in 1979 right on [ground level]. I have a very small foundation underneath that, so if my home burned down today, when I go to rebuild it, I'd have to raise it six-feet off the ground, which is going to cost more money. Building code upgrade coverage will pay for those necessary upgrades – and these extra coverages don't cost that much; they don't add that much to your premium."
Small business insurance
With many people working from home and running their businesses from home as a result of the COVID-19 pandemic, Ruiz said now's the time to consider whether to purchase a small business insurance policy or coverage endorsement on a homeowners' policy.
"These things are easy to add on to a homeowners' policy, but you've got to do it ahead of time," Ruiz stressed. "Don't wait until there's a fire in your area to think about these things. Do your annual check-up, and make sure you've got the right amount of insurance [to deal with] a total loss."