"Fewer and fewer insurance companies having the stomach for the experience" | Insurance Business America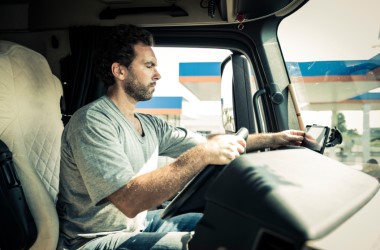 Technology giveth and it taketh away.
Insurers of long haul trucking fleets know this to be true, as on-board additions to commercial trucks make them safer but also costlier to insure, and distracted driving continues to be a major risk for truck operators while on the road.
"Advances in vehicle technology have made the operation of vehicles, including trucks, safer over time and you would expect that in terms of modernization of the industry," explained Paul Brocklebank, president and CEO of Canal Insurance Company. Yet this in turn has made today's trucks more expensive than they were even five years ago.
Meanwhile, people driving their own vehicles can't seem to put their phones down, despite major public education campaigns. The National Highway Traffic Safety Administration estimates that during the day, about 660,000 drivers are using their cell phones. The potential for collisions with other vehicles rises with the use of this technology.
"Distracted driving or cell phone usage has had the opposite effect and it's actually driven up insurance loss costs - you can see that in terms of the overall industry results," said Brocklebank.
Underwriting this class of business then becomes a fairly complicated proposition, and a costly one at that.
"There are lots of variables to be considered and because of financial responsibility laws, it also requires us to place minimum bets of $1 million when we offer limits, and so, unlike some other forms of commercial auto where lower limits are offered, we have no choice but to offer at least a $1 million limit when we quote a risk," said the CEO.
Telematics is one way the insurer is using technology to its benefit. In fact, Canal has a risk management team called CanalRisk360 that helps insureds investigate and use connected devices.
Canal knows what it takes to adapt to change. The company was founded almost 80 years ago when there was a shortage of insurance providers for long haul trucking after the Second World War with the expansion of the national interstate system. The competition in the marketplace means the need for commercial truck insurance has ebbed and flowed, said Brocklebank, though right now is a time of demand.
"In some respects, we're right back where we started in terms of there being a need in the market with loss costs escalating, and fewer and fewer insurance companies having the stomach for the experience," he said.
Related stories: