Booming US construction firms face new workers' comp risks | Insurance Business America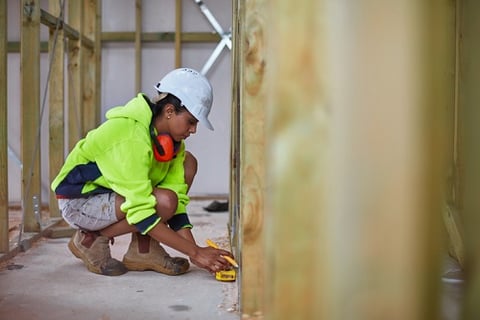 Construction workers are the foundation of the US economy. They're the worker bees building the hive that is America, and, as such, it's essential they're protected with workers' compensation coverage that's suited to their unique skills and high-hazard risk exposures.
The construction industry has historically been quite a specialized and complex risk class to underwrite, especially when it comes to workers' compensation. It requires expertise and experience - two things Cricket Thomas, senior vice president and senior underwriter at Blue River Underwriters, has in abundance.
Thomas heads up Blue River Underwriters' Contractors Elite and Contractors Workers' Compensation programs. The workers' compensation program provides monoline insurance solutions for nearly 80 construction infrastructure, artisan contractor and related commercial services classes. It has very recently expanded nationwide, a move precipitated by "a big boom" in the US construction industry stemming from strong economic growth in the past few years, Thomas explained.
"A lot of construction firms are growing. They're increasing their payrolls, and they're increasing their revenues and their sales base," said Thomas. "As construction firms grow, they're looking for long-term insurance partners who will support them throughout their growth. Insureds are definitely becoming savvier when it comes to insurance and risk management. As well as looking for competitive pricing, insureds are also starting to consider value-added services and the benefits of long-term partnerships as they look to grow their businesses."
Periods of substantial growth always come with significant challenges. From a workers' compensation perspective, if construction firms are adding to their payrolls, they need to ensure they're hiring the right people with adequate experience and training in the trade they're being hired to perform. The hiring process becomes more important than ever, according to Thomas.
Typical workers' compensation claims from construction clients tend to include slips, trips and falls, lacerations from power tools, falls from heights, and cumulative trauma among those carrying out consistent repetitive motions. Adequate employee education, experience and training can help to reduce the frequency of some of these more common claims.
"Insurers and brokers need to educate insureds about how their workers' compensation risks evolve and what they need to focus on as their businesses grow," Thomas told Insurance Business. "They need to ensure they have the proper loss control and safety control procedures in place, and that they're looking at all aspects of risk, especially if they're taking on new and additional types of business."
Under the Contractors Workers' Compensation program, insureds have access to carrier loss control resources and an in-house claims department familiar with contractors. They also gain entry to an online portal, where they can educate themselves about best-practice safety protocols and can consult with loss control experts.
Of course, construction firms can also turn to technology for some, but not all, of their risk mitigation needs. At a basic level, firms can utilize portals and webex seminars, like those offered by Blue River Underwriters, to train employees about how to stay safe in the workplace. At an operational level, machinery can be used to take laborers out of high-hazard scenarios and to improve general efficiency on the construction site.
"I think the new technology out there is making for much more savvy insureds," Thomas commented. "They're much more knowledgeable because they have easy access to so much data and information. Really good construction companies are going to take advantage of everything that's available to them so they can generate decent revenue while also making sure they're providing the best and safest workplace environment they can for their employees."