A surprising reaction to an SME cyber comparative rating tool | Insurance Business America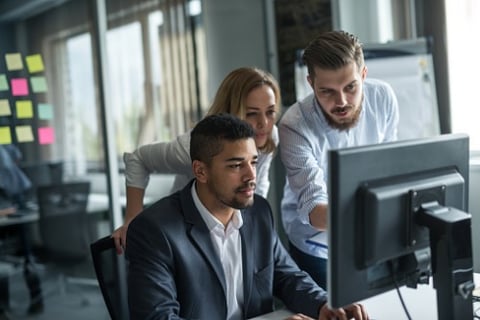 It's a very familiar situation. You're an insurance agent and you've decided it's time to start offering cyber insurance to your commercial clients, most of whom are small- to medium-sized businesses. You sit at your computer, armed with a large coffee, and you start the arduous and complex task of putting together policy comparisons. Three hours, 10 Google Chrome windows, and multiple coffees later, and the comparison you'd like to present to your clients is still missing pieces … oh, and it's extremely complex. One thought rolls through your brain: "This is not worth it!"
In fact, some insurance agents are throwing the towel in through that process. Their argument is that the profit margin for selling cyber insurance to small businesses with a 10% commission is too insignificant to warrant hours and hours of caffeine-induced headaches scrolling through multiple cyber forms with differing terminology.
Read next: Inside the deal to create a new cyber insurance powerhouse
"It can be a lot of work for a small premium, and because cyber risk can be highly technical, it's sometimes easier for people to shy away from it," explained Brian Thornton, president of ProWriters, a managing general underwriter specializing in professional and management liability insurance for select industries, including financial and healthcare organizations. "It's often an uphill sale to small businesses, but in the past five years, the percentage of small businesses buying cyber insurance has certainly gone up."
To assist agents and streamline the cyber liability insurance process, ProWriters has developed a Cyber IQ Comparative Rate Portal, which allows users to instantly compare multiple quotes from multiple carriers. What's interesting is the reaction this solution has triggered in the marketplace.
Thornton explained: "Our solution allows agents to complete one simple application for several carriers. They can compare rates from multiple carriers, and they can get multiple quotes with a detailed coverage comparison. It's dynamic, so if there are different sub-limits based on different risks, it pulls all of that data into one accessible place, so it saves the agent a lot of time and effort. What's interesting is that, now we've automated the comparison and agents are able to show clients multiple quotes quickly and efficiently, we've seen small businesses trend towards buying the broadest coverage, not the cheapest coverage.
"A lot of carriers didn't believe it at first. They all thought: 'You're going to aggregate and quote us all side-by-side, and just like shopping for flights on Expedia, you're going to sort by the cheapest option first.' But what we've seen when we provide clients with an instant comparison, and they're able to see how the terms and the coverages stack up against each other, spending $1,200 versus $2,000 for a million dollars in broad coverage doesn't seem to bother them. In the grand scheme of things, they want the broadest coverage, even if it's slightly more expensive."
Read more: The evolution of cyber risk modeling from "interesting to useful"
What Thornton and the ProWriters team have found is that once small businesses are convinced they have cyber exposure – a growing trend thanks to the significant uptick in ransomware and social engineering attacks – they're gravitating towards broad coverage options that cover all their bases.
"That's been really nice to see," Thornton told Insurance Business. "I'd much rather sell them the best coverage over the cheapest coverage. But a lot of carriers assumed it was going to go the other way, and that small businesses were always going to choose the cheapest price. Another factor behind that is that because it's automated, and everything is lined up next to each other in a neat comparison, this helps insureds to understand a) their exposures, and b) all the things the policies actually cover. I think it's important to make cyber insurance simple so that you don't overwhelm small businesses. If you boil it down to the key coverages in each policy and how they stack up against each other, that seems to help."