Run! The cyber storm is coming | Insurance Business America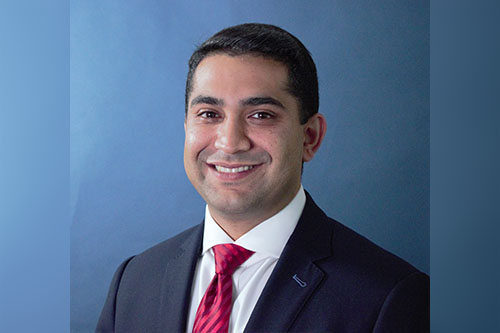 If there's someone who proves that a lack of experience should not hinder anyone from taking a career in insurance, it would be Shiraz Saeed.
Saeed did not know anything about insurance until he entered the industry at the age of 29. He was finishing his MBA degree at Pace University when he booked his first insurance job as an underwriting associate. Four years later, he started specializing in the cyber risk segment when he joined Starr Companies as a national practice leader.
"It was random how I landed in cyber risk, but even though I did not have the technical know-how at the time, it was the right place for me. I minored in computer science in undergraduate school at Hofstra University, where coincidentally I spent a lot of time in CV Starr Hall," he told Insurance Business.
Saeed added that while he did try taking coding classes, he quickly realized this line of work was not for him - luckily, however, he managed to understand the mechanics of computer science, which is useful in his current area of focus. He was also able to gain awareness of cyber risk when he was working in the luxury goods industry. During this stint, he realized how exposed credit-card users are to fraud.
"Cyber risk can affect you both personally and professionally. Everywhere you go, you see cyber incidents affecting consumers and businesses, whether the business is a household name or a local company. This risk cuts across many spectrums," he said.
Businesses brace for a "cyber storm"
Saeed believes businesses must make an effort to protect themselves from cyber threats. He estimates that around 50% of companies have already been cyber-hacked in one way or another.
One difficulty in eliminating threats in the cyberspace is the nature of the risks, which are essentially a moving target. While over 100 markets now sell cyber insurance, it is still crucial for groups to employ strategies to help themselves be less vulnerable to these attacks.
Saeed outlined five factors which can help businesses weather the cyber storm ahead — the first is risk selection.
"We need to stay ahead of the curve in understanding emerging exposure and risks. For example, digital assets are popular in the financial markets, but the insurance industry struggles to understand the business," he said.
Businesses also need to maintain a balanced portfolio of operational and privacy risks and manage their aggregation of risk.
"We can have multiple accounts that can be hit by one hack, and we can have multiple profit centers that can be hit by one client company," Saeed said. "We look at each risk as an individual risk. No two are alike."
Finally, consulting with outside experts for loss control purposes is also vital in ensuring that risks are kept at bay.
Insurance fosters protection
Speaking on the broader insurance industry, Saeed shares that everything seems to be fast-changing - while the goal of insurance remains the same, he believes the changes in the economy, the competition in the marketplace, and the exclusions in different insurance policies have transformed how insurance products are offered to consumers.
"We have to adapt our underwriting appetite to mirror these changes, or we risk missing opportunities in this new digital economy. Our creativity is necessary to understand a particular insured's risk – and sometimes it's an emerging risk that not everybody is comfortable underwriting," he said.
However, this does not change the necessity of insurance in the society.
"Insurance helps foster protection based on rules and the law. No insurance would equal no protection. Insurance on the surface may not seem glamorous and exciting, but it does say something to me: consistency. It will always be there," Saeed said.
Starr — a 100-year-old start-up?
Saeed picked up his knowledge of cyber insurance at Starr, where he leads the cyber and technology risk practice. In this role, he oversees the strategic development of the product, which includes underwriting, forms/wordings, marketing, distribution and vendor management.
Asked what makes Starr different from other companies, Saeed said its culture sets it apart. He said it is like working with a 100-year-old start-up.
"We have the goals and ambitions of a start-up with the tradition, experience and heritage of a 100-year-old company. That is reflected in the mix of generations we have working here. I like it that way," he said.
Saeed said Starr's approach to training its people under an apprenticeship format has been especially helpful.
"The balance between talent, potential and experience is what cultivates our organic growth," he said. "Where else would someone like me get the opportunity, with just six years of underwriting under my belt, to run an underwriting team in a relatively new line of business?"
But if there's someone he attributes his success to, it's his father. Saeed's father is an entrepreneur and has been operating his own business as a luxury goods dealer for over four decades.
"My whole life, I worked alongside my father. From him, I learned the value of hard work, loyalty, a positive attitude, adaptability and in general how to handle myself professionally. These traits have laid the foundation for me to get to where I am now and will hopefully allow me to progress further in the future," he said.
Future endeavours
For Saeed, there is always room for improvement. Much of his career has been spent as an individual contributor; now that he is managing a team of underwriters, he plans on working on his communication skills.
"How do you effectively motivate, communicate and strike the right balance between the company's expectations and personal priorities? I put in my time and had to make some personal sacrifices. I am proud of that. How can I motivate others in the next generation of underwriters to do the same?" he said.
He adds: "This is a great profession if you are outgoing, like business complexity, constant learning, and mastering an understanding of a space. As underwriters, we teach you how to make decisions. Nothing sharpens your attention like weighing whether to take on a $10 million risk on a company that clearly has the exposure."
Outside of insurance, Saeed is a family man.
"I spend as much time with them as possible," he said. "Also, I'm passionate about learning, history, culture, arts, going to museums with the kids."
Saeed is among those who cracked Insurance Business's Hot 100 list for 2019. These 100 insurance professionals have set the industry on fire with their innovative, entrepreneurial and pioneering spirits.