Why COVID-19 and climate change go hand in hand | Insurance Business America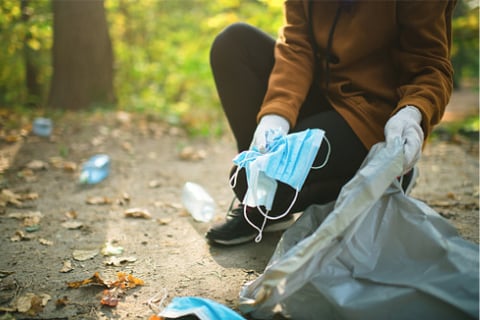 Few individuals like to be on the receiving end of an 'I told you so,' but if anyone has the right to say this phrase right now, it's the World Economic Forum (WEF), which, in January 2020, devoted an entire chapter in its annual risks report to the risk of health systems not being ready for a pandemic.
Unsurprisingly, in its Global Risks Report 2021, published in partnership with Marsh & McLennan Companies, SK Group and Zurich Insurance Group, the WEF put the COVID-19 pandemic at the top of its list of concerns, though it's far from the only major exposure that the insurance industry and businesses in general should be wary of moving forward.
Climate change-related issues are, for one, top of mind for global leaders, including those in the US, with President Joe Biden already making climate change one of his administration's key priorities. After a rocky wildfire season in the US that resulted in estimated insured losses totaling somewhere between $7 billion and $13 billion, according to RMS, and an Atlantic hurricane season that broke the record (previously held by 2005) for the most named storms, more attention on climate fallout couldn't come soon enough.
"We're seeing bigger interest now among world leaders to address the longer-term challenges and risks, especially with climate change," said Børge Brende, president of the WEF, during a recent Press conference on the new risks report. He pointed to Biden's plan to re-join the Paris Climate Agreement of 2016, which the President has since signed off on via an executive order.
Looking at the broader global landscape, "We are seeing also that stimulus … is now used to accelerate the green economy and the transformation into low carbon society, but of course, there are dilemmas there, too," noted Brende. "There are still 1.3 billion people not having access to basic electricity in the world, so how [can we] make sure that there is access to electricity and at the same time, get the CO2 emissions down?"
Nonetheless, the silver lining of the pandemic has been that when it comes to climate issues and longer-term risks, COVID-19 has served as a "wake-up call," added the WEF leader.
This doesn't, however, mean that the coronavirus has resulted in a new and more urgent approach to climate issues. Historically, it has been a challenge to alert the public, businesses, and politicians to the slow-burning fire known as climate change, compared to a crisis event that has impacted the entire world like COVID-19. Panellists at the WEF press conference addressed why it's so difficult to get people concerned enough about climate issues to actually act.
Read more: COVID pandemic highlights importance of risk management
"It's actually almost against human nature. Humans are very 'fight or flight' focused," said Peter Giger, group chief risk officer, Zurich. "Dealing with immediate risks, we're very good at; with the slow-burning fires, we're not nearly as good. I think that's why we find it so hard as a society to deal with climate change, and if there were a silver bullet, I would have spent it a long time ago."
Corporations are another story, especially depending on where in the world they're located and the politics of a particular region, which in some places, are far 'greener.' Notably, even among the insurance industry, companies have felt more pressure to focus corporate social responsibility efforts on the environment, seen most recently when AXIS Capital stated that it will not provide insurance coverage or investment support to projects related to exploration, drilling, or the production of oil and gas in the Arctic National Wildlife Refuge.
Read more: AXIS Capital won't insure oil exploration in Arctic National Wildlife Refuge
"Corporate players are under incredible stress to meet their climate obligations. We are under pressure from virtually all our stakeholders, from governmental stakeholders and employees to our shareholders, and this is very much something that we have in mind," said Guillaume Barthe-Dejean, director, chairman's office, SK Holdings. He added that while the pandemic has emerged and been disruptive in its own right, "I wouldn't say that it has … shifted the question of climate change to one side – it hasn't de-escalated it."
There have also been climate benefits from COVID-19, such as the fact that fewer people are traveling, whether it's on long-haul flights or to and from work in their vehicles, which has had a significant impact on the carbon footprint. Nonetheless, said another panellist, it's important to point out that cargo has continued to be shipped around the world and manufacturing likewise hasn't come to a standstill.
As a result, "The climate change conversation is far from over," said Carolina Klint, risk management leader, Continental Europe, Marsh, though she added that the pandemic has increased awareness of low-probability, high-impact events in boardrooms.
"At the same time, we do see regulators pushing hard for corporations to take more responsibility and to measure their climate change mitigation in a more transparent and public way. I think the opportunity here is for companies to prepare for that increasing pressure on climate issues from all of their stakeholders."