Employers taking a holistic approach to healthcare coverage post-pandemic | Insurance Business America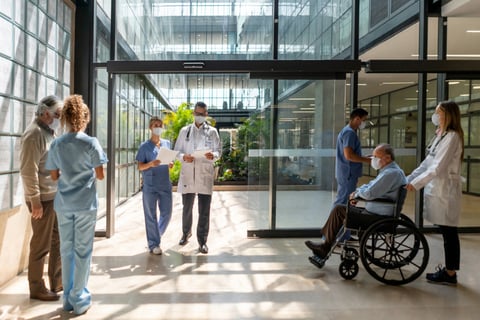 Incorporating comprehensive healthcare strategies to a company's overall financial picture has become increasingly important over the last year.
"As a result of the pandemic, employers are looking for a holistic approach to their cost containment," Tara Krauss, head of accident and health for QBE North America told Insurance Business. "The rising cost and complexity of providing affordable healthcare for employees is continuing to be a fundamental challenge for employers."
Among that complexity has been the struggle to get urgent care with hospitals focusing their resources on COVID recovery. The CDC's National Breast and Cervical Cancer Early Detection Program reported that breast cancer screenings declined by 87%, and cervical cancer screenings by 84% during the early months of the pandemic (April 2020) compared to the previous five years.
"Missed and delayed screenings is something we're watching closely to see how it will not only impact costlier treatments for the insurance carrier, but an advancement in disease for plan participants," said Krauss.
Telehealth services also became essential after hospitals shut down many operations for anything unrelated to COVID, leading to a large backlog in essential and chronic care.
"Employers are really looking to see how they can work with their health and benefits broker to offer more preventative services and really looking at the patient holistically," Krauss added.
As such, health and benefits brokers should anticipate employers wanting to review employee assistance programs, assess what is currently in place, and think about how programs can be enhanced.
"Most importantly, [employers] want to be working with a carrier who can offer both prospective and retrospective cost containment support for plan sponsors," said Krauss. Employers are strapped financially, and their health plan is a primary driver of overheads, which is why it is an important place to look for potential savings. Leveraging the use of analytics tools and selecting programs that aim to reduce waste will help mitigate potential financial risks.
"It's tempting to looking just at medical excess rates alone," Krauss said. QBE tries to educate plan sponsors to look beyond rates and assess what carriers can offer, such as a strong medical risk management team and collaborative claims team.
When looking for strong, long-term carrier partnerships, Krauss noted that employers are asking what kind of risk management oversight is offered, if the health and benefits broker they're working with can speak to the reputation of the carrier, and if the carrier has a business continuity plan in place.
"It was very apparent at the early stage of the pandemic which carriers had a business continuity plan in place and those who didn't," she explained.
Both employers and plan participants are starting to look beyond the page, seeking out carriers with a holistic approach to healthcare and whose values aligns with the needs of their business post- pandemic.