Integrity donates $100,000 to purchase toys for pediatric health system | Insurance Business America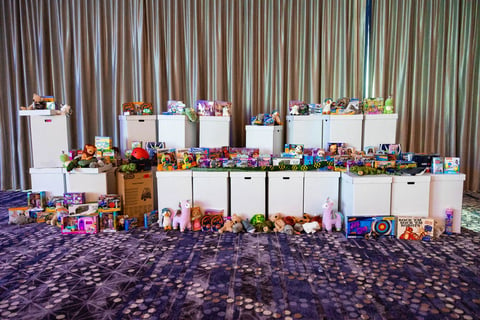 Integrity Marketing Group has announced a donation of $100,000 to purchase new toys and stuffed animals for Children's Health, a pediatric healthcare system in North Texas.
Integrity co-founder and CEO Bryan W. Adams, along with his family and a team of employees, delivered more than 3,000 new stuffed animals and toys to Children's Health. The donation marks the culmination of the company's "Integrity Gives Back" toy drive, which was inspired by Adams' nine-year-old son Asher, who was recently a Children's Health patient.
The toy drive's initial goal was 500 toys, but more than 3,000 toys were donated by Integrity's employees and managing partners. Adams announced that Integrity would boost the toy donation with a gift of $100,000, which could facilitate the purchase of as many as 50,000 toys.
"My son was a patient at Children's Health during a time when their choice of stuffed animals was extremely limited, and this inspired my family and I to rally our employees to have a toy drive," Adams said. "One of Integrity's core values is service – seeing us come together to support such a worthy cause and surpass our initial goal of 500 toys to bring in 3,000 toys makes me feel so proud of our Integrity family. Children's Health means so much to me and my family, and this Thanksgiving week was the perfect time to say 'thank you' and give back. I hope these toys can bring joy to their patients this holiday season and throughout the year."
New stuffed animals and toys are given to Children's Health patients year-round to help comfort them following procedures and surgeries, and to celebrate milestones like end-of-treatment events.
Read next: Integrity Marketing Group expands Midwest footprint
"The more than 3,000 toys and generous monetary donation presented to Children's Health by the Adams family and employees of Integrity is nothing short of inspiring," said Brent Christopher. president of Children's Medical Center Foundation. "Their support is a wonderful example of paying it forward and will bring many smiles to patients' faces during this holiday season."
"Being in the hospital can be tough on kids. I've seen these toy donations bring a moment of joy to my own daughter," said Shane VanLoon, managing partner at Integrity. "We call ourselves an Integrity family, and it's moments like these that make me so proud to be part of this company. We put our core value of service into action every day. Seeing the team come together for such an important cause is truly an inspiration."