Volunteer driver programs at risk as auto policies lack clarity over coverage | Insurance Business America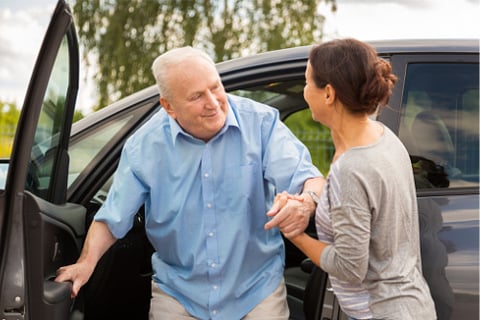 Imagine this ­­– a small town in the US implements a volunteer driver program to help seniors do their shopping, get to medical appointments, and make an appearance at family visits, among many other activities. Then, the town's insurance carrier deems that the program has potentially too much liability, at which point the town administrator advises the senior center director to shut down the operation. Suddenly, there are no volunteer drivers to fill this vulnerable population's transportation needs.
This is exactly what happened in Barre, Massachusetts in 2019. In response, Donald R. Berthiaume Jr., a member of the Massachusetts House of Representatives, filed a bill to expand the Good Samaritan law on behalf of the Barre Council on Aging and with the co-sponsorship of Senator Anne M. Gobi and 27 other legislators. Good Samaritan Laws protect food donors as well as anyone providing care to accident or crime victims, or to anyone in need of emergency medical assistance from legal liability. According to the bill, volunteer drivers deserve the same legal protection.
Barre, MA is far from the only town that's experienced the consequences when insurance carriers make it more difficult for non-profit organizations to transport elderly people who can no longer drive themselves.
Read more: Why non-profit groups need to behave like businesses to thrive
"We began to get calls and emails about three years ago from customers saying, the volunteer has told us that their insurance agent says you'd better not use your vehicle in volunteering or your [personal] auto policy might be canceled. Or, if you cause an accident, a claim might not be covered," said William Henry, consultant at Volunteers Insurance Service Association in Alexandria, Virginia. "We began to check into it a little bit and the more we dug, the more we found that it was becoming a problem."
Henry and his team started calling insurance companies and got no clarity on this issue. The most common response they would hear was whether the policy stated if a volunteer activity would be covered, which often it did not. Before long, Henry began to see some specific exclusions applied to auto policies that related to volunteer driving. At this point, he and his associates stepped back from the phone since they didn't want to put insurance companies in a position where they felt like they needed to apply these exclusions. After all, "if the policy is silent on it or if it's ambiguous, the courts have always said, it's going to be construed in favor of the customer," said Henry.
Meanwhile in Wisconsin, Carrie Diamond has been working with volunteer drivers for over a decade and the issue that she consistently sees coming up is that volunteers are told if they receive reimbursement or they're just a volunteer driver and they don't receive reimbursement, they are classified differently and are not eligible for a personal vehicle insurance policy. Drivers have been told they're like a Lyft or Uber driver, she explained, which would then impact their personal auto policy.
"In different forms, the same type of issue comes up in the state regarding personal vehicle insurance for people who drive for a non-profit or governmental agency as a volunteer," said Diamond, an Older Americans Act consultant, and transportation and volunteer specialist at the Greater Wisconsin Agency on Aging Resources.
Read more: Unique risks non-profits face when they hire volunteers
The repercussions of this insurance obstacle are grave. Volunteer driver programs (of which Diamond has found over 60 with almost 3,000 volunteers in Wisconsin alone) act like a lifeline in rural communities and other areas. For people who require extra assistance and don't have access to a regular transportation provider, this issue becomes one of "life or death," she said, especially since there is no publicly-funded system that can take the place of the programs.
Typically, "you're looking at a program that has from two to 30 or 40 volunteers and through attrition if you're not replacing those volunteers, those programs really are in danger of collapse," explained Diamond. "People are willing to volunteer their own private resources – their vehicles and their time to take people to their appointments to grocery stores and to pharmacies – but they're not willing to be negatively impacted in terms of insurance."
Diamond recently met with the Wisconsin Insurance Alliance and Office of Commissioner of Insurance to discuss this challenge, and she says that there may be some movement on legislative fixes to bring to the next session that are industry-approved. Minnesota is currently looking at some legislative fixes as well, but it's critical that the insurance industry be onboard.
Meanwhile, the American Association of Retired Persons (AARP) has done its own research in this area, engaging Texas A&M University to study the issue, and likewise got no answers.
"The researchers approached a number of insurance companies, seeking clarity. They got none," said Henry. "Nor were they able to learn why insurance companies believe drivers represent a greater risk when volunteering than at any other time when they are using their vehicles. The fact that they are carrying passengers should not, in and of itself, be an underwriting issue. It's not an issue when, for example, customers use their vehicles in carpooling to work or going with friends to the beach or a ball game."
Henry continues to hear from non-profit organizations that their volunteers are being warned by agents that their policy could be canceled if they help out by driving. Yet with the aging population, the demand for this type of service will only increase.
"Volunteer driver programs aren't as risky as people initially think they are," said Diamond, adding, "There's nothing that works as efficiently as this type of program."
Henry noted that if he could find one insurance company that would say it understands that volunteers are not the same as Uber or Lyft drivers and there's nothing in the claims history to suggest that volunteers are any more risky than other drivers, him and his team would "make a hero out of that company, but we haven't found them."