Judge says $48 million insurance coverage is inadequate for collapsed condo | Insurance Business America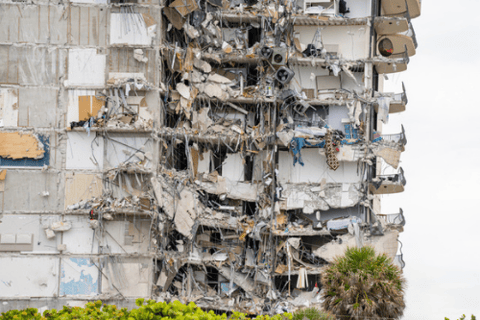 A judge has ruled that the reported $48 million insurance coverage of a collapsed condominium building in Florida is "simply not enough," as the association responsible for the facility faces five separate lawsuits.
The Champlain Towers South condominium in Surfside, FL fell on June 24. Long-term degradation of the reinforced concrete support structures in its underground parking garage is believed to be the cause of the cave-in. As of July 06, the confirmed death toll of the tragic incident was 36. Some 109 individuals who may still be inside the collapsed structure are still unaccounted for.
Following the incident, five separate lawsuits have been filed against the Champlain Towers South Condominium Association; other defendants include a structural engineering firm and an architectural firm responsible for the recertification of the building. Many more lawsuits are expected to be filed in the coming months.
During an online emergency meeting, Miami-Dade Circuit Judge Michael Hanzman noted that the building's $48 million in total insurance coverage is likely not enough to cover for everything.
"It looks like for the property damage claims and for the injury and death claims there's going to be a total of $48 million, which will obviously be inadequate to compensate everyone fully for the extent of their losses," said Hanzman.
The condo association's attorney's had notified Hanzman that the group had a $30 million property insurance policy from Great American and $18 million in liability insurance, Miami Herald reported.
The incident has forced insurers to send letters to owners of condos 40 years and older in South Florida, which require them to prove that their buildings have passed all inspections or risk losing their policy.
"Everybody has moved very quickly because they have a lot of liability, and a lot of risk," ProCom Insurance Underwriters CEO Isidro Guillama told Miami Herald. "They're looking at any building that is showing more than 40 years of age, and they're asking for the recertification of the building."
Guillama also warned that if several carriers drop coverage for condos due to their failure to show proof of recertification, it could lead to increased insurance costs for everyone. The broker also noted that main insurance carriers are also increasingly avoiding writing policies in coastal areas, where the high volume of water could exacerbate the erosion of a building's foundation.
In a statement to Miami Herald, the Florida Office of Insurance Regulation said that it did not have a role in the letters sent by insurers, but the agency encouraged all consumers to contact the Department of Financial Services Consumer Hotline if they have any questions.