Data analytics – where do we begin? | Insurance Business America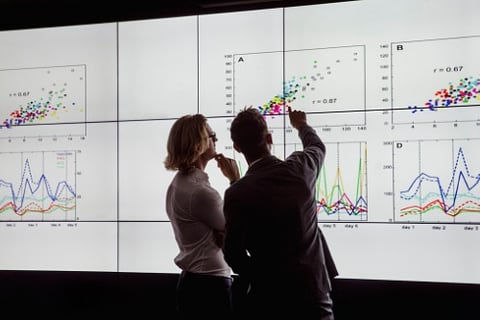 The insurance industry has been on an interesting journey over the last 18 months, with COVID creating a renewed focus on using more technology and collecting data. Now, insurers are wondering how to make the most of data analytics.
Read more: Data, analytics and technology now "table stakes" in insurance
"We started seeing a lot of activity in the personal auto space over the last 15 years and that continued in the personal lines space such as homeowners' and travel insurance," Maroun Mourad, president of global underwriting at Verisk, told Insurance Business. "Over the past three to five years, the commercial lines industry has also been adopting technology and data analytics at a rapid pace."
Verisk provides data analytics to all segments of the industry with various solutions that are applicable throughout the lifecycle of a policy. With the sales cycle in mind, Verisk recently acquired Jornaya, a leader in behavioral analytics and intelligence.
"Jornaya helps determine lead gen effectiveness and connects the profile of a person or business to the right underwriting appetite of a company," said Mourad.
Jornaya provides insights on online shopping behavior, as well as compliance solutions to providers, ensuring that, when a company is using a consumer's data and behavioral analytics, they're doing so in a compliant fashion.
"If you want to qualify a certain lead and check if the shopper's behavior aligns with the propensity of them buying a certain product that fits within your underwriting appetite, our Jornaya solutions help facilitate that in a very compliant way," Mourad explained.
Verisk also recently ingested 200 million records from Yelp to help augment the solutions the company already provides for the commercial lines industry.
"We do three things with the Yelp data, which involves stars analysis, sentiments (emojis being used) and most interestingly the natural language processing," said Mourad. "With text analytics, we can analyze comments and serve that to our customers. They decide whether or not to algorithmically and automatically underwrite the data set, or to triage and send it over to a human. It truly depends on how the customer wants to use the data."
Yelp's data allows businesses to understand industry issues - from employment practice liabilities to workers' compensation exposures. "There are other sources of data that our customers want to leverage, it's an ongoing journey," added Mourad.
Verisk, he said, is a company that believes in the ecosystem and partnerships. In the commercial property space, it has a large proprietary database of 12.2 million properties, four million of which are humanly visited by risk engineers and risk surveys in the United States.
"We partner with firms that provide financial information for about 26 million businesses; customers always want more data," he said.
When it comes to using data analytics in the commercial lines space, Verisk combines forces with unique partners to provide solutions for clients. At a high level, the company implements data prefill to understand why certain exposures can increase liability, and, along with descriptive analytics, Verisk also provides predictive and benchmark analytics for accurate comparisons of risk. From the property segment to commercial auto, there is so much data to assess, but the company wants to make insurers' lives easier and help understand the customer on a deeper level.
"We're doing the same thing on the life side with electronic health records," he noted. "The days of underwriting and forgetting about it until someone dies are long gone. Life customers want digital solutions yesterday, and we're helping insurance companies shorten a sales cycle from 60 days to 60 seconds."
Read next: Show me the money – insurers see benefits of data and analytics
It is hoped the insights gained offer a better understanding of trends in today's marketplace, while predicting what insurers should anticipate in the future.