How agencies can build no-nonsense websites that generate traffic and leads | Insurance Business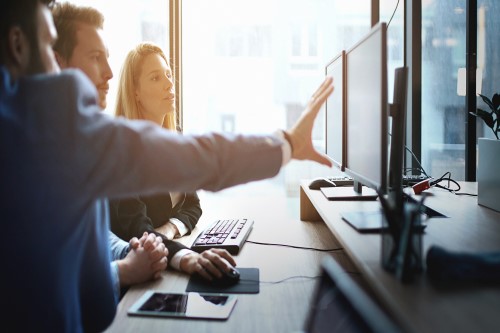 Whether an agency has adopted digital technology into their business or not, many insurance buyers already live online, which is why agencies at the very least need to have a client-facing site that communicates their brand and offerings in a user-friendly way. Making that website consistent across all the platforms that people use to roam the internet is one way to keep customers engaged and coming back.
"Right now, most sites are phasing to responsive design," said Karly Baker, an experienced website coordinator for Insurance Technologies Corporation (ITC) who knows the ins and outs of creating a successful insurance website design. "What a lot of agencies are doing right now are creating designs that function well on all different platforms so they're covered on desktops, iPads, tablets, large mobile and small mobile."
The website also needs to paint a clear picture of what an agency does as well as their brand, and ensure that information is organized in a logical way based on what the agency wants a visitor to do when they land on the homepage.
"If you go to a website and there are too many calls-to-action, it might discourage someone from going to the next step from an agency's perspective," said Phillip Long, who heads up ITC's digital agency marketing team. "There are a lot of agencies that have too many buttons on the homepage or there are too many links on the different pages that are not quote forms."
At the end of the day, the purpose of an agency's website is to generate traffic and leads, added Long, and some lose sight of that goal with an overly complex design that confuses potential customers.
Driving traffic from other channels is also a key goal that agencies should keep in mind. Sometimes, that means implementing a trial-and-error methodology to find out what works and what doesn't.
"Agencies need to try every type of digital marketing and make sure that they have adequate tracking set up to see how it's working," explained Long. "They should evaluate it and if it works, they should keep doing it, but then cut out the things that aren't working."
Search engine optimization (SEO) and pay-per-click are two tools that tend to be successful for most agencies. Social media is surprisingly less important, said Long, but it does help with retention and keeping clients informed.
"Agencies need to experiment, they need to set small budgets and see what really works for them because a lot of people throw their money away on things that aren't working, like advertising on the Yellow Pages – it doesn't work anymore," explained Long.
Before any content can go up, the ITC experts recommend that agencies take a good, long look at the design of their website before approaching a designer who can make that site a reality. Understanding your target audience is a good place to start, said Baker, who will then brainstorm with an agency and build their site based on those goals.
"We understand that insurance agents, they sell insurance – that's what they do. Design, that's what we do, so it's our job to pull their ideas and what they want, and bring that to life in a successful layout and design," she said.