Why designing the right logo is critical for insurance agencies | Insurance Business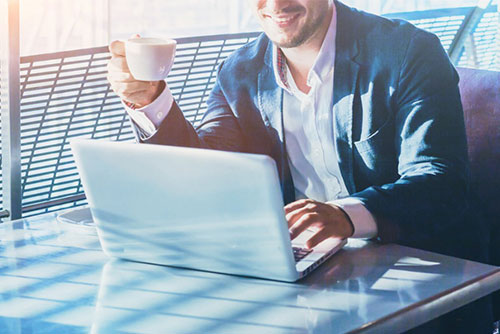 An effective marketing plan for an insurance agency has a lot of components, from being present on various social media channels to building a website that's easy for clients to use. However, designing a unique and eye-catching logo is likewise important.
"Your logo is the number one thing people are going to see visually from your agency," said Becky Schroeder, chief marketing officer at Insurance Technologies Corporation (ITC). "It helps you to stand out, and it helps your prospects and your clients to know it's you."
That brand recognition happens in two ways. First, through repetition, so using the same logo in the same ways everywhere an agency can – that includes your website, your email, and your signature, as well as any marketing materials and any advertisements, according to Schroeder.
"Anywhere that you are doing [business] or promoting and talking about your agency, you want to use your logo in the same way," she said.
Memorability is the other way that brand recognition is established, which is why it's crucial to have an eye-catching logo design. When a logo looks different and stands out from the competition, that makes the agency more memorable with consumers.
There are several elements that an insurance agency should consider when thinking about their logo design, which depends on if the business already has a logo and wants to evolve it, if there's already a logo and leadership wants to redesign it completely, or if the agency is starting from scratch. A small evolution to an existing design could be taking the logo from a color gradient to a flat design with just one or two main colors, for example.
The real challenge comes when an agency wants to start from square one. A few key design elements that an agency might want to settle on right off the bat, and that help to make a logo memorable are color and font.
"Using a different font than any of your competition, adjusting that thickness of your font to be bolder or to be lighter, using different colors – that helps to make a logo memorable and unique," said Schroeder. "But the other thing you want to think about is flexibility."
The ITC expert recommends that agencies consider the following questions:
Will your new logo work at different sizes and at different constraints? Is it going to work in a rectangle, square, or circle?
Will it work as one color, such as all black or all white, and not just in full color? This is important to consider since sometimes you can't print a logo in full color and you're going to have to pick one.
Will it work in different mediums – embroidered on shirts, digitally on your website, in print advertising, or other promotional items?
The second factor agencies need to keep in mind is simplicity. The most memorable logos are the simplest ones – think Nike, McDonald's, and Apple, where the logo comes to mind for consumers often before the name of the company. The success of those firms' logo designs is based on the constant repetition of the logos and the simplicity of their design. The takeaway for agencies is to use their logo consistently and repetitively, i.e. not changing the color or dimensions on different platforms.
Read more: Is your agency's website harder to read than Moby Dick?
Finally, the durability of the logo is important to think about. Design trends change year to year, but no agency wants to freshen up their website, let alone their logo, that frequently.
"You don't want the logo to look dated as the design trends change. You want it to look like it's still fresh and then freshen it every decade or so," said Schroeder.
Since most insurance professionals probably don't have a background in graphic design, they should look to tools and software to help with designing or redesigning their logo, such as Adobe Illustrator or Canva. However, Schroeder strongly advises any agency looking to create or update their logo not to do it themselves.
"This is something that is so critical to your brand and to your agency that you're going to want to find a professional graphic designer who can create one in all the different types you need – square, vector, JPEG format, PNG format, all black and white, full color, etc.," she explained. "You can find freelance graphic designers who can help you with that on a budget, but you can also talk to your website vendors. A lot of times, they offer logo design services since they usually have graphic designers on staff to create the graphics for your website."
The benefits of a well-designed logo are numerous: it conveys that you're a professional and you take your business seriously, that you have a clear idea of your agency – who you are and your brand – and that you're different from consumers' other insurance options.
Nonetheless, a logo does not make a company. The famous graphic designer Paul Rand (the man behind the IBM, UPS, and ABC logos) once said, "[A logo] derives its meaning and usefulness from the quality of that which it symbolizes. If a company is second rate, the logo will eventually be perceived as second rate. It is foolhardy to believe that a logo will do its job right off, before an audience has been properly conditioned."
In other words, a logo is part of a brand, but it is not the whole brand.
"When you're designing a logo, you want to consider what your clients are going to think about you when they see it. Good or bad, they're going to associate that with your logo and your brand," said Schroeder.