Vlogging 101: How agents can benefit from this content creation vehicle | Insurance Business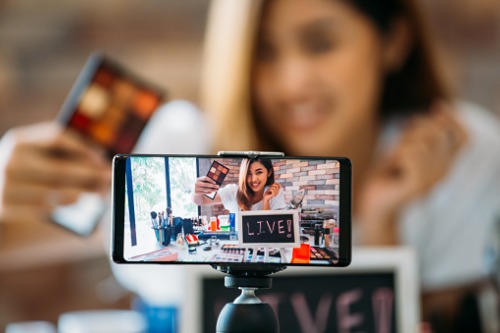 In the early 2000s, the rise of YouTube paved the way for a new type of video content – vlogging, or blogging through the medium of video. Today, vlogging is as commonplace as smartphones, which have helped to further the growth of this type of content as devices put professional cameras into the hands of millions of people.
Insurance agents might not immediately see how they can incorporate vlogging into their agency's online presence, though some leaders have taken a stab at vlogging with a lot of success, such as Woody Brown, partner at The Rhoads Group in Georgia.
"He's been vlogging on YouTube for I think a couple years now and while his videos aren't always about insurance, he is giving his audience a peek into who he is and what he does so that they begin to trust them and feel like they're building a relationship," said Becky Schroeder, chief marketing officer at Insurance Technologies Corporation (ITC).
Nonetheless, agents who are using tools like vlogging and Instagram to promote their businesses are the outliers.
Read more: Why agents should 'like' Instagram
"I definitely don't think there are a lot of agents or agencies who are using these tools. And for any who have thought about it and haven't really started yet, there could be any number of reasons for why they haven't," explained Schroeder. "I think fear is often one of them, that they think they might not be that great at it, they're not going to be any good, or they don't know how to get started, they don't know what to do, so they just take the route of doing nothing."
For those who are ready to take a step into vlogging, Schroeder recommends starting small.
"If you don't want to spend a lot on it because you don't know how useful it would be, if you're going to be able to keep up with it, if you're just playing with it at first, you don't necessarily have to go out and buy a digital camera," she said. "Smartphones these days have pretty decent cameras. I would just say to find a way to keep it steady so it doesn't get shaky."
Other tips for first-timers include renting a tripod or buying a selfie stick to prop up the phone or camera, as well as finding good lighting. Agents don't want to have lighting that is too harsh where they're blown out or that's too dark where the viewers can't see them at all.
"Try to shoot near a window so that the light is on your face," said Schroeder. "And definitely if you can, get an external microphone because good sound is critical. You want to talk loudly and clearly and maybe slow down a little bit. Some people can get away with talking very fast, but, especially as you're getting started, talking slower will help you a) remember what you're trying to say, and b) make sure that you are communicating that clearly."
Next comes the fun part, where agents can get creative. When thinking about what to post videos about, Schroeder says agents can talk right to the camera, as if they're having a conversation with the viewer, perhaps on topics related to their day-to-day work or answering common insurance questions.
Read more: Tech-enhanced insurance expertise – the perfect equation?
"You can also do things like a tour of your office. Do an introduction video for yourself and anybody else on your team, ask questions about their history, their background, what they do at the agency, one of their favorite stories about working in insurance," said Schroeder, adding that testimonials from clients willing to be on camera and FAQs are also great. "Every business has those questions that they seem to answer repeatedly, two or three times a day. That's your perfect video content right there because now you are answering online in a way that is very engaging."
If an agency is putting on an event or is involved in their community in some way, doing a video recap after the fact is another option – what did you learn, what happened at the event, and how did it go?
Agents can also talk about their success stories – what good things has your agency helped make happen? They don't have to include clients' names if they want to keep it somewhat anonymous and protect clients depending on the story, but they can talk about the good things that their firm is doing.
"Also include your referral partners or other local icons. As you build your channel and you build a following, that can be some really great cross-marketing content as well because you can promote your referral partners," said Schroeder. "And then, hopefully, they'll do the same for you."
Once a video is recorded, the work doesn't stop there. Agents can look into buying some editing software and should spend some time playing with it. That software gives them the freedom to record a video, knowing that they don't have to get it perfect in a single take to post it. If they can learn to cut and put different takes together, that will help them get more comfortable as they're recording the video.
Read more: How producers can make social media a friend, not foe
In that editing phase, agents should likewise consider the length of the video. As they dip their toes into vlogging, keeping content on the shorter side will help them build an audience that will stick with them and watch the longer videos all the way through.
"Depending on the topic of the video, you might want to do a two or three-minute video, or maybe a 10-minute video," explained Schroeder. "You want it to be short so you don't lose attention, but you also want to keep it interesting."
Finally, once the video is almost done, make sure to include an introduction and an outro that includes the agency's phone number or its website. And don't forget to share it on all the social media platforms an agency is on.
"Just because you build it doesn't mean they come, so you have to put it out there," said Schroeder. "Sharing it on social media is great. If it's about insurance, you can embed it within that section of your website that is about that line of business or whatever makes sense. Putting it in your newsletter or your other email marketing, and just getting it across all the platforms that people are engaging with you on is how you're going to get the views up."