Half of small businesses in the dark about workers' comp needs | Insurance Business America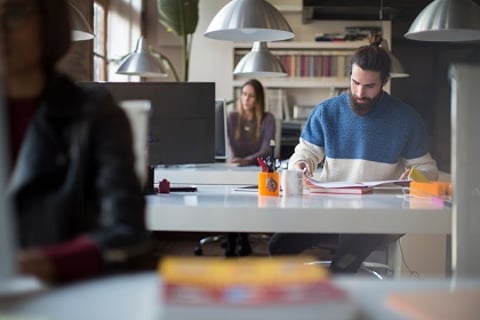 One out of four small business owners who responded to a recent poll by Insureon and Mantra said they do not have workers' compensation insurance. In addition, 30% of the 900 respondents admitted they weren't sure if they were required to cover their employees, and many said they were unaware of the unique workers' compensation requirements in their state.
A lot of the confusion comes when small businesses hire remote workers located in a state with different workers' compensation coverage requirements to the state where the business is located. When quizzed if the state where the remote employees are based requires workers' compensation coverage, 74% answered yes, 7% said a definitive no, and 19% admitted they didn't know. Only 70% said they purchase separate workers' compensation policies for out-of-state workers.
"It's really interesting that 30% of small businesses said they weren't sure if they need to purchase workers' compensation coverage. That shows more education is needed to help small business owners understand their specific state requirements and regulations," said Jeff Somers, president of Insureon.
Workers' compensation requirements vary state by state. More than two-thirds of states require business owners to purchase the coverage as soon as they have just one employee. But 14 states have less stringent requirements. In Virginia, employers are required to purchase coverage when they have two employees, and in Alabama the threshold is five or more workers.
Failure to meet state-by-state demands could land small businesses in hot water, especially if they have remote workers located in different states.
"There are some serious consequences to not understanding the particular workers' compensation requirements in your state, or the state of a remote worker. Mitigating this risk starts with education and awareness – something the insurance industry can help with," Somers told Insurance Business.
"It's incumbent on small business owners to do their due diligence so they understand their specific insurance needs," he added. "That might include consulting with their insurance broker or agent, or even researching online at sites like ours or state websites."
For small business owners, insurance can sometimes seem like a costly and often not-top-of-mind purchase. Again, this frame of mind is something that can be turned with more education and awareness, according to Somers.
"Some folks have an erroneous opinion about how much workers' compensation coverage is going to cost or what the trade-off of this type of insurance is," he said. "In certain states, the repercussions and penalties for not having workers' compensation insurance in place can be very severe. The price employers pay for the insurance more than outweighs the potential penalties in certain states by a long shot. It's really important small business owners understand their workers' compensation guidelines so that they're putting the appropriate policies in place."
Related stories:
Summer, sunshine … and a sweep of new SMB exposures
What's new in the workers' comp space from a leading MGA