Holiday fatigue weighs on businesses this time of year | Insurance Business America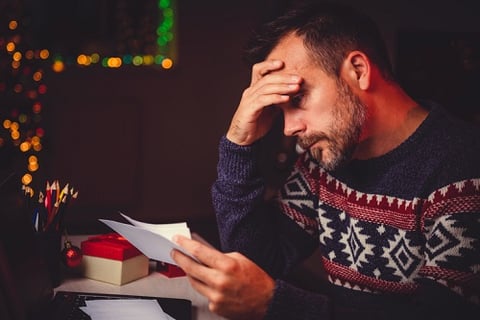 With the holiday season upon us, many small business owners and their employees might be pulling longer shifts and dealing with a more intense workload, while also juggling the stresses that come with this time of the year. In turn, holiday fatigue can have an impact on the safety of workers in many industries.
"One of the things that's interesting about the holiday season and the way that fatigue impacts individuals is that it's both mental and physical, and it's both industrial and personal. So, not only is the holiday season often busier at work, but it's also busier at home," said Matt Zender, AmTrust Financial Services' senior vice president of workers' compensation strategy. "What we find is it's just not a lot of release. After a traditional busy work day, you go home, you have a cup of tea, you watch your favorite show, and you go to bed feeling a little bit better. Now though, you have an even busier work day, and you leave the office and you have to go run three errands, and then you get home and you have to work on logistics for coordinating holiday travel, so there's no off-switch."
That physical and mental strain puts pressure on workers to maintain the discipline to work as safely as they have over previous months, and can potentially result in some bad choices. It doesn't mean that they always fail at working safely, but it does mean they require more energy to stay focused on what they need to do to avoid injuries.
One only has to look to Amazon to see the impacts of the holiday season on a workforce. A recent article from The Atlantic, titled "Ruthless Quotas at Amazon Are Maiming Employees," revealed that weekly injury counts among employees spiked at both Cyber Monday and Prime Day.
Read more: AmTrust: Injured retail workers on average miss 24 days of work
The retail giant isn't the only company that has these issues. Customer-facing and seasonal industries, like ice and snow removal, Christmas tree lots, or holiday lighting set-ups, can also be exposed to similar workers' comp risks during this season. However, notes Zender, for the most part, the risk lies with retail and wholesale industries.
That's because of "the amount of volume that's going to be coming through those shops, and then you're going to be dealing with workers who are perhaps hired for a few weeks, so those workers' abilities to be familiar with how to work safely is often really challenged," he explained. "They're just starting and they're trying to figure out how to work a cash register, let alone how to avoid an injury."
It might be too late for this season for businesses to mitigate against the risks of holiday fatigue. However, they should strive to establish safety and training protocols during slower seasons that are easily trainable and easily replicable, so that when they have somebody new that's coming onboard during a busier time, they can onboard them efficiently and within a matter of a few hours, help them feel acclimated.
"Taking advantage of the slower periods to build out those protocols so that they can be easily rolled out when you do have a busier time is certainly important. I think hiring practices are also always going to be important and not lowering your standards just because you need some bodies," said Zender. "You want to make sure you're still hiring people that are going to both work safely and carry forward the brand that you've worked hard to build as a business owner. It may not always be easy when you're dealing with drawing from a shallower pool, but you're always going to want to make sure that your hiring practices are staying really sound."
Read more: The right workplace safety program does far more than reduce workers' comp claims
Setting aside time for safety meetings is likewise important, and can actually help workers take a much needed breather.
"Just because you're blowing and going doesn't mean you can't stop your team and watch a safety video for 15 minutes," said Zender. "We have a whole library of them that they can use and find one specific to their industry, and that break in and of itself might be enough to allow the body to recover a little bit. You're gaining the benefit of getting a little bit of training, and you're also letting them recover for a few minutes and remove a little bit of that fatigue."