The right workplace safety program does far more than reduce workers' comp claims | Insurance Business America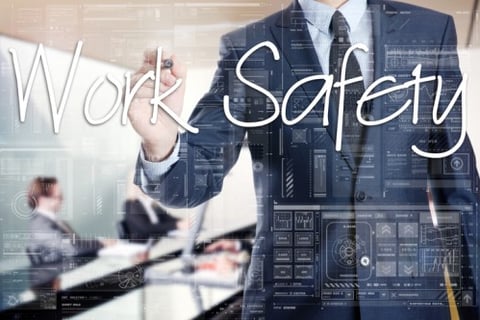 There's no two ways around it – the correlation between the frequency and severity of workers' compensation claims that an organization experiences, their premiums, and their commitment to safety is a very direct one. Besides the many benefits of keeping their workers safe, a company doesn't need to look further than their workers' comp premium calculations to see the financial impact of a good or bad loss history.
This relationship between loss history and premiums is often referred to as an experience modifier, a term that not many employers understand.
"The experience modifier is a multiplying factor that's assigned to a company by the state that they operate in, and it reflects its claims history," said Brad Wilkins, senior loss control specialist at AmTrust North America. "Just as a credit score quantifies how you interact with debt, the experience mod or x-mod measures a company's work-related accidents. So, if their accident history is below average, then they get a credit on their workers' comp policy, meaning they pay less premium. If their experience is above average when compared to similar sized and types of companies, they'll pay more than average for the same type of coverage."
Perhaps unsurprisingly, employers that have a safe workplace generally see an experience modifier that's better than average, and they pay less for workers' comp over the most recent three-year period. Employers should be wary that even a single event with medical treatment can cause higher rates, and what's worse is if a trend develops and injuries start accumulating.
"For example, three claims in three years that total $20,000 count more against the experience mod than one $20,000 claim over the same period," said Wilkins, adding, "Workplace incidents can have a much greater negative effect on a smaller company than on a larger one, and a single lapse in safety can lead to higher premiums. It's a great incentive for small employers to put energy into safety. It not only prevents the human cost of accidents because that's the right thing to do, but it's a powerful financial move for a business trying to conduct business efficiently and stay competitive in their markets."
Read more: Novice business owners face many challenges … including workers' comp
An effective workplace safety program comprises of four pillars, according to the Occupational Safety and Health Administration's (OSHA) small business handbook, which Wilkins likes to refer employers to because it's more straightforward and accessible than a complex A to Z program. Those four elements include management commitment and worker involvement, worksite analysis, hazard prevention and control, and training of workers, supervisors, and managers.
"If a leader's attitude towards their company's safety reflects how important it is to the daily operations, then the workers' behavior is going to reflect that," explained Wilkins. "Effective safety only works in a sustained way when it comes from the top down, and management should clearly communicate the program and involve [employees] in developing and implementing the program."
Another critical building block is to have a process to identify and assess the hazards in the company. The AmTrust teams calls this a self-inspection process, and that combined with any outside help that might be available – from a workers' compensation insurer, OSHA outreach programs, or a local safety council – can help a company gather expertise to help them assess their operations.
"Part of worksite analysis is also creating an atmosphere where employees are comfortable and encouraged to recognize and report hazards, and report near-miss accidents immediately so that when something has the potential of happening, they can learn from that and correct it, and prevent something from happening in real life," said Wilkins.
Hazard prevention and control involves correcting the safety issues identified in the analysis. Finally, the fourth pillar is training. Retail agents working with workers' comp clients can point them to resources offered by carriers, including AmTrust, that can assist with training.
"Many carriers – and AmTrust is a leader in this field – understand that employers may not have ready access to training materials or the right kind of materials, and carriers will provide this content for them on a complimentary basis," said Wilkins. "For instance, at AmTrust we offer every workers' comp policyholder an entire library of ready-to-use safety training and our insureds only need to allocate the time to present it."
This can take a lot off a busy safety director's plate, especially when it's designed to fit into a busy work schedule so that it doesn't impair productivity.
Read more: Employees in this app-happy industry deliver challenges for workers' comp
"We simply believe that that no employer, large or small, should have difficulty providing a safe workplace because they can't get accurate and timely information about how to address workplace safety or health problems," said Wilkins.
This safety training is especially pivotal for smaller employers because they can run into more challenges in implementing their programs than larger companies. For one, they might not have as much claims experience, so they've had fewer opportunities to learn from an incident where something went wrong. Another challenge is that a leader might wear many hats and have less time to devote to safety training.
The key for all companies is not to approach safety as an add-on or afterthought.
"To be effective, safety has to be woven throughout the organization, from the top down at all levels, and down to the frontline workers. They have to be engaged and there has to be what we call a culture of safety developed," said Wilkins. "This is an excellent starting place, not only to keep their workers safe and to keep their financial risk more controlled, but it's low-hanging fruit that has a ripple effect far beyond the immediate benefits of safety.
"Once a culture of safety takes hold, quality usually starts improving all over. People start paying more attention, they're watching out for each other, and when people care about each other, the workplace starts getting cleaner, and equipment and tools are treated with respect and are better maintained. Attitudes and morale improve and there are fewer sick days. When all of these gears start shifting and the pieces start moving in the same direction, a company that can keep its focus on safety can really move from being good to great."