Jump to winners | Jump to methodology | View PDF
REACHING HIGHER GROUND
THE CANNABIS industry in Canada is growing up and gradually shedding stigmas. Back in 2018, when cannabis became legal across the country, the industry was a "baby," says Kelli Hunt, vice-president of under-writing at Next Wave Insurance Canada. Road bumps, reorganizations and various amalgamations characterized this early stage, which was followed by the rise of micro and small business retailers, cultivators, and processors. In 2019, the industry matured even further as 'Cannabis 2.0' launched edibles, beverages and other cannabis-infused products into the market. But all that change hasn't happened without growing pains.
"There has been a lot of criticism about the first few years, but I compare it to the restaurant world," Hunt says. "Only 50% of restaurants survive their first year. Cannabis did better than that, and I think people forget that this is a new industry in the world that North America is leading. What happens in the rest of the world with cannabis will be because of the blood, sweat and tears of Canadians and Americans alike."
Midway through 2021, Hunt says, the Canadian cannabis industry is now in its "toddler phase." Adult-use sales increased from around $1.2 billion in 2019 to $2.6 billion last year, and they're on track to soar another 60% by the end of 2021, according to a recent report on the market from the Brightfield Group. That report credited retail openings and price cuts for driving growth and also noted a rise in US-Canadian partnerships.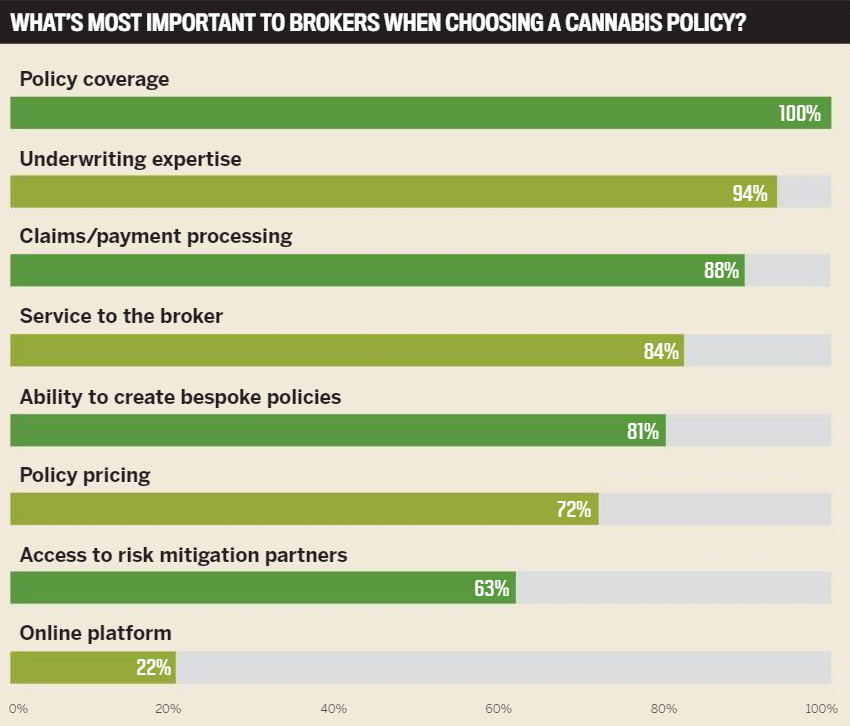 The next evolution
One of the biggest potential game-changers in Canada's cannabis market is happening south of the border. The US is considering decriminalizing cannabis at the federal level, which would help simplify the cannabis business – and the insurance that covers it – on both sides of the border. It would also go a long way toward eliminating lingering stigmas on both a professional and personal level.
Matt Maurer, head of the cannabis group at law firm Torkin Manes, believes one of the biggest impacts of US federal decriminalization would be ending the stigma in the banking sector, which would have a positive effect on Canadian businesses. Despite the fact that cannabis is legal and regulated across Canada, cannabis companies often still have trouble with their financial transactions.
"Many banks will not accept cannabis clients for fear of having issues with their American operations," Maurer says. "Clients routinely complain that banks and credit unions that will accept their business either charge outrageous fees for the privilege, lack the necessary product offerings or both."
Next Wave, meanwhile, helps manage regulatory complexities by collaborating with its sister company, CannGen, to insure companies in the US and Canada.
"Until the federal rule falls in the US, I believe most insurers have to sit on the side-lines," Hunt says. "Having said that, insuring cannabis isn't for the faint of heart. When the highs are high, it's great, but when the losses happen, they are not small. So, while we desperately need more capacity in this space, I believe it'll be a while before we see traditional markets tackle this sector, as it remains very volatile."
Maurer adds that "the industry moves exceptionally fast and is highly competitive. When you combine this with a heavy regulatory structure and the notion that the industry is still in its infancy and therefore constantly evolving, you can get into trouble very quickly if you are not careful."
Maurer has seen certain sectors, such as law and accounting, start to dabble in cannabis before committing wholeheartedly to the sector. He believes banking and insurance are now at a similar tipping point.
"I cannot tell you how many times I've met someone in the insurance industry who sees the tremendous opportunity and tells me that they are still working on convincing the powers that be that cannabis is an area the firm should be diving into," Maurer says. "Fortune favours the bold, and the cannabis industry is not going anywhere."
Fortune has definitely favoured Next Wave, which insures a majority of Canadian cannabis businesses. As such, the company has encountered a variety of claims – every-thing from minor injuries on site to issues with delivery vehicles to product liability lawsuits against licensed producers. Hunt notes that familiarity with the cannabis plant can help facilitate proper coverage.
She's also amazed at how much the cannabis stigma continues to change. "Four years ago, my parents thought cannabis was an evil drug," she says. "Now, at the ages of 75 and almost 80, they are using these products for pain management – and honestly, how amazing is that? If they can get past their decades of learned stigma, anyone can."
Brokers' wish list
As part of the survey to determine this year's 5-Star Cannabis Insurers, IBC asked brokers what changes they would like to see in the cannabis insurance sector – and they didn't hold back. Chief among their concerns was the need for more options and capacity in cannabis insurance to drive competition and help lower prices.
"Currently we have limited markets," one broker said. "CGL and property need more participation. Greenhouses are extremely difficult to find coverage for. Retail stores only have two markets, [and we need] broader coverage for outdoor crops." Another broker echoed that sentiment, saying that "the challenge is that there is not enough capacity for brokers. With more capacity choice, there will be lower premiums [and] more coverages."
Among the coverage gaps brokers mentioned were a need for more options for D&O and vape coverage, along with better rates for insuring domestic and inter-national shipments.
One broker acknowledged that "the reason that there are only a few insurers and MGAs is because they want to collect more data about the cannabis industry, and most companies are scared since it's still pretty new." Another added that "legalization and the political implications are the reason that insurers are still hesitant to venture into insuring cannabis businesses." Several agreed that further erasing the stigma on cannabis through increased education would be a boon for the insurance sector.
Along those same lines, education for brokers came up as another area that has plenty of room for improvement. "Cannabis is a regulated industry, and I think the biggest gap here is understanding the business – brokers should be able to understand how the business works," one broker said.
Applications were another place where brokers wanted cannabis insurers to step up, whether by providing the option to complete applications digitally or by offering more uniform and specialized applications to address the needs of a variety of different cannabis businesses.
Despite the complications inherent in the cannabis market and the hesitancy of many insurers to jump in, a handful of trail-blazers have taken things to new heights in this burgeoning industry – and five of them earned the title of 5-Star Cannabis Insurer for 2021.
Burns & Wilcox
Cansure
Ches
Sum Insurance
To select the best cannabis insurers for 2021, Insurance Business Canada sourced feedback from insurance brokers over a period of 15 weeks. IBC's research team began by conducting a survey with a wide range of brokerages to determine what brokers value most in a cannabis insurer. The research team also spoke to hundreds of top brokers across the country by phone, asking them to rate the cannabis insurers they had worked with over the previous 12 months.
At the end of the research period, the insurers that received the highest ratings from brokers in terms of work quality, specialist expertise and client service were declared 5-Star Award winners in cannabis insurance.