Jump to winners | Jump to methodology | View PDF
BUILDING PREMIUM PARTNERSHIPS
In insurance, the relationship between brokers and carriers is vital. Some brokers seek out carriers with a proven track record and global capabilities, while others put a high priority on a carrier's ability to pay claims and maintain a long-term relationship with the broker and the client.
The latter point is the one that sticks out to Kathy Corbacio, AVP of business development at CAA Insurance, one of this year's 5-Star Carriers. "It's always about the partnership and collaborating with our brokers to ensure they have what they need and tools to take care of their customers," she says.
Chris Sekine, president and CEO of Trisura has been able to achieve industry-leading results over the past few years."It's about listening, providing great service and treating others the way we like Guarantee Insurance Company, agrees that his company's service to brokers helps it stand out from the competition. As a specialty insurer focused on collaborating with brokers, Trisura has been able to achieve industry-leading results over the past few years.
"It's about listening, providing great service and treating others the way we like to be treated," Sekine says. "For Trisura, our brokers are not just our customers but also our partners."
Product innovation is one of the key categories where CAA was recognized by brokers as a 5-Star Carrier; Corbacio notes that the CAA MyPace program, which the insurer launched a few years ago, was able to give auto policyholders critical choice and control during the COVID-19 pandemic.
"You only pay after you use the first 1,000 kilometres, and then you reload and pay for the next 1,000 kilometres," she explains. "So, with more cars in driveways and garages, this program really became an opportunity for consumers to save money."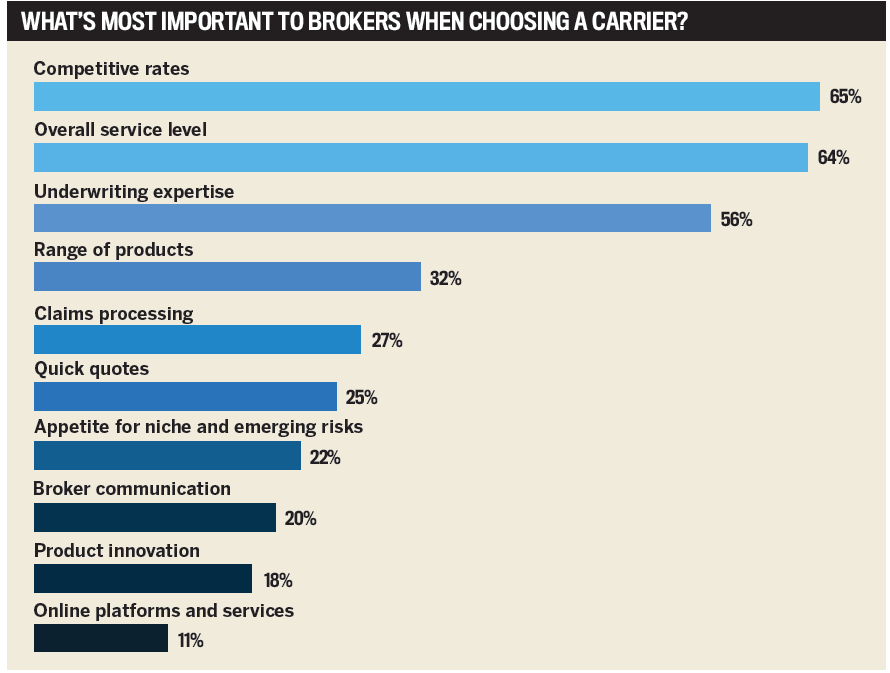 Market challenges
On the broker side, Kevin Neiles, chief marketing officer at Gallagher, believes carrier capacity and appetite, combined with stellar service, is the most important factor in the broker-carrier partnership. Depending on the sector, he says, the market has been extra difficult for brokers over the past 24 months – and he doesn't expect that to change until early 2022.
"There seems to be a little bit more capacity coming back into Canada in certain areas, but with certain types of businesses, it's really still a very challenging market," he says.
To counter that, Sekine says Trisura has spent the past year focusing on facilitating business for brokers.
"For brokers, market conditions have been and remain very challenging," he says. "We expect this trend to continue in the near future. In an effort to alleviate some of the challenges, we have paid extra attention to service and responding to our brokers in a timely fashion. We are listening to our brokers and working with them to develop viable solutions. In fact, one of our key initiatives has been to partner with offshore capital and to provide our brokers with capacity in certain lines where it has been scarce."
On top of the hard market, insurers have also had to face the challenge of adapting to COVID-19 restrictions.
"All of us have adopted videoconferencing as a collaboration tool, but we've discovered it cannot replace in-person interaction," Sekine says. "People are now feeling videoconference fatigue, and we've all experienced the frustration of technical glitches like dialling in and connection difficulties and latency in audio and video."
However, Corbacio lauds the techno-logical innovations that have helped carriers stay in touch with brokers when travel wasn't possible. She believes communication will continue to be a hybrid of traditional meetings and virtual platforms.
Neiles says he's traditionally done business with carriers face-to-face, and he appreciates working in an office environment where collaboration is easier. That said, "I think both brokers and insurers have done a very good job of making remote communications and online business work," he says. "Quite frankly, there's been some fun events that carriers have done just to keep that relationship going. This business is about relationships. There's been some fun events to kind of take the work hats off for an hour and just get a chance to socialize a little bit, which I think is an important part of business."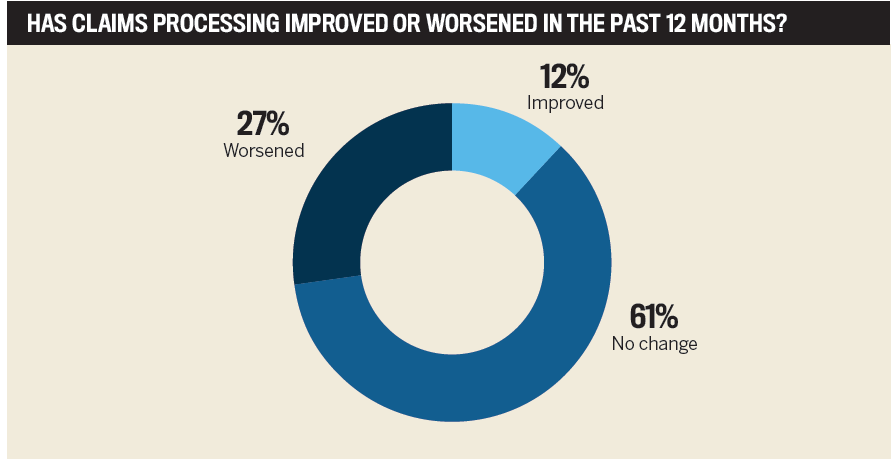 What brokers want most
As part of IBC's survey to determine the best carriers in the Canadian insurance market, we asked hundreds of brokers to name the top three aspects they consider when looking for a carrier partner. Unsurprisingly, given the hard market, competitive rates ranked as brokers' number-one priority.
Brokers complained that some carriers have lacked sympathy for customers and their financial constraints amid the ongoing pandemic – and they had a few suggestions for mitigating dramatic rate increases. One suggested carriers ask for broker input on how rate changes will affect distribution channels, while another wished carriers would stick to a steady 2.5% year-over-year increase and then use discounts to stabilize pricing.
Almost equally important to brokers is the service they receive from carriers; 64% of respondents named overall service level as one of the top three things they look for in a carrier. Some brokers were generous in reviewing their carriers' performance in this area, describing service levels as acceptable in light of the pandemic. Others weren't as charitable, pointing out that with adjusters and others working from home, there's little accountability for service quality. "Work from home has been a disaster for most insurers from a service level standpoint," one respondent said.
The third most important criteria for brokers is a carrier's underwriting expertise – and many respondents were feisty about this category. Brokers grumbled about insufficient underwriting expertise and long waits to talk to an underwriter. "Improve call wait times to get through to underwriting and more straight-through processing," one broker suggested. Another complained that "important changes or underwriting rules are buried in broker bulletins surrounded by fluff. No one communicates directly anymore."
Product range came in fourth on brokers' list of criteria when choosing a carrier, but only 32% of brokers named it a top-three consideration. Around half of the brokers who commented were satisfied with their carriers' product range, while the other half said product lines were lacking. And some took issue with the way products are distributed to brokers: "Give the brokers access to all of the products instead of trying to restrict our access," said one respondent. Another wanted their carrier to focus its attention elsewhere: "Fix service times and stop coming out with new products or new underwriting criteria until service levels are back to standards."
Claims processing ranked fifth among brokers' priorities when choosing a carrier. Although 73% of brokers told IBC they'd seen either no change or an improvement in claims service over the past year, many were still unhappy with the state of their carrier's claims processing, and quite a few mentioned that claims teams in Canada need more staff. Others cited the importance of improving service quality and streamlining the claims process. "Stop paying claims that should be denied and taking too much time on simple claims," one broker advised.
Twenty-five percent of brokers said they consider quick quotes a top priority when choosing a carrier. Brokers called out carriers for lacking timeliness on commercial quotes and noted that some carriers' online quoting portals are too slow to be truly useful.
Carriers' appetite for niche and emerging risks ranked seventh on brokers' list of priorities. Some lauded their carriers for covering niche risks that conventional markets won't touch – but not all carriers are willing to go that route. "Actually have an appetite for emerging risks. Stop playing it too safe," one broker advised their carrier. Another noted that "time to get to market to deal with emerging risks could be accelerated."
Rounding out the bottom of brokers' priority list when choosing a carrier are broker communication, product innovation, and online platforms and services, all of which were deemed important by 20% of respondents or fewer. In the area of broker communication, brokers wished for more personalized communication instead of mass marketing. "Better collaboration will lead to much better communication," one respondent noted, adding that "brokers are tired of being told what they want. They want to be heard!"
In terms of product innovation, brokers generally wanted more creative options: "Be a leader, not a follower," said one respondent. However, at least one broker urged their carrier to scale back on product development, saying, "Stop trying to be all things to all people."
Finally, when it comes to carriers' online platforms and services, brokers are simply looking for intuitive, easy-to-use portals; many described their carriers' current platforms as clunky, cumbersome or confusing.
Overall Service Level
CAA Insurance
Ecclesiastical
The Portage la Prairie Mutual Insurance Company
The Commonwell Mutual Insurance Group
Trisura Guarantee Insurance Company
Product Innovation
CAA Insurance
CNA Canada
Trisura Guarantee Insurance Company
Claims Processing
CAA Insurance
Chubb
Ecclesiastical
Pembridge Insurance Company
The Commonwell Mutual Insurance Group
The Portage la Prairie Mutual Insurance Company
Trisura Guarantee Insurance Company
Quick Quotes
CAA Insurance
Chubb
Pembridge Insurance Company
The Commonwell Mutual Insurance Group
The Portage la Prairie Mutual Insurance Company
Trisura Guarantee Insurance Company
Broker Communication
CAA Insurance
Chubb
CNA Canada
Ecclesiastical
Pembridge Insurance Company
The Commonwell Mutual Insurance Group
The Portage la Prairie Mutual Insurance Company
Trisura Guarantee Insurance Company
Competitive Rates
CAA Insurance
CNA Canada
Ecclesiastical
Pembridge Insurance Company
The Commonwell Mutual Insurance Group
Trisura Guarantee Insurance Company
Range of Products
CAA Insurance
Chubb
CNA Canada
Pembridge Insurance Company
The Commonwell Mutual Insurance Group
Trisura Guarantee Insurance Company
Online Platforms and Services
CAA Insurance
Trisura Guarantee Insurance Company
Underwriting Expertise
CAA Insurance
Chubb
CNA Canada
Ecclesiastical
Gore Mutual Insurance Company
Pembridge Insurance Company
The Commonwell Mutual Insurance Group
The Portage la Prairie Mutual Insurance Company
Trisura Guarantee Insurance Company
Appetite for Niche and Emerging Markets
Trisura Guarantee Insurance Company