Jump to winners | Jump to methodology
Ensuring innovation
With new social, political and economic challenges springing up, professional liability (PL) and directors and officers (D&O) policies are enabling companies to meet them.
All of Insurance Business Canada's 5-Star Professional Liability and D&O winners in 2023 proactively provided this assurance for their clients.

"They need to be thinking ahead, they can't be reacting to the needs of industry," explains Colin Wight, senior director of marketing at Wilson M. Beck Insurance Services. "They need to develop policies and coverages that will address clients' needs not only today, but what they will need in two or three days, or two or three years. Key is their ability and empowerment to adopt their coverage, and that it continues to evolve."

"Being in-house underwriters in both professional liability and D&O, we tailor coverage to individual risks, creating a boutique solution for our broker partners"
Sarah Suschkov, Trinity Underwriting
Coverage versatility
IBC engaged top brokers from across Canada, and the survey results are shown in the box below.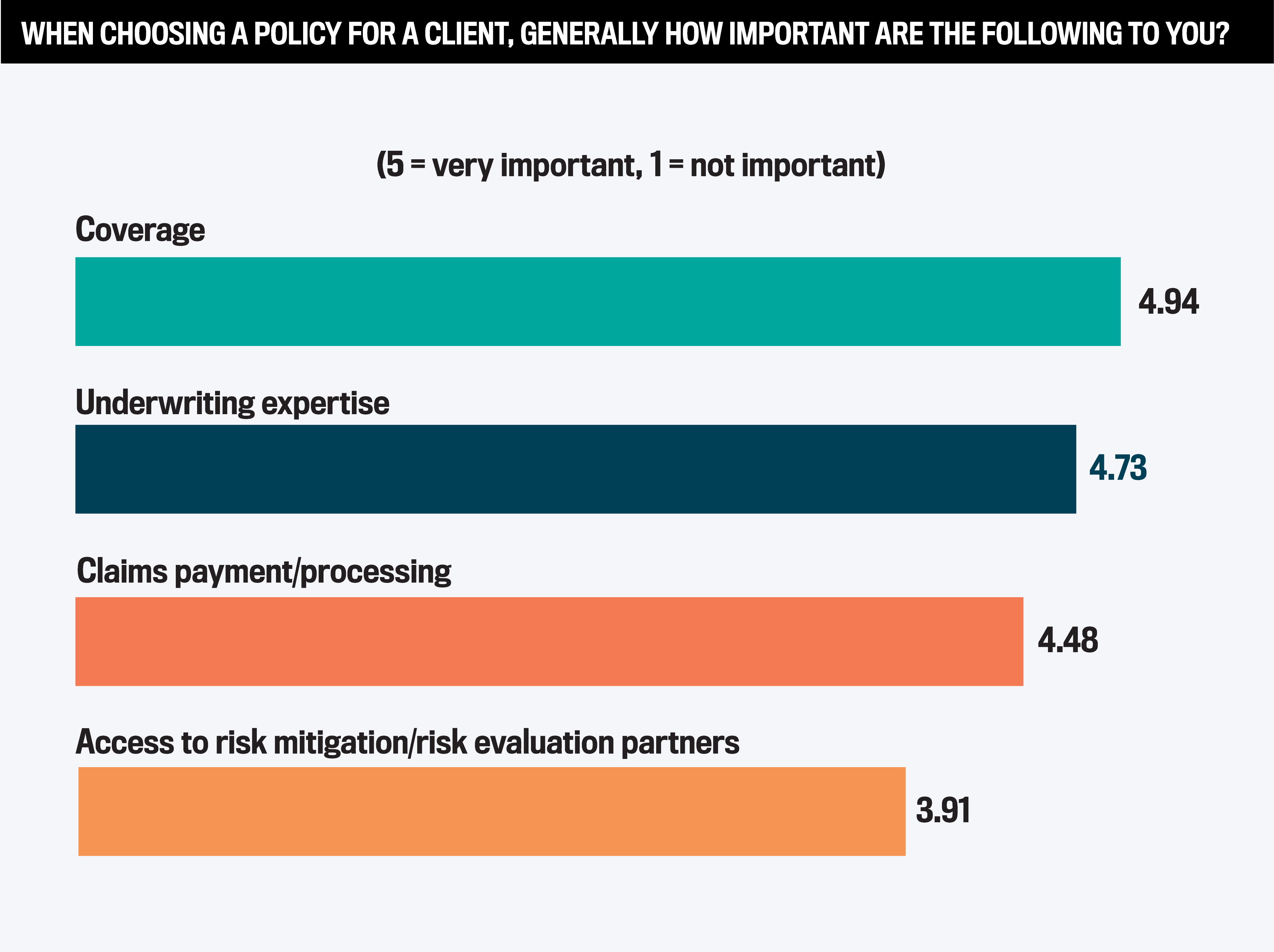 The 5-Star winners highlight how they prioritize being adaptable with regards to coverage, which is the top ranked feature for brokers.
Trinity Underwriting vice president and chief underwriting officer Sarah Suschkov says, "Being in-house underwriters in both professional liability and D&O, we tailor coverage to individual risks, creating a boutique solution for our broker partners."
Angela Feudo, the assistant vice president of professional solutions at winner Trisura, explains how the company has a solutions-oriented mindset. "We can get creative to tailor coverage to the specific needs of the insureds. Our head office is in Canada, which allows us to be swift when making changes to workings or creating manuscripts."
Underlining how vital these approaches are for brokers, Emma Borsato, senior account executive at Central Agencies, says, "If a company I work with tells me they cannot write a risk, I need to change to another market, at least for that client. If that becomes a trend, naturally I start transitioning whom I approach first."
This is also something Wight agrees with, but cautions how providers judge risk. "It is important for underwriters to know specific industry knowledge so they can really decipher between perception of risk versus actual risk," he explains. "Industry knowledge is so important, and a common theme is the challenge as insurers adapt their coverage, especially as the IT and tech industry has started to merge with all aspects of professional liability services."

"We ensure to always work with the best partners to provide a great experience to our insureds"
Angela Feudo, Trisura
Underwriting excellency
Brokers want confidence that their provider is going to deliver.
Brad McAllister, the director of business development at Foxquilt, says exactly what he expects. "A company that is adequately staffed to respond to quote requests in a timely manner. Quotes [should] include a detailed breakdown of coverages and exclusions, and the underwriters [should] work to completely understand the operations."
This is a part of the business that 5-Star winner CNA Canada has focused on.
"Our team has a deep understanding of the industries and businesses we insure, including the specific risks and exposures that these businesses face," explains Abena Apraku, assistant vice president of management liability. "This expertise is evident in our underwriting approach, our pricing strategy and our ability to identify and manage emerging risks across management and professional liability lines of business."
Feudo adds, "Trisura is a niche specialty market, and our underwriters are experts in the lines of coverages we offer."

"Our team has a deep understanding of the industries and businesses we insure, including the specific risks and exposures that these businesses face"
Abena Apraku, CNA Canada
Claims efficiency
When it comes to the payment and processing of claims, the message from brokers is they want the process to be simple and quick, and to be supplied with regular status updates.
"A 5-Star carrier should have a market-leading form, underwriting expertise, be creative and nimble, have quick and efficient claims handling, but most of all provide consistent and predictable service," says Denis Panariti, VP of management liability and cyber risk at Arthur J. Gallagher Canada.
Feudo explains how Trisura's claims team is comprised of in-house lawyers and meet these standards.
"They respond to claims very promptly and work with the insured, so they understand every step of the claims process," she says. "Our claims team also ensures that the broker is involved in the entire process and kept up to date."
Giving an insight into her relationship with her provider and how she is kept up to speed on claims, Borsato adds, "I have worked with Special Risk for many years. If anything, the relationship is a bit better now that I have the direct cell number for underwriters and business development – allowing me to text or call on an urgent file and generally reach out in a means beyond email."
It's no exaggeration that brokers will take their business elsewhere if providers fall short on this issue. Asked what would make him change his provider, McAllister says, "Lack of communication, lack of acceptability. There are MGAs out there that will actually not even acknowledge a submission by a broker unless followed up on."
"Trinity has a long standing and close relationship with our [third-party administrator], Cameron and Associates, who are experienced and trusted experts in the specialty adjusting space," says Suschkov.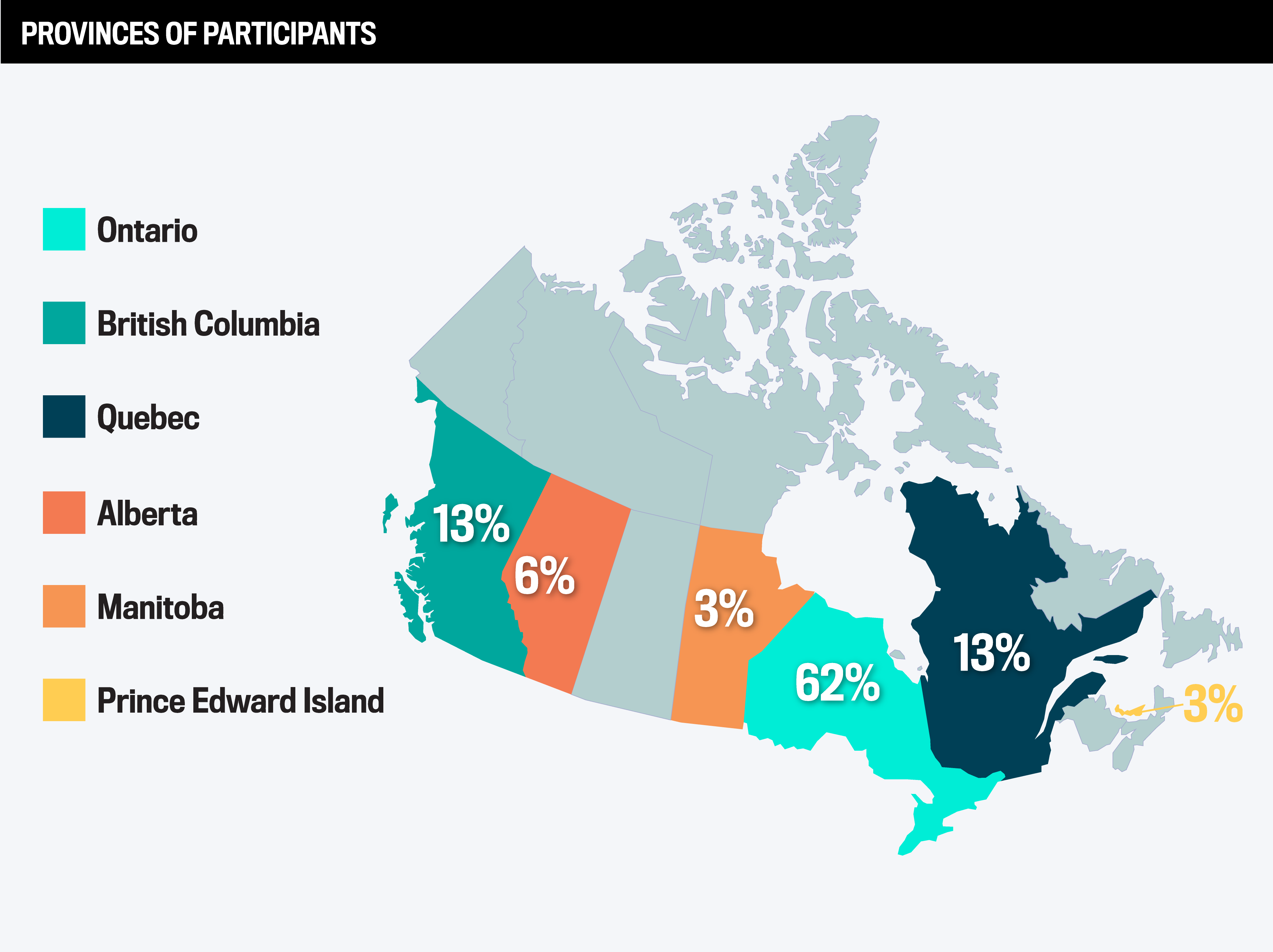 Coping with risk
Another moving target that the 5-Star winners have to contend with is refining their products to suit the type of risk. Brokers seek providers who will work with them and be accommodating.
Gary Tremblay, an account manager at Beneficial Insurance, explains this mindset and what his colleagues are looking for. "Be more open to unique risks, and have the ability to tailor policies to meet them."
Rising to this challenge is CNA Canada. "Our team has a strong network of risk mitigation and risk evaluation partners that can provide additional services such as risk consulting," says Apraku. "This includes access to specialized experts in areas such as cyber risk through our CNA CyberPrep offering, and employment practices liability through our H.R. Help Line."
While opening up on Trisura's approach in this area, Feudo adds, "We know that insurance is one aspect of a business' risk strategy, by providing access to risk mitigation/evaluation partners to our insureds, we hope to help round out their overall risk strategy. We ensure to always work with the best partners to provide a great experience to our insureds."

Ongoing expectations
The 5-Star winners are being recognized for their outstanding performance. Behind that is their mindset, which needs to be sharp due to the demands on Professional Liability and D&O providers.
Richard Holden, a managing partner at Best Buy Insurance Brokers, says, "It's been an evolving relationship over time. New providers have come onto the scene and competition is ramping up."
Trinity Underwriting has responded to this and covered start-ups and professional services in the emerging sectors. This year, the company is focusing on cleantech, meditech, engitech and bridging tech.
"These niches are growth areas in the Canadian economy and serve important functions in society," explains Suschkov. "We are eager to write in these spaces and support companies that are set up to help the world."
One technology set to deliver untold benefits is artificial intelligence (AI). A bridging tech, AI is also a risky endeavour regarding privacy issues. Impending legislation like the Digital Charter Implementation Act of 2022 aims to provide consumer protection as it also would add complexity to the sector and drive new coverage needs.
Concerning other market conditions, Suschkov says that bad underwriting results in niches like cyber and shifting capacity in niches like the design-build engineering space have led to a hardening market over the past two years in the PL space. She expects a softening and more stability in 2023.
Professional Liability
Beazley
Chubb Canada
Mutual Fire Insurance
Premier
Shore Underwriting
Special Risk Insurance Managers
Trisura Specialty Insurance Company
Victor Canada
D&O
CFC Underwriting
Chubb Canada
CNA Canada
Liberty Mutual
Markel
Premier
Special Risk Insurance Managers
Travelers
Unica Insurance
Victor Canada