Jump to winners | Jump to methodology
Outpacing the competition
At the end of the day, the insurance business is all about growth – increasing the revenue of companies and, ultimately, enhancing their resources to better meet the needs of their clients and employees. Despite two years of challenges, the Fast Brokerages on Insurance Business Canada's list maintained great momentum, achieving an average revenue growth of 20% or more in 2020 and 2021. Their noteworthy achievements present an even more bullish outlook for the near future.
"The Canadian insurance market will continue to climb out of the hard market in 2022," says Russell Quilley, chief broking officer for Canada at Aon. "With many of the insurance carriers looking to grow in 2022, this additional pressure will translate to more favourable terms for clients."
"We are proud to be truly independent, Canadian, family-owned and community-based, which differentiates us amongst the national brokers of scale"
Jamie Lyons, Westland Insurance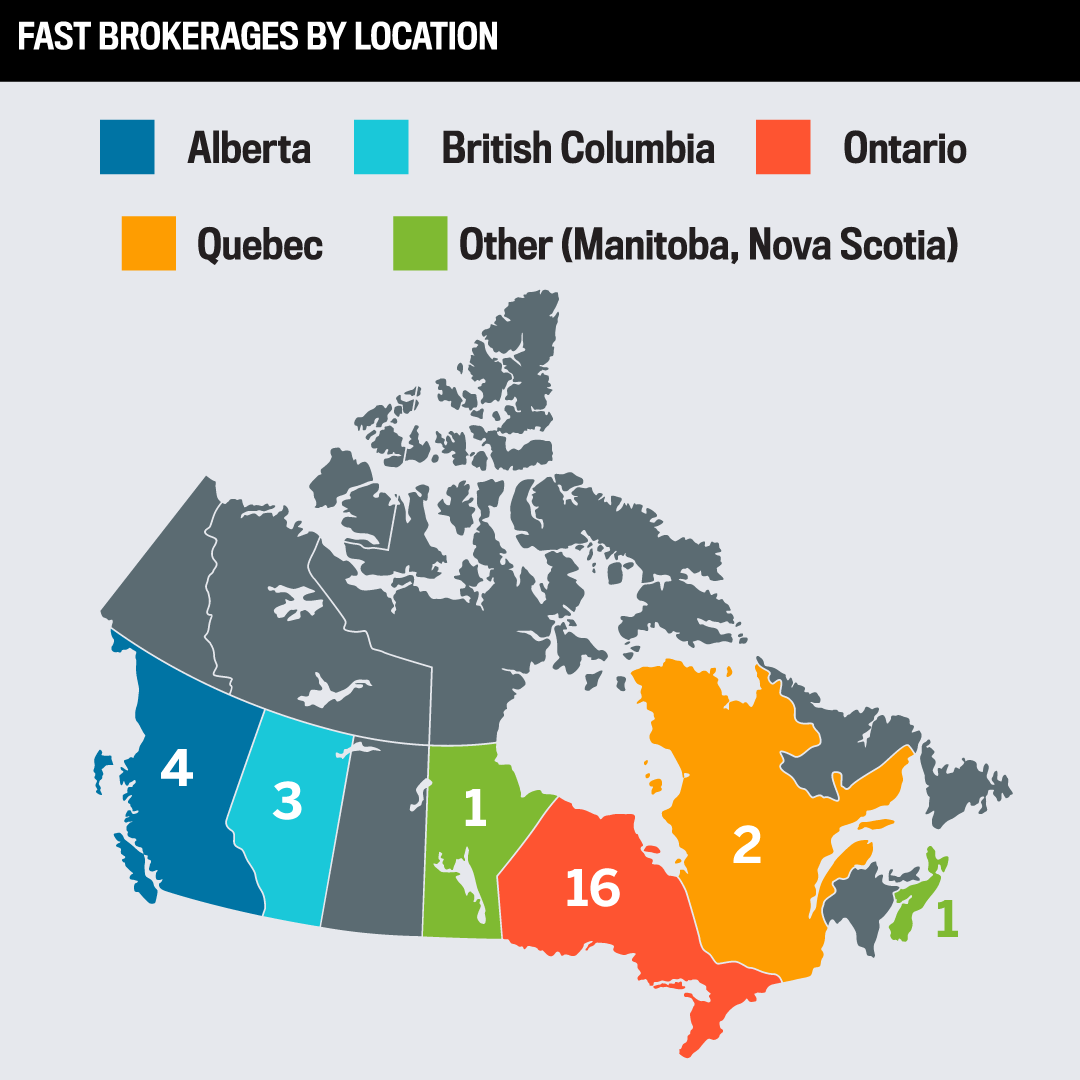 Adversities and accomplishments
Adapting to the COVID-19 pandemic. Navigating the hard market. Fighting the war for talent. Keeping up with rapid advancements in technology. Dealing with consolidations. Jamie Lyons, president and chief operating officer of Westland Insurance, an IBC Fast Brokerages winner, faced these challenges, which were difficult to overcome but also presented new opportunities.
"At Westland, we've used the last two years to really reflect on our vision and strategy, and what it is going to take to lead the industry in the future," says Lyons. "Not surprisingly, it starts with critical investments in people, technology and maximizing the client experience. We are pursuing a strategy of growth – both organic and through acquisition – because it enables these investments."
Ahilan Balachandran, CEO and founder of LifePlan Investments, another Fast Brokerage, also made the most of recent times. After the pandemic nearly sidelined the company, LifePlan bounced back with the help of advanced technologies.
"Once we were back onboard with new technology, a learning management system platform, new consultants, and mentors to support our advisors and our business, and training on how to use digital tools, we found that we were able to continue to engage our healthy advisors and clients," says Balachandran. "It took a lot of communication and guidance, as some operations and processes went through digital transformation. However, in the end, we all managed and found processes to be much smoother with the help of technology."
Meanwhile, Christina Melick, president of RGI Group – also a Fast Brokerages winner – noted that COVID was the main obstacle in the past two years. "Insurance companies were implementing discounts to try and make insurance payments manageable, but overall prices are continuing to rise, making retention tougher and tougher on brokers," she says. "The commercial insurance market is very difficult right now as insurance companies are putting a very tight rein on business they want. The next year for personal insurance is going to be a struggle as well. Insurance companies are all dropping the COVID discounts, plus clients are going to feel the average rate increases. This is where the brokers that do their due diligence for their clients to retain them are going to shine."
"The culture at our firm is unique, we help and support our advisors and we encourage spreading knowledge and helping peers"
Ahilan Balachandran, LifePlan Investments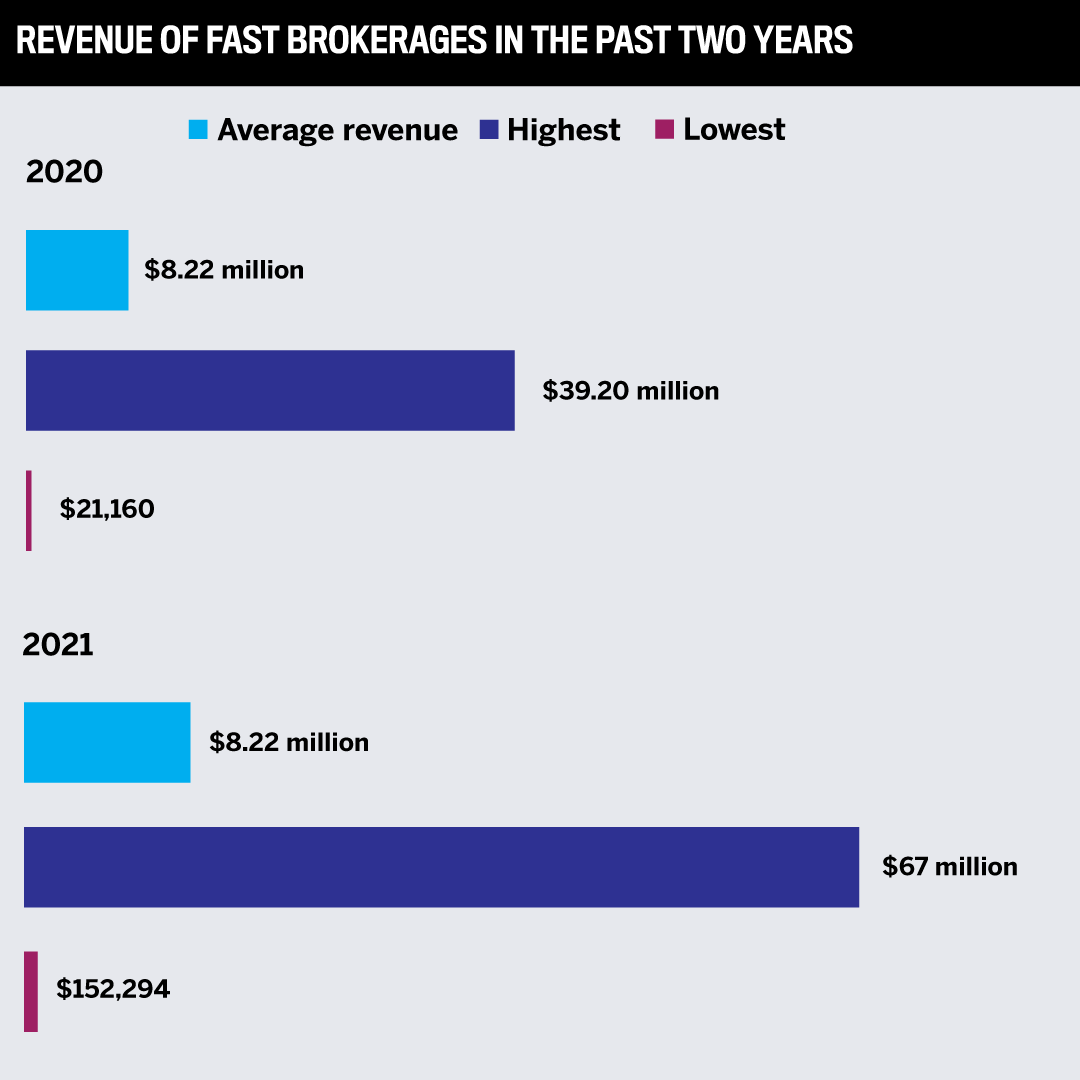 Driving revenue growth
The Fast Brokerages have reported impressive revenue figures. RGI Group grew its revenue by 620% simply through customer service and marketing. "Providing great customer service produces referrals, which equal growth," Melick says. "Marketing to new groups and their members or employees equals quotes, which again equals growth."
In addition, the company believes in the power of retention. Melick cautions that because many brokers are fixated on driving online sales, they're not as focused as they should be on client retention. "We believe that great customer service is key to being a great broker that retains clients. That's the key to continued growth," she says.
For Westland, its 32% revenue increase was a result of its focus on organic and acquisition growth. Regarding the former, the company concentrated on delivering outstanding customer service and investing in its communities. The historically western Canadian broker also looked to expand its operations from coast to coast.
Meanwhile, LifePlan Investments bolstered its revenue by 151% by cutting costs, attracting more advisors and clients, and targeting the right customer demographic. With its all-in-one administrative tool BlueMind, the company was able to reduce its administrative staff from three employees to one person. Maintaining an excellent culture helped attract and retain talent, and empowering advisors to build relationships with like-minded individuals also enabled the company to make the most of its target demographics.
"Providing great customer service produces referrals, which equal growth. Marketing to new groups and their members or employees equals quotes, which again equals growth"
Christina Melick, RGI Group
What makes the winners unique
Just as the Fast Brokerages all differ in size, specialization and geography, each of them offers a little something special that contributes to their status as providers of choice.
At Westland Insurance, the team focuses on meeting the diverse needs of their client base through the ongoing national expansion of various brokerages and MGAs. At the same time, they are committed to giving back to the communities where they work, and are also invested in maintaining employee excellence and the latest technologies.
"We are proud to be truly independent, Canadian, family-owned and community-based, which differentiates us amongst the national brokers of scale," says Lyons. "While we have grown considerably in recent years, we have stayed true to our roots and our culture, which is underpinned by entrepreneurial spirit and humility."
In addition to its high revenue growth, Westland Insurance has expanded into four new provinces, grown its employee base by 70%, increased the number of its locations by 60%, acquired two new MGAs and two leading digital brands, and invested more than $25 million in new technologies.
Meanwhile, LifePlan Investments differentiates itself by providing a nurturing office environment tailored to meet the ongoing needs of its employees and advisors. In addition, the company also focuses on leveraging the latest technologies to empower its personnel.
"The culture at our firm is unique. We help and support our advisors and we encourage spreading knowledge and helping peers," says Balachandran. "At our office, you will find advisors and myself continually supporting advisors on business and case help. We have also paid for consultants and higher-end sales programs for our advisors. They work individually with our advisors to provide customized training adapted to the advisor's strengths and weaknesses. This is all in line with our mission and values to build confidence in the financial literacy space and give our advisors the knowledge to provide unbiased advice to clients."
Due to this effective approach, not only has LifePlan Investments grown its revenue. It has also maintained 100% advisor retention and achieved more than 227% premium growth over two years; grown its employee headcount by 150%; expanded virtually into British Columbia, Alberta and Quebec; and reduced the number of administrative personnel from 4 to 1.5.
Meanwhile, for RGI, the secret of success is group programs. "With our groups, our clients benefit from being one of the many and are rewarded with discounts or lowered premiums," says Mellick. "Our group possibilities are continually growing and include home, auto, professional liability, mortgage insurance and others. If you have over 500 members or employees, you should be offering group savings."
1-10 brokers
Ai Insurance Organization
Beyond Insurance
Life Insurance Canada
PolicyAdvisor Brokerage
RGI Brokers
11-50 brokers
Alteri Insurance Brokers
Apex Surety & Insurance
A-WIN Insurance
Billyard Insurance Group - Mississauga East
BMS Canada Risk Services
Keyes Insurance Brokerage
LifePlan Investments
Monarch Insurance Brokers
MYCOR Insurance Solutions
51-100 brokers
Mitchell & Whale Insurance Brokers
OVC Assurance
101-500 brokers
Oracle RMS Insurance Brokers
SIB Corp o/a StoneRidge Insurance Brokers
Synex Performance d'affaires
Wilson M Beck Insurance Services
501-1,000 brokers
Billyard Insurance Group Inc
1,000+ brokers
Experior Financial Group
Westland Insurance Group
Fast Starters
Apex Surety & Insurance
LifePlan Investments
PolicyAdvisor Brokerage
RGI Brokers
The companies named as Fast Brokerages are those that achieved more than 20% growth in revenue volume. This year, 27 brokerages made the final list. IB Canada also highlights five brokerages as Fast Starters that have been in business for three years or less, making their mark on the mortgage landscape. These brokerages confirmed their resilience and cemented their strong positions in the Canadian insurance industry.