Jump to winners | Jump to methodology
Employing excellence
For Insurance Business Canada's 2022 Top Insurance Employers survey, employees anonymously ranked their companies in a range of areas including benefits, culture, employee development, and diversity and inclusion.
That resulted in 37 winning firms, who achieved an average satisfaction rating of 80% or more. All of these organizations are delivering for their employees and being recognized for creating engaging environments.
"I think we try very hard to not necessarily categorize someone based on their age or the year they were born but very much on their own individual merit"
Katie Dallas, Special Risk Insurance Managers
IBC's research shows that these companies are offering incentives in unique ways by creating generous referral schemes, forming a culture committee, and purposely introducing diverse workforces so multiple languages are catered for.
The research also reveals that the three most important benefits to employees are flexible work options, bonus/incentive programs and dental coverage.
Talking about what employees want from firms across the sector, Caroline Rumel, director for people and performance at Westland Insurance Group, says, "Although important, candidates are looking for more than just compensation. They're looking at culture, purpose, and how to achieve their desired balance between their lives outside of work with their careers."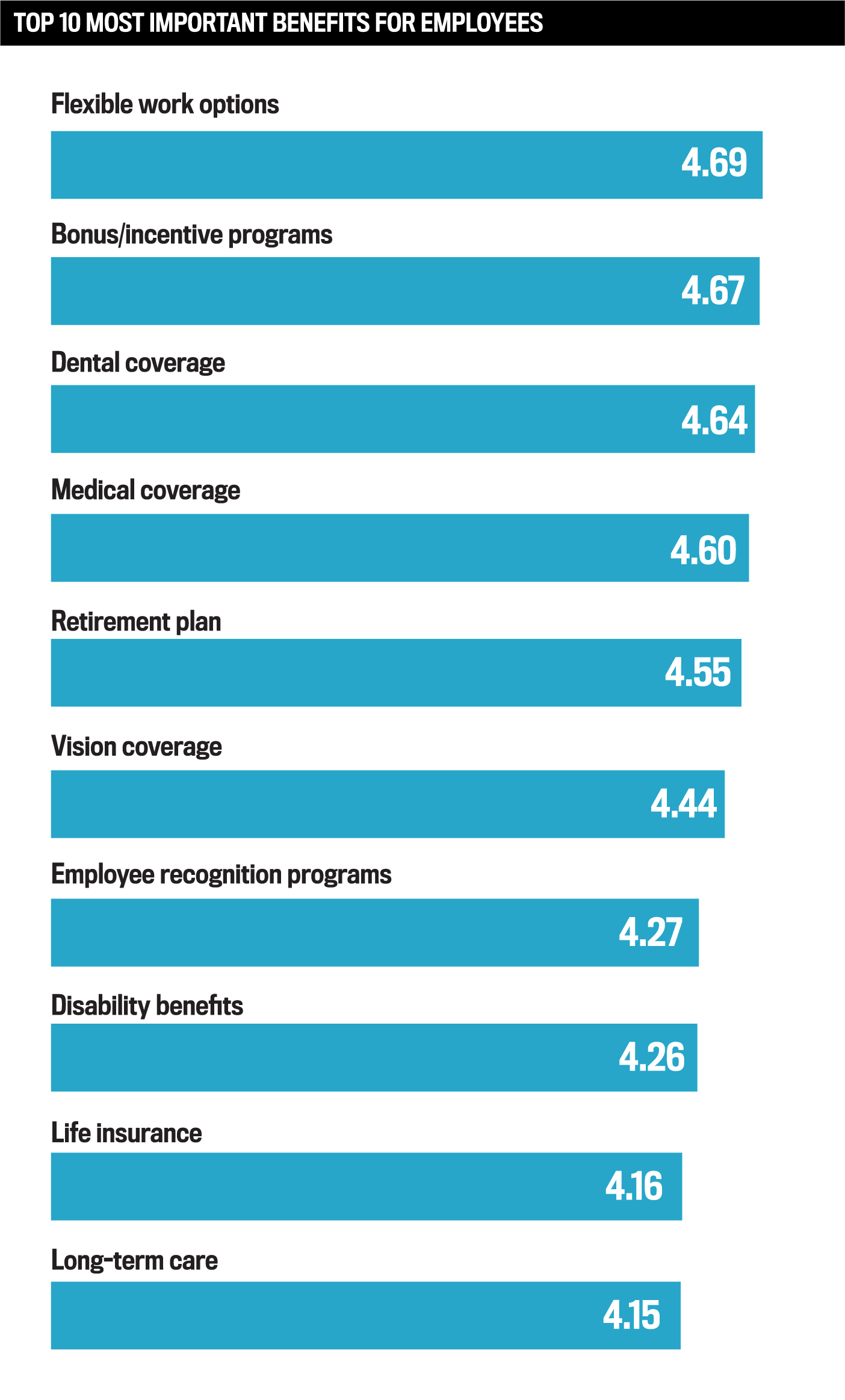 Reclaiming the culture
Over the past two years, Canadian insurers have been dealing with remote working dynamics but also a tight labour market.
Katie Dallas, national underwriter manager with Top Insurance Employer Special Risk Insurance Managers, underscores the challenges of having an online workforce. "The work-from-home onboarding environment has been key for us and so important," she says. "If someone doesn't feel connected in those first few weeks, you can lose them. So, we really had to lean into that and really keep them engaged."
Special Risk has grown from 100 employees to more than 180 over the past 24 months, and they appear to value the structure they are working within.
"Despite being mainly remote, we still connect and have meeting rooms to work in. They are great at providing constructive feedback. You can tell management and team leaders, as well as other co-workers, genuinely appreciate you within the organization," one of the employees says.
Another adds, "The organization does a great job of creating an environment that allows for the team to experience work-life balance. There is a very welcoming atmosphere throughout the organization that I found quite unique based on my experience."
Commenting on their workplace experience so far, a recent hire says "the culture is very positive and [the company seems] to care about the wellbeing of their employees."
Insurance Insight is another Top Insurance Employer. Their vice president of human resources, Sona Castellarin, describes how the company has a hybrid system, with some people fully remote. Relying solely on virtual human interactions, she says, makes it challenging to develop strong human connections. "But it's been a good thing in many ways," she explains. "We've been able to hire people outside of our normal geographic region. So, it's opened up the labor market for us."
Insight's approach, particularly the management style of its executives, is praised by one employee: "Upper management does not just talk the talk, but walks the walk. They lead by example. They listen and have an open-door policy, which makes me feel comfortable to open communication. I feel like I am treated with respect and given many great opportunities."
Another staff member shares, "They have created a strong colleague caring atmosphere. It feels like a family."
In addition to a 79% employee net promoter score (eNPS) – best in class – Insurance Insight has a 97% rating on quality of coverage and a 4.8 Google rating with over 160 reviews.
Meanwhile, Cameron Scott, director of sales and implementations with Insurance Systems Inc. (ISI), says they recently moved into a co-working environment. Regarding labour conditions, he says, "It's been more of an employee-favored market lately. We understand the market is hot right now, so we're looking for ways to increase employee engagement and participant retention."
ISI, also a 2022 winner, enjoys an average employee tenure of 9.6 years. Their employees told IBC that they appreciate the firm "facilitating a great workplace culture and flexible work environment" and another praised "the inclusion of all staff regardless of role and location."
The companies' strategies are emblematic of the industry in general. "Most of my clients in the insurance space have decided to embrace hybrid working," Julia Lamm, principal and global workforce strategy leader at PwC US, recently told IBC. "They went through change management over the last two years and were forced to work remotely. They made investments in virtual technology and virtual collaboration tools […] which has been really exciting for the industry."
"We have provided everyone with training around diversity and inclusion – having everyone be aware helps to remove unconscious bias and ensure we're going as inclusive as possible"
Sona Castellarin, Insurance Insight
What else they're doing right
The firms also commented on their companies' achievements in quality of benefits, compensation, culture, employee development, and commitment to diversity and inclusion.
Castellarin is proud of Insurance Insight's benefit plan for contract employees and PTO policy, not to mention a unique 'walk for vacation' policy. "It encourages people to get away from their desk," she says. "They can actually earn additional vacation days for just taking healthy breaks during the day that promote physical fitness as well."
Regarding compensation, Scott says ISI is trying to share the savings they've received by moving to a co-working environment with the team. To start, they've implemented a generous employee referral program. "We previously offered a $2,000 incentive," he says. "Since increasing it to $10,000, we've seen a steady increase in the number of referrals from our team."
Meanwhile, Dallas loves culture and is conscious of employee development. Special Risk strives to keep teammates engaged wherever they are with events ranging from Zoom bingo to karaoke to music trivia. They even hire food trucks to help draw personnel into the brick-and-mortar office.
"Employee development is something that we definitely have noticed as being a struggle with the pandemic and working from home," she says. " We no longer have those junior employees overhearing a senior underwriter or management talking and having those difficult discussions and hearing how to handle it. In a way, we've lost a lot of 'learning by osmosis,' so we have to try to keep them learning and having those discussions over Zoom."
Meanwhile, Castellarin is proud of her company's diversity. "We speak more than 10 languages," she says. "We have provided everyone with training around diversity and inclusion – having everyone be aware helps to remove unconscious bias and ensures we're going as inclusive as possible."
"We have a wellness program where, for every workout a team member completes, we donate $5 to charity. Wellness prizes are randomly drawn monthly, and our team members can propose a charity that will receive a donation from the funds we've received"
Cameron Scott, Insurance Systems Inc.
Ongoing challenges
Despite their status as Top Insurance Employers, the companies are not resting on their laurels.
"I think the biggest thing we need to focus on and work on is that continued employee engagement," says Dallas. "Keeping everyone feeling as part of our organization as we grow is key. Making sure no one feels left behind, especially those who aren't able to come into the office. We have specific events and ways to connect. We might even have one of our new staff members meet them. Taking that time to meet them in person makes a big difference."
Castellarin largely agrees with Dallas and likes Scott's idea of attracting new talent through value propositions. They also have a culture committee that checks in on people. "We randomly pick names, and we check in with two or three colleagues every month or so, so that they're having some of that organic conversation that they wouldn't normally have." They're also promoting learning and development through programs such as LinkedIn Learning.
Scott says ISI is trying to find ways to be more engaged in the community. "We have a wellness program where for every workout a team member completes, we donate $5 to charity. Wellness prizes are randomly drawn monthly, and our team members can propose a charity that will receive a donation from the funds we've received."

Generational differences
There's been talk about the knowledge gap due to older workers retiring before they can help train younger employees. There's also criticism across the age groups for differing work styles and levels of devotion to their companies.
The winners' experience tends to defy the stereotypes. "I think we try very hard to not necessarily categorize someone based on their age or the year they were born but very much on their own individual merit," says Dallas. "What are their strengths and weaknesses, and how can they add to the growth of our organization? I know there can be some struggles with technology, which we see is more important than ever working from home – to be able to manage Zoom, or teams and emails and phone services and things changing constantly.
"I do see some of that tying in potentially but not necessarily based on age. We can see some young people that maybe are not familiar with certain programs, and we do what we can to provide them with additional support so they can get where they need to be. But otherwise, I would think we try very hard to just not generalize and treat someone based on their own merits."
Castellarin notes that younger workers are more interested in having a purpose, maintaining a healthy work-life balance and socializing. "They want to get back out into the world and socialize – they're missing that social connection that comes from the workplace," she explains.
Meanwhile, Scott agrees that it's difficult to generalize about generational working styles, but he does say the company goes out of its way to adapt employee development programs to fit the needs of varying age groups. "We have people who have aggressive career plans and other team members who simply are happy to put in a solid 40-hour work week. It's important for us to recognize the goals of each individual and design plans around them."

501+ employees
101–500 employees
APOLLO Insurance
Assumption Life
Axis Insurance Managers
BMS Canada Risk Services
Burns & Wilcox Canada
Cansure
Liberty Mutual Canada
Markel Canada
Red River Mutual
Special Risk Insurance Managers
Wilson M. Beck Insurance Services
Zensurance
26–100 employees
APRIL Canada
Billyard Insurance Group
CHES Special Risk
CMB Insurance Brokers
Duliban Insurance Brokers
Foxquilt
Insurance Insight
Insurance Systems Inc.
isure insurance
Leibel Insurance Group
Mitch Insurance
OVC Assurance
Sandbox Mutual Insurance
The Mutual Fire Insurance Company of British Columbia
Vertafore Canada
10–25 employees
Ai Insurance Organization
Avant Insurance Brokers
KASE Insurance
Kent & White Insurance
Keyes Insurance Brokerage
Latitude Financial Services
RH Insurance
Stewart Specialty Risk Underwriting
To be considered, each organization had to reach a minimum number of employee responses based on overall size. Organizations that achieved an 80% or greater average satisfaction rating from employees were named Top Insurance Employers for 2022.