Redefining peace-of-mind | Insurance Business Canada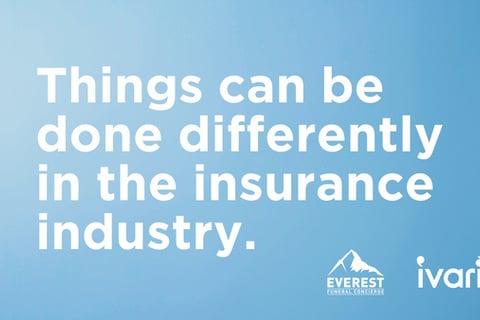 Everest: ivari Case Study
"We wanted to offer a service that added an emotional benefit above and beyond the insurance value. We wanted to revolutionize the way insurance companies provide value to their customers."
— ivari Senior Vice President and Chief Distribution Officer Jeffrey Fox.
In the beginning: The Situation
ivari was created to be a new kind of insurance company, one based on the strong values represented by its people and products. At its core would be one fundamental belief: that the most important thing an insurance company can do is bring real value to their customers. In an industry traditionally dominated by transactional products, though, how would ivari do it?
Redefining Peace-of-Mind: The Partnership
In the spring of 2017, the company found the perfect opportunity to differentiate themselves in the marketplace: they would revolutionize their established Prosperity Universal Life (UL) policy by adding a new service at no extra cost to the customer. But they couldn't do it alone. It was all made possible through a partnership with a company that already had a trusted relationship with ivari, Everest Funeral Concierge Service.
Everest is the first Funeral Concierge Service dedicated to simplifying the funeral process for grieving families across North America. The organization is an independent voice offering 24/7 expert advice to consumers in times when the most important decisions are also the most difficult. More than that, Everest acts as a consumer advocate, comparing and negotiating best prices and working with insurance companies to get finances in as little as 48 hours after death.
In an unprecedented move, together ivari and Everest brought the service to every eligible Prosperity UL policy above $100,000. What made it all the more exceptional, however, was the timeline: the announcement would come at the 2017 World Financial Group Las Vegas Convention, an incredible 90 days after the partnership agreement.
Proving the Philosophy: The Results
From the moment it launched, World Financial Group agents across the country were excited about the new addition to the Prosperity UL offering. It provides a major benefit for customers reaching the $100,000 coverage mark and agents can now provide that all too important emotional value through the Everest service to their customers.
The business results have been stellar. At the end of Q2 2018, written premiums for ivari's eligible UL policies were up 25%, and adoption of ivari's electronic application went from 64% to 91%. Early indications are that business persistency is improving: by adding the Everest service to a policy, a client is more likely to keep that policy in force. Over time, this will help to improve the overall value of ivari's business.
Most importantly, ivari and Everest are helping their customers and their families with a service that offers ease and support in their most challenging times. Through their partnership, they're proving that financial peace-of-mind can come with personal care.