Crafting climate resilience | Insurance Business Canada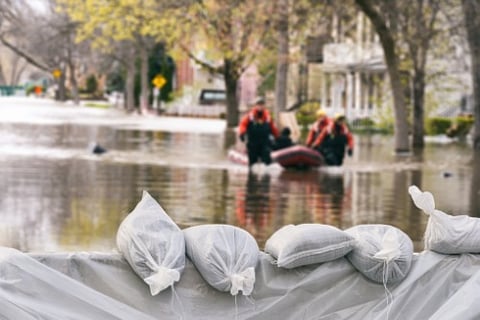 Flood season has returned with a vengeance. In late April, a 25-kilometre ice jam on the Athabasca River in northern Alberta triggered a once-in-a-century flood that forced nearly 13,000 residents of Fort McMurray from their homes. It's the same story – albeit to a less catastrophic degree – across Canada, as spring flooding has impacted multiple provinces at a time when the nation is also contending with the COVID-19 pandemic.
A study by the World Wildlife Fund Canada (WWF-Canada) and RSA Canada shows that around 31% of Canadians are worried they will experience flooding in the next 12 months. Despite this concern, the survey revealed some significant flood-related knowledge gaps, misinformation about the peril, and widespread confusion about flood insurance and risk mitigation. Notably, almost half of Canadians (47%) admitted they do not know how to protect their home from flooding.
"I've seen the destruction and disruption that flooding can cause firsthand," says Anthony Black, national catastrophe manager at RSA Canada. "In many cases, Canadians don't even know that they are at risk and aren't even sure what they could have done to protect themselves. We have to band together as an industry, as a community and with all levels of government to do a better job in helping people recognize the risks they are exposed to and providing them with tools that result in immediate and sustainable solutions."
The WWF-Canada and RSA Canada report noted that communities across the country have experienced an increased frequency and intensity of rain and wind events due to climate change, leading to flooding that has damaged homes, businesses and public infrastructure. The two organizations have formed a partnership to improve Canada's climate and flood resilience and encourage communities to take collaborative action.
The broker's role
Insurance brokers are an important part of the climate resilience equation. As the primary point of contact with policyholders, brokers play a key role in their clients' climate risk preparation, including the purchase of adequate insurance and the implementation of best-practice risk mitigation.
"Insurance brokers are on the front lines when it comes to educating policyholders about climate risk and ensuring they are adequately protected with insurance," Black says. "At RSA Canada, we recognize the important role brokers play in Canada's climate resilience equation, and we support our broker partners by providing them with market-leading insurance products, such as our Waterproof Coverage, as well as climate-related tools and resources they can share with policyholders."
A national survey of insurance brokers conducted by RSA Canada recently revealed that only about half of insurance brokers in Canada consider themselves expert or proficient in this area and feel comfortable having discussions about climate change with their clients. Despite the risks posed by climate change, 13% of insurance brokers still are not educating their customers about climate-related risks.
To assist brokers in this endeavour, RSA Canada has released a series of tip sheets, webinars and other climate-related resources for brokers at rsabroker.ca/climatesmart. The page includes information on water damage, earthquakes and wildfires that brokers can share with their clients.
Partnering with WWF
Beyond focusing on insurance coverage, insurance professionals can also help to boost cooperation at a community level during climate-related crises like flooding. RSA Canada's partnership with WWF-Canada is one example of that. With RSA Canada's support and funding, WWF-Canada is helping municipalities in the Saint John River watershed assess climate-related flood vulnerability and develop adaptation plans that include restoring ecosystems and building natural infrastructure.
"Our work in the Saint John River watershed is helping build a model that will empower local communities to enhance their flood resilience and respond to the impacts of climate change," says Simon J. Mitchell, lead freshwater specialist at WWF-Canada. Together, WWF and RSA Canada will share lessons about how successfully partnering with government, industry and local communities can develop climate resilient solutions that work for all.
For more information on how to protect properties against weather-related damage and more advice on climate resilience, both at the personal and community level, visit rsabroker.ca/climatesmart.