Crawford builds upon its Human Risk Management Services
TORONTO (October 25, 2018) – Crawford & Company (Canada), Inc. a global provider of claims and risk management solutions, continues to develop and enhance our servicing capabilities to address traditional and emerging risks tied to employee management through our Human Risk division. The Human Risk division of Crawford is an industry-leading resource providing employee absence management and health and safety service solutions with qualified professionals, including adjudicators, case managers, return to work coordinators, occupational therapists, workers' compensation consultants, occupational health and safety specialists and a vast national network of traditional medical professionals and non-traditional practitioners.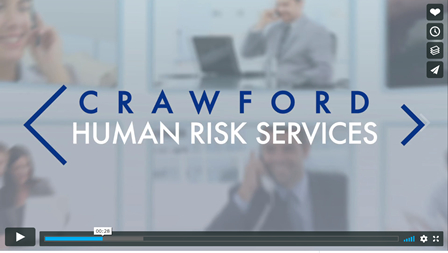 "Crawford's mission to restore and enhance lives, businesses and communities speaks to the human element of the work that we do, said Heather Matthews, senior vice president, Human Risk Services, Crawford & Company (Canada) Inc. "Our Human Risk division focuses solely on helping employees who are experiencing illness, injury or disability to obtain the best course of treatment, restoring them to a healthy, back-to-work state as quickly as possible – saving the employer and employee lost time and money."
As an organization, Crawford recognized the need for a solution to help employers manage the risks associated with overseeing a workforce. In response, we developed a broad range of service solutions under the Human Risk banner to address these risks – disability management, workers' compensation, leave management, medical services network and health and safety programs. These service solutions are tailored towards promoting both safe and healthy workplaces and successful return to work efforts for impacted employees – saving both parties' time and money.
We are excited to share with you additional information on our full range of Human Risk service solutions through our "Many Faces of Crawford" campaign, which will showcase the wide range of our service offerings, as well as the expertise of the professionals that support them. Follow us on LinkedIn /Crawford & Company Canada Inc. and Twitter @Crawford_Canada for service highlights.