Life is a highway, full of autonomous vehicles | Insurance Business Canada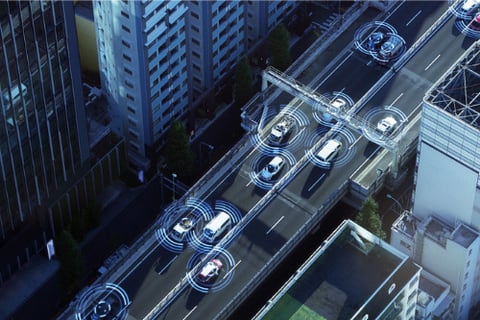 Last month Travelers released its position paper titled 'Insuring Autonomy: How Auto Insurance Will Lead Through Changing Risks' in Canada, highlighting the company's assessment of how the current auto landscape will benefit from the adoption of autonomous vehicles (AVs).
Caleb Earnest, VP and personal insurance product manager at Travelers spoke to Insurance Business about some key findings of the study and what the auto insurance industry should keep top of mind as AVs become a larger part of Canadian's lives.
Read more: How many Canadians will drive autonomous cars?
"As we've studied the space, we've continued to strengthen our position and understanding that the current auto insurance structure can and will meet society's needs in the autonomous vehicle world," said Earnest.
It is easy to believe that all vehicles on the road will be autonomous sooner than later, but Earnest explained that there will be a long transition period where both autonomous and non-autonomous vehicles will be on the road.
"We believe the auto insurance structure can meet the needs of AV customers," he said. "Insurers like ourselves already have processes in place that will help with the transition, which is important when dealing with liability and not having the customer placed in the middle."
Product liability is one of the most important questions when it comes to AVs. The role of insurance deals with both liability and the property insurance aspect. With any vehicle there are still risks present such as theft or weather damage.
When we think of the existing auto insurance structure, Earnest noted that it is well positioned to provide fair and timely compensation for victims when autonomous vehicles are involved.
"When we speak about product liability, AV owners still need that protection," he mentioned. "The role of product liability, as a primary compensation system it can be difficult for a consumer to navigate, which is where we would continue to stress the speed of resolution."
Travelers' study shows that AVs will benefit society by reducing the overall number of crashes, injuries and lives lost, as the technologies and safety features are already developed and continue to be enhanced.
"There's also going to be complexity involved with these claims and it's important to recognize that every claim is going to be unique and different," he said. "As we work through claims case by case, it's important to have claim experts playing a key role when working through resolutions and not putting it on the consumer to navigate, leveraging subrogation to sort out liabilities and complexities on the back end."
Earnest also mentioned the need for broker education to prepare for the shift to AVs. The terminology is much different from the traditional auto space, and brokers need a deeper level of understanding to speak to customers with confidence.
"It's an opportunity for brokers to play their role as a trusted advisor," said Earnest. "Clients look to them for expertise and guidance to have their insurance needs met, so when a client is shopping for an AV, brokers need to be informed."
"We shouldn't bet against the technology; it will continue to grow and it's important for those in the insurance community to become both engaged and educated on the topic.
Read next: Autonomous vehicle market expected to exceed US$202 billion by 2030
Brokers will be some of the first people to hear questions consumers have and will be the first individuals to see the complexities that will emerge within different claims scenarios. That level of insight and understanding is going to be very important when working with insurers and making sure stakeholders are responding accordingly," he emphasized.
Collaboration across stakeholders should be a priority, according to Earnest. From the government to regulators, manufacturers, insurers, brokers, all parties are going to be integral to a successful transition to AV life in Canada.
Travelers' paper noted that some key stakeholders have already begun to work together and advance the AV industry. Policymakers and regulators across all levels of government in Canada are getting involved in the development and rollout of AVs, and the auto insurance industry will play a critical role as, as stakeholders and society adapt to autonomous transportation.