Ten ways Canadian drivers can safeguard against car theft | Insurance Business Canada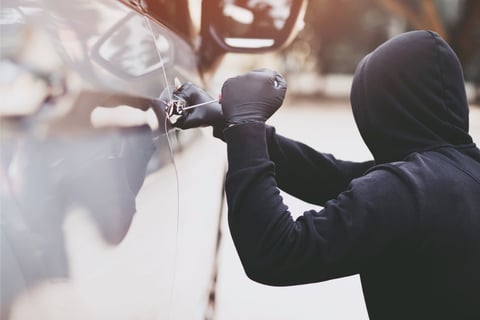 Vehicle theft has been a perennial problem in the country, with an average of one car stolen every six minutes, according to the Insurance Bureau of Canada (IBC). The association also noted that these incidents cost Canadian drivers almost $1 billion each year – more than half of which, or about $542 million, is spent by insurance companies to fix or replace stolen vehicles.
Last year alone, Équité Association, an independent industry organization established to protect Canadians against insurance crime, recorded an estimated 80,000 incidents of vehicle theft across the nation - a 1% uptick from 2020. But while at first glance the spike may not seem that significant, it still indicates an upward trend in cases, prompting the group to advise motorists to take necessary precautions to ensure their vehicles are safe.
Which are the most-stolen vehicles in Canada?
The association has also compiled a list of the most frequently stolen vehicles in Canada and found that technology has had a major impact on car thefts over the past year.
Read more: Revealed – 10 most-stolen vehicles in Canada in 2021
Among the key auto theft trends Équité's investigation team uncovered were:
A rise in electronic theft as more vehicles are equipped with advanced technology such as push-button start.
Many high-end SUVs are being stolen by organized crime groups to be stripped down for parts or exported.
Stolen vehicles are given false vehicle identification numbers (VIN) and sold to unsuspecting consumers.
Here is the complete list of the most frequently stolen vehicles in Canada last year, according to Équité's research.
| Rank | Make and model | Most common model year stolen | Vehicle type |
| --- | --- | --- | --- |
| 1 | Ford F150 / F250 / F350 / F450 Series | 2018 | Pick-up |
| 2 | Honda CR-V Series | 2018 | SUV |
| 3 | Chevrolet / GMC Silverado / Sierra 1500 / 2500 / 3500 Series | 2005 | Pick-up |
| 4 | Dodge / Ram 1500 / 2500 / 3500 Series | 2019 | Pick-up |
| 5 | Lexus RX350 / RX450 Series | 2017 | SUV |
| 6 | Honda Civic Series | 2019 | Sedan |
| 7 | Toyota Highlander Series | 2019 | SUV |
| 8 | Chrysler / Dodge Town & Country / Grand Caravan / Caravan / Voyager | 2017 | Van |
| 9 | Toyota Corolla Series | 2017 | Sedan |
| 10 | Honda Accord Series | 2018 | Sedan |
Source: Équité Association
* Contains data licensed by Insurance Bureau of Canada
How can Canadian drivers safeguard their vehicles against theft?
Car theft not only results in unanticipated financial losses, but also the mental and emotional anguish of losing a useful possession. And often, the responsibility of minimizing potential risks falls on the shoulders of the vehicle owners.
To find out what industry insiders think are the most effective ways Canadian drivers can safeguard themselves against auto theft, Insurance Business searched the websites of some of the country's major industry players, including insurance companies, comparison sites, and professional organizations. Here are some of their practical tips:
1. Never leave the vehicle unattended while it is running.
Doing so can be an "open invitation to auto thieves," according to the insurance comparison website Insurance Hotline.
"During cold, Canadian winters, it's often tempting to start your car and leave it running to warm up while you're inside your house getting ready to go — or while you dash into a store," the firm wrote on its website. "Unfortunately, auto thieves… need only a few seconds to get into your car and drive away with it."
TD Insurance instead suggested that drivers use a remote start system. "These devices allow you to start your car by clicking a button within a certain range while still keeping it locked," the insurer explained. "So now, potential thieves can't get in and your car will be nice and toasty by the time you hit the road."
Read more: SGI considers handing out penalties to motorists who leave keys in vehicles that get stolen
2. Roll up the windows and make sure all doors are locked.
For obvious reasons, vehicles left unlocked account for a huge portion of those taken by thieves. But even if the doors were properly locked, a resourceful thief can still get inside and steal the car if the windows were not rolled up all the way, according to Insurance Hotline.
To prevent this kind of theft, some provinces impose penalties for those who forget to lock their vehicles. In Québec, for example, it is an offence to leave automobile doors unlocked. One of the sections of the Québec Highway Safety Act states that: "No person may leave unattended a road vehicle that is in his custody without previously removing the ignition key and locking the doors."
3. Avoid leaving valuable items inside the vehicle.
Not every thief is looking to steal the vehicle, according to the Ontario Society of Professional Engineers (OSPE), adding that some only want what's inside it. To avoid making their cars a target for thieves, the group advised motorists to keep valuable items hidden from plain view.
"If you have any valuables in your car, make sure you place them in the trunk," the OPSE wrote on its website. "You may even want to invest in a trunk cover if your window exposes your items. If you have a dash cam, you should always remove it before you exit the vehicle. Avoid leaving loose change in visible areas. Things you may not consider valuable, such as sunglasses or gloves, may be to a thief interested in them."
Insurance Hotline added that whenever possible, drivers should already have stored their valuables before arriving at their destination. "Keep in mind that stowing your valuables at your destination and then leaving your car in the parking lot can also be tempting for thieves who may be watching," the firm explained.
4. Be mindful of where you park.
Having a private garage to park the vehicle goes a long way in deterring potential car thieves. According to financial comparison site Ratehub.ca, this not only ensures that the car is out of sight but also puts an additional obstacle that criminals need to get over.
"The longer it takes for criminals to access your car and the more barriers standing in their way, the less likely it is that they will target your vehicle," the firm wrote.
CAA Insurance, meanwhile, stressed the importance of parking the vehicles "protectively."
"Parking in a well-lit area is always a good idea," the insurer noted. "If you have two cars in a driveway, park the less valuable one in such a way that it blocks in the more valuable one."
5. Keep your smart key fob protected.
Many new vehicles come with electronic key fobs that make locking doors and starting the engine more convenient. Unfortunately, this smart feature also makes auto theft easier as thieves no longer need a physical key to access the car.
"There is a growing trend among criminals to use wireless transmitters which can capture key fob signals through the door of a house, unlock and start your vehicle, and drive away undetected," Insurance Hotline warned.
To avoid such a theft, Ratehub.ca advised drivers to keep their key fob as far away from the car as possible. "[Keep the key fob] inside a metal container like a coffee tin or wrap [it] in aluminium foil," the firm shared. "Such steps prevent the frequency from being transmitted, and therefore impossible to pick up."
Read more: Organized crime groups targeting vehicles in Canada
6. Install anti-theft devices but…
A vehicle immobilizer system is one good tool to consider, according to NFP. Many cars on Canada's roads are already equipped with this device, which prevents thieves from bypassing the ignition and hotwiring a car to start its engine.
CAA Insurance added that a tracking device is another helpful feature. "Tracking devices send a signal to the police or a monitoring service in the event your vehicle is stolen," the firm explained. "Although a GPS tracker may not deter theft, it can be used to locate and recover a vehicle."
7. … also be cautious of new technologies.
Ratehub.ca cautioned drivers that while new technologies make protecting the vehicle easier, criminals can also use these smart devices for "nefarious purposes."
"A form of vehicle theft that is gaining prominence involves attaching a tracker to a desirable vehicle," the firm warned. "Criminals can then observe exactly where the car is parked and strike at an opportune time."
Ratehub.ca advised car owners to always perform a quick check of common areas where trackers may be hidden to be sure that no such device has been planted on their vehicles. These areas include under bumpers, in wheel wells, inside front grates, and behind gas caps.
8. Install a steering wheel lock.
Ratehub.ca also advised motorists to not overlook traditional anti-theft tools. "A steering wheel lock is a device that goes back to the 80s, but the fact that they're still around just shows that they work," the firm wrote. "Couple this with any of the other modern anti-theft technologies, and thieves will think twice before trying to steal your car."
Read more: Which two high-end vehicle brands are popular targets for thieves?
9. Use your emergency brake when parking.
Some criminals have also resorted to using tow trucks to steal cars. To make it more difficult for thieves, Federated Insurance suggested that vehicle owners use their emergency brake when parking.
"Engaging your parking brake won't necessarily stop theft by a tow truck, but it will definitely slow the process down" Ratehub.ca added. "Thieves often look for the easiest targets so as to avoid detection, so this is a simple way to help prevent vehicle theft."
10. Have your VIN etched on the window or other visible parts of the vehicle.
The VIN allows police officers to easily identify a stolen vehicle even if it has been dismantled and sold as parts. Having the VIN etched on the window or other visible parts of the vehicle also makes a car less attractive to thieves, according to Insurance Hotline, as they will need to take extra steps to have the car or its parts ready for resale.