Getting all your trucks in a row | Insurance Business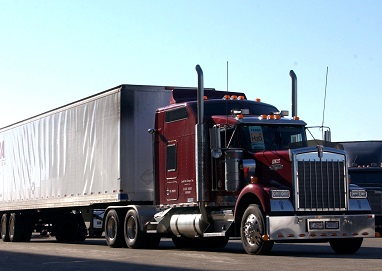 by Anita Tomins
Every company that operates commercial vehicles has a profile, and it has nothing to do with Facebook. Instead, in all provinces, it has everything to do with the Motor Vehicle Transport Act, breaches of which can potentially cost drivers and fleet owners thousands of dollars in fines, vehicle impoundment, or a padlock on their front gates.
We've all seen those inspection stations along major highways, complete with tractor-trailers dutifully pulling in (if a station is open, rigs carrying a commercial load or weighing more than 4,500 kg are expected to enter). But what, exactly, are ministries of transportation looking for? Most people may not realize the scope of these inspections or the fact that what's found in them can be deal-breakers for those behind the wheel.
From the big things (the dimensions and weight-in-tons of the tractor-trailer) to the seemingly little (home terminal address), enforcement officers have many boxes to check off. Hours of service are monitored — drivers can't exceed 13 consecutive hours on the road and must have eight hours in a row of downtime. Such things are recorded in the logbook that long-haul truckers are required to maintain. Inspectors will look at the entries for that day and can ask to see the previous 14 days, too.
Among all the other paperwork that must be in order — insurance, licence, supporting receipts — the driver's safety or commercial vehicle operator's certificate is perhaps one of the more important. Though there are minor variances between provinces, this points-based record details charges as well as previous inspection infractions. The list of possible violations is several pages long, ranging from one-pointers like an improper windshield wiper, to five points for serious offences like impaired driving.
Even if drivers think they can literally bypass inspection stations, specially trained O.P.P. enforcement units can pull them over, conduct on-the-spot assessments, and lay charges. As demerit points start to add up, the likelihood increases for unsatisfactory drivers or carriers to be removed from service.
Larry Young, Senior Technical Consultant of Risk Services at
Economical Insurance
, says it's surprising that many operators don't understand the ramifications of letting even small safety missteps pile up.
"It's a shame when a company finds itself having to explain why they should be allowed to stay in business," he says. "Once they're at the point of being audited or attending a 'show and cause' hearing, they wish they'd addressed those safety deficiencies right away or had more robust hiring and training practices in place."
Brokers can help their transportation customers keep on the straight and narrow by understanding and communicating these regulations and helping them to comply.
Young says most insurance providers have programs in place to support their broker partners in this regard.
"Carrier profile abstracts are available to owners for a small fee and are well worth staying on top of," he says, noting that these should be ordered and examined at least twice a year, and more often if there are issues. "We use them to look at trends relating to violations, collisions, and convictions and make recommendations based on that data."
Fleet risk control specialists can also identify areas that require specialized training of drivers, such as load securement and transportation of dangerous goods, and help companies successfully prepare for a facility audit if it comes to that.
The road to a (possibly business-ending) show and cause hearing is paved with good intentions. Knowledge and pre-emptive action can go a long way toward keeping your transportation customers on the road for the long haul.