65% of Canadians unaware of flood exposure | Insurance Business Canada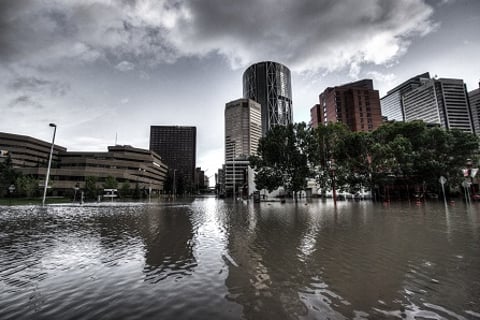 The majority of Canadians mistakenly believe that flood protection is included in home insurance policies, according to research published by Vancouver-based broker Square One on Monday.
The belief is most commonly held in Manitoba and Quebec, where 69% of those interviewed incorrectly assumed that they were covered for flood protection. The most aware province was Saskatchewan where 52% held the misunderstanding.
This suggests two things: brokers are not educating their clients on the coverage of home insurance policies; and secondly, there is a sizeable market of untapped flood insurance prospects out there.
Until recently, Canadians that suffered flood damage had to rely on the Disaster Financial Assistance (DFA) programs provided by the federal, provincial and territorial governments. The 2013 floods in Alberta and Ontario caused $5.3bn in damages, of which only $3bn was insured. Those having to rely on the DFA programs discovered that, even with the financial assistance received, they were out of pocket tens of thousands of dollars.
As a result of its survey of 1,500 Canadians, Square One has launched
www.getfloodinsurance.ca
, a website designed to help explain residential flood insurance and educate on the difference between overland flood, sewer backup, and water damage.
"We found that many Canadians across the country are unaware of the current state of flood protection in Canada," said Daniel Mirkovic, president at Square One. "Water damage is the leading cause of insurance claims in Canada but most home insurance policies specifically exclude flood damage. Canada is the only developed country in the world where flood insurance has not been generally available."
Recognizing that Canadians could be better protected, the insurance industry has started to change. Industry associations are working with the government to improve flood mapping and mitigation efforts. Five home insurance providers now offer some form of protection against freshwater flooding. With four of these five, protection is optional for eligible homeowners. The final provider automatically includes this protection in policies of all eligible homeowners and renters.
Although each policy differs, most offer protection against damage resulting from the covering of dry land by freshwater or wastewater that:
Has escaped or been released from the normal confines of a lake, river, stream, natural watercourse, reservoir, canal or dam; or
Is generated by snowmelt or rainfall that cannot be dispersed by soil absorption, runoff and drainage.
According to Square One, the cost of this protection starts at $4 per month for eligible homeowners and $2 per month for eligible renters. It's worth noting that most policies are not covering damage caused by coastal flood (or any type of seawater), ground water or rising of the water table. Policies also do not typically cover damage caused by gradual, continuous or repeated seepage.