All the winners at the Insurance Business America Awards 2017 | Insurance Business Canada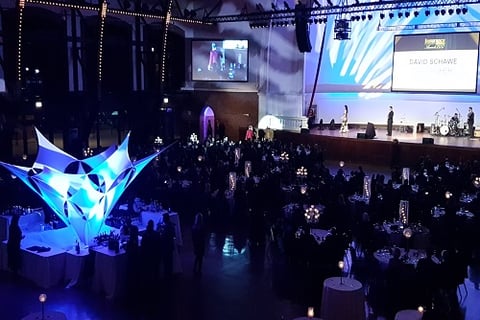 The Liberty Grand in Toronto is all set for the most glamorous night in the Canadian insurance calendar tonight – the
Insurance Business Canada Awards 2017
.
Last night, our US counterparts held their own ceremony at The Navy Pier in Chicago, where more than 600 insurance leaders united for a bash to celebrate the industry's best and brightest stars
Jubilance and champagne were flowing thick and fast between winners, finalists and their friends, family and supporters as the winners stepped up to the stage to accept their accolades.
Industry inspiration Alan J. Kaufman was handed the Lifetime Achievement Award, after which he told
Insurance Business
: "I'm honoured and humbled. Receiving an award like this, although it's touching, I feel only halfway there. I really think it's a half-time award."
Agency CEO of the Year went to Higginbotham's Rusty Reid - a title he described as a "great honour". He added: "The insurance industry is a fabulous industry. To be recognized among so many great CEOs ... I'm very, very, very flattered."
Guests were treated to entertainment from stylish Chicago string quartet Artistrings, some circus action from Creative Action Arts, and a quality set from in-demand band Hey Jimmy. Hosting the night and keeping the
Insurance Business America Awards
an all-singing, all-dancing affair was TV personality Alfonso Ribeiro, well known for his role as Carlton Banks in the hit sitcom
The Fresh Prince Of Bel-Air
, and for fronting game show Catch 21.
Jeffrey Cunningham, director of underwriting at American Risk Management Resources was another big winner of the night, scooping the coveted
Top Wholesale Broker of the Year award
. He commented: "To be appreciated at this point in my career is incredible. It has been a lot of hard work over the years and it's paid off. It's a big deal. I'm shocked. I've found my niche and this year I've really been able to shine. This means a lot."
RT Specialty came away with the Best Wholesale Specialized Practice – Construction – accolade. Terry McCann, president of Chicago office, told
Insurance Business
: "The recognition is special because our business is competitive. Every time you can be recognized, competing against peers that are very talented, and you get singled out, it's special. Every day we compete. To be recognized is great."
FULL LIST OF WINNERS:
BEST WHOLESALE SPECIALIZED PRACTICE – ENVIRONMENTAL - American Risk Management Resources / ARMR Network
NETWORK / ALLIANCE OF THE YEAR – MEMBERSHIP OF 100 AGENCIES OR FEWER – TechAssure
BEST WHOLESALE SPECIALIZED PRACTICE - PROFESSIONAL LIABILITY - Socius Insurance Services
INSURANCE INDUSTRY EMPLOYER OF CHOICE - 100 EMPLOYEES OR FEWER - Acentria Insurance
THE KEMPERLESNIK AWARD FOR CORPORATE SOCIAL RESPONSIBILITY –
AIG
BEST WHOLESALE SPECIALIZED PRACTICE - COMMERCIAL PROPERTY - Breckenridge Insurance Group
RETAIL AGENCY OF THE YEAR - $75M IN REVENUE OR LESS - Eagan Insurance Agency
BEST WHOLESALE SPECIALIZED PRACTICE – CONSTRUCTION - RT Specialty
THE AON BENFIELD AWARD FOR PHILANTHROPY & COMMUNITY SERVICE -
Zurich
North America
RISK TEAM OF THE YEAR - Smithsonian Institution
THE AWARD FOR LIFETIME ACHIEVEMENT IN THE INSURANCE INDUSTRY - Alan J. Kaufman, H.W. Kaufman Group
THE IBA MAGAZINE READERS' CHOICE AWARD FOR BEST DIGITAL SERVICE PROVIDER - Applied Systems
NETWORK / ALLIANCE OF THE YEAR – MEMBERSHIP OF MORE THAN 100 AGENCIES - Strategic Insurance Agency Alliance
INSURANCE INDUSTRY EMPLOYER OF CHOICE - MORE THAN 100 EMPLOYEES –
Aon
THE SMART CHOICE AWARD FOR WHOLESALE PARTNER OF THE YEAR - Brown & Riding
YOUNG GUN OF THE YEAR - Matt Banaszynski, Independent Insurance Agents of Wisconsin
THE AWARD FOR DIVERSITY & INCLUSION - The Hartford
THE TANGRAM INSURANCE SERVICES AWARD FOR WOMAN OF DISTINCTION - Barbara Bufkin,
Assurant
THE MIDWESTERN INSURANCE ALLIANCE AWARD FOR TOP PRODUCER OF THE YEAR - David Schawe,
Gallagher
TOP WHOLESALE BROKER OF THE YEAR - Jeffrey Cunningham, American Risk Management Resources Network
RETAIL AGENCY OF THE YEAR - MORE THAN $75M IN REVENUE -
Lockton Companies
THE BURNS & WILCOX AWARD FOR AGENCY CEO OF THE YEAR - Rusty Reid, Higginbotham
Related stories:
Allstate Canada's employee health and wellness program receives industry praise
Canadian insurance leader helping Canadian brokers up their digital game