Balancing work-life as an insurance professional | Insurance Business Canada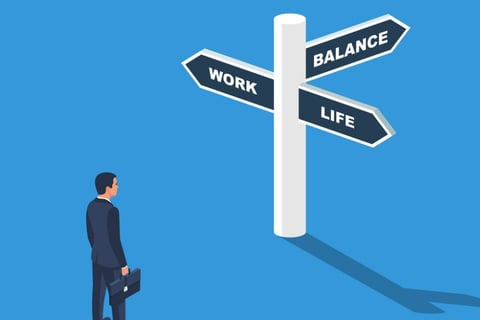 According to analysis by the Canadian federal government, new job openings for insurance agents and brokers from the years 2019 to 2028 are expected to total 33,100, with 37,900 new job seekers expected to fill them.
While it is encouraging to hear that insurance will continue to grow, the conversation on work-life balance in the industry has also become a lot stronger in recent years. More and more insurance professionals report burnout from assisting clients with interpreting pandemic coverage, assisting with recent disaster claims, etc. while trying to adapt to the intricacies of remote work.
But one does not need to sacrifice their life to find success in an insurance career, as Rob Marsh, president of Liberty Mutual Canada, can attest to.
Hear more: Meet Rob Marsh: Liberty Mutual Canada's President
In an interview podcast with Insurance Business, the father of three said that he could not have been more excited to serve as president of Liberty Mutual Canada – a role he was appointed to just a year ago.
When asked if there is any type of unsaid expectation that someone needs to sacrifice their work-life balance to advance their career, Marsh confirmed that while the expectation does exist, it is no longer as big as it was when he first started his insurance career more than a decade ago. He is also of the opinion that insurance has paved the way for a better work-life balance for other industries to follow.
"So it's a strength of our industry," Marsh said, adding that he thinks that the ultimate goal is not work-life balance, but "work-life harmony."
"When I think about my role at Liberty, my role as a husband, father, friend or in the community, it's really all part of my identity. So trying to find harmony among those roles will always ebb and flow," he explained. "And in the past I would say, 'yes', I have made sacrifices. But as my career has developed, I've learned to be much more intentional on where I want to spend time in one place versus another."
Marsh explained where this concept can be applied – when starting a new job, where there is an "intentional and active decision to spend more time on that purpose."
"For example, as a result, it isn't a sacrifice. I'm passionate about what I do and my commitment to my career is a personal choice I'm proud of, just like the other roles that make up my identity."
"I firmly believe in performance and outcomes over certainly hours worked," the president concluded. "And this is the message that I encourage time and time again with our team. I've worked my fair share of hours in the past, don't get me wrong, but that's not the core reason for my success. It's really the outcomes that result and the support of a lot of people along the way. That's led to some advancement and opportunity."
Listen now: Meet Rob Marsh: Liberty Mutual Canada's President