Desjardins' Valerie Lavoie sees an omnichannel future for insurance | Insurance Business Canada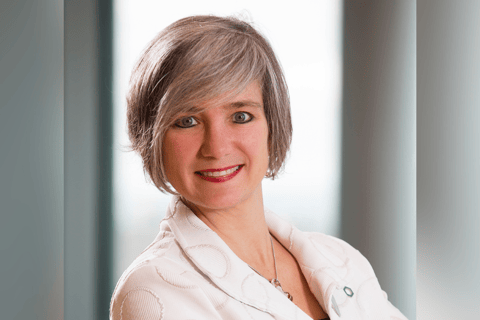 The COVID-19 pandemic shone a spotlight on the insurance customer experience, and for many, it accelerated the adoption of the "digital-first" mindset in the industry. Insurers were quickly awakened to the importance of crafting a smooth and simple digital experience for their customers.
For Valerie Lavoie (pictured), president and chief operating officer at Desjardins General Insurance Group, a values-based approach will be critical to succeeding in the digital transformation.
"We're constantly pushing innovation and tweaking our traditional mindset. We want to take calculated risks, to stay modern and find new ways to achieve our ambition, which is to be number one to our members and clients," Lavoie told Insurance Business.
Embracing technology is key to helping Desjardins achieve the omnichannel experience it wants for its customers. "We always try to find the best way to connect with them in the way they want. An omnichannel experience means people can do business with us the way they want, be it through digital, over the phone when they want to reach an agent directly, or face to face," continued Lavoie. "We're working to overhaul our core system to make sure that we enter this new omnichannel world."
Read more: Desjardins makes giant investment in four projects
One way Desjardins has leveraged technology to provide better value is through its telematics program. Ajusto collects data on a client's driving habits and behaviours using sensors in their smartphone. The data then is used to personalize their auto insurance premium.
"With people now in remote working, their driving habits have changed. We want to capture that and reflect it in their insurance. We feel this is the best way to empower our clients to manage their own premium because they have control behind the wheel. We also believe it's a way to make our roads safer," said Lavoie.
The COO also highlighted the launch of a new version of Alert, a security program that allows customers to save on their home insurance. Alert includes a wireless security system that can detect problems such as a potential fire, break-ins, or water leakage.
Desjardins is also looking to the younger generation of Canadians as it plans for its future. Lavoie said staying connected to clients Desjardins to tap into their wants and needs as they design new offerings. Amid growing pressure to deliver quick and timely insurance solutions to the market, agility is an important part of Desjardins' strategy.
"We develop solutions in an agile way, with the mindset that we want to put the clients first. This helps us make faster decisions, but we also adopt agility in our day-to-day operations. This means our business and IT teams work closely and quickly together to deliver more value to the market," said Lavoie.
"Our employees work in an autonomous environment, where teams bureaucratize their own workflow. I think the new generation really enjoys this, and most of them connect with our members and clients."
Desjardins Group, one of the largest insurance companies in Canada, has grown 57,000 employees strong. But for Lavoie, ensuring a diverse and inclusive workforce remains a top priority.
"We've taken action to make sure that everyone is invited to the table," said Lavoie. "We have updated our hiring practices to ensure equal opportunity and promote inclusive leadership. We have strived to create an environment that enables women in the organization to develop their leadership skills and propel themselves into leadership roles."
Read more: Is the insurance industry diverse enough?
Desjardins' female empowerment program includes a weekly dialogue that encourages women to share their experiences with discrimination and racism amid a safe space. To help support younger professionals and give them a voice within the organization, Desjardins also established a youth advisory board.
Looking forward, Lavoie stressed that artificial intelligence would continue to shape the industry. Desjardins uses AI to improve its claims and distribution channels, and for Lavoie this represents the "future of the insurance industry's omnichannel transformation."
All this, she said, is to give insurance customers the ease of doing business that they have now grown to expect from their financial services. "We are seeing [the omnichannel experience] accelerate because it gives people a simple way to do business with insurers," Lavoie said.