Gore Mutual's charity campaign exceeds expectations | Insurance Business Canada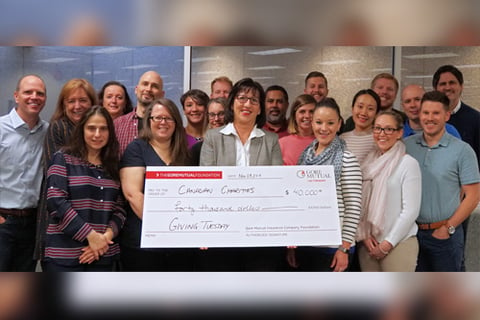 In response to strong public interest and support,
Gore Mutual
is expanding its grant giveaway campaign to include even more charities.
On November 10, the insurer launched a campaign that asked Canadians to nominate their favourite charities. Six lucky charities will be selected among the nominated organizations, and each will win $5,000 cheques.
The campaign is Gore Mutual's way of celebrating GivingTuesday – an international movement which encourages people to give back to charity following Black Friday and Cyber Monday.
Unexpectedly, the campaign caught the attention of many social media users, who then rallied to nominate almost 400 charities for the giveaway campaign. Gore Mutual responded to the outpouring of support by expanding the number of winning charities from six to 16, with the additional 10 charities winning $1,000 each.
"We were amazed by the magnitude of response and coordinated efforts from the public to have their charity recognized for their community work," said Gore Mutual president and CEO Heidi Sevcik. "In response, we quickly expanded our giving from six charities to 16. This campaign is important to our company as we continue to think holistically about our work and the positive impact we can make in our communities."
"As a modern mutual we're constantly refining the role of our company in society," commented Gore Mutual board chair Farouk Ahamed. "We are looking for more ways to align our business and charitable efforts so that we place priority in caring for people, delivering positive social impact and building healthy communities."
After the closing of nominations on November 21, employees at Gore Mutual's Cambridge and Vancouver offices selected six charities to each receive a $5,000 grant. The winners were Hamilton's McMaster Children's Hospital Foundation, Children's Aid Foundation of Canada, Canadian Mental Health Association of Waterloo Wellington, Lisaard House in Cambridge, Alzheimer's Society of B.C. and Mental Illness Family Support Centre Society.
"We're so encouraged to see Canadian businesses embrace the spirit of GivingTuesday. The donation from Gore Mutual is one of the largest we've seen this year," remarked Lys Hugessen, president of GIV3, one of the organizers of GivingTuesday. "Thank you to every Canadian who is making a commitment to giving back, as we turn our attention from shopping toward helping our communities."
Related stories:
Teaching an old dog new tricks: Gore Mutual's innovating culture
Gore Mutual recognized for one of Canada's "most admired" corporate cultures