Heroic insurance professionals sleep rough in Toronto for youth charity | Insurance Business Canada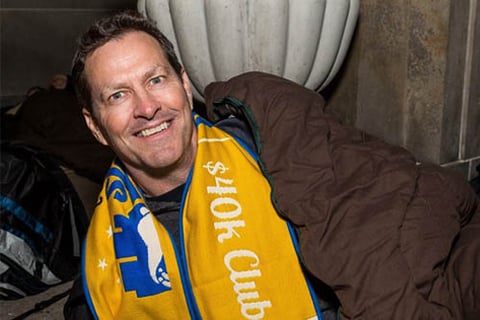 A lot of us take the roof over our heads and our warm beds for granted. But not everybody has that luxury – an issue that Covenant House Toronto is fighting to solve.
Since opening its doors in 1982, Covenant House has served more than 95,000 at-risk, homeless and trafficked youth. The charity provides a place to stay, a 24/7 crisis shelter, transitional housing on-site and in the community, and other comprehensive services including education, counselling, healthcare, employment assistance, job training and aftercare.
Last week, a handful of insurance professionals in Ontario backed Covenant House by giving up a good night's sleep and spending a night on Toronto's streets to raise awareness and money for homeless youth.
In total, the 72 business and community leaders on the Executive Edition Sleep Out in Toronto raised over $1.1 million for Covenant House. The Toronto gang topped a rival event taking place in New York City with this record amount raised.
Celebrate excellence in insurance. Join us for the Insurance Business Awards in Toronto
This was the fifth year that
Trisura Guarantee Insurance Company's president, CEO and co-founder, Mike George
(pictured), took part in the Covenant House Sleep Out, which he described as "a tremendous event" for a charity that does "incredible work."
"It's such an experience. Anyone can go to a
golf tournament
or a gala dinner, but to actually grab a sleeping bag and a piece of cardboard and sleep out on the street for a night is very eye-opening," George told Insurance Business.
"Covenant House does such incredible work. It's an amazing place that supports thousands of youths every year in the downtown Toronto core. Toronto is a big draw for kids who are homeless and seeking refuge, so the need is really high."
George was joined by a number of local insurance professionals, including Derrick Leue (LMS Prolink), Peter Redmond (Purves Redmond), Chris Mildon (McLean Hallmark), Matthew Civichino (ELM Insurance), Charles Quenneville (Platform), and Ian Johnson (Johnson Financial).
Charles Quenneville, managing partner at Platform, commented: "Taking part in the sleep out was a great experience all around. I didn't realize what a meaningful impact Covenant House has on the youth of Toronto. We learned there are countless youth that escape abusive homes, and thankfully there is Covenant House to help get their lives back on track. The money we raised helps to provide food, clothing and pay for social programs that assist our most vulnerable youth during the hardest part of their lives.
"I'll definitely do it again next year, and I'll recruit one or two new sleepers. I think it's important members of the insurance industry, and all people in general, work within their local communities to help create positive change. We are living fortunate lives so it's important to take stock in that and determine what you can do to help make someone else's life better. You only get out of life what you give."
Ian Johnson, president of Johnson Financial Group, added: "I guess if you have a soft spot for kids, this is a great event to participate in. It's also a great education on what is happening in the city and all the difficulties of life that many young people are dealing with. The tentacles of Covenant House stretch far and wide, functioning as a crisis shelter, transitional housing, an in-house high school, employment services, an onsite health clinic, drop-in centre, mental health services to those in need and more."
South Western Insurance Group Limited's
president and CEO, John Barclay, also took part in the "eye-opening and sobering" Sleep Out for the third year running. He described the youths he met through his volunteer efforts as "really amazing people."
"They just need a safe place. If they can get that, they can get some balance back in their lives," Barclay said. "No one chooses to be on the streets, yet as incredibly dangerous as it is, it is safer than what these young people have left. Most of us do not know what that is like."
Barclay was not the only participant to comment on the potential of the young people he met. Chris Mildon, Chief Sales Officer, McLean Hallmark Insurance Group, said: "I met some wonderful kids who are just looking for the same opportunities we all wanted or enjoyed as we grew up. It doesn't take a lot to help redirect these young people to help move them forward. Almost all of them are looking for a little compassion and some guidance."
The insurance industry is amazingly charitable and generous. This is a message the industry needs to relay more, according to George.
"We need to continue to talk about what a great industry this is and what value it provides, and I think by giving back and getting a little bit of recognition that insurance people care and participate in tremendous events like this," he said.
Sleep Out participant Matthew Civichino, senior associate broker at Elm Insurance Brokers, said he thinks it's important that all executives and professionals, not just insurance professionals, take part
in charity
events like this.
"We are in a position to have a positive influence on great organizations like this simply by sacrificing a little bit of our time for something that literally means the world to someone else," he commented. "From a personal standpoint, I think when you expose yourself to something like we did (sleeping outside on the ground on a cold night) it has a profound effect on you and reminds you how lucky you are to have a roof over your head and a bed to sleep in every night. Not everyone does and that's what we've tried to change as much as we could in one night."
Related stories:
Trisura's 'consensus culture' inspires industry accolade
IBAO raises funds to support military families