How brokers can communicate effectively with clients during COVID-19 and beyond | Insurance Business Canada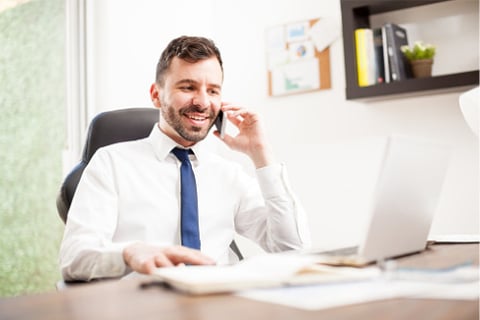 The COVID-19 crisis has made effective communication between brokers and MGAs, and their clients, critical. In the midst of this evolving situation, insurance professionals need to implement crisis communication strategies to respond efficiently and evaluate how the pandemic is impacting the coverage needs of clients – and they can do so with the help of a document automation solution coupled with a CRM software.
An upcoming webinar titled, "How can insurance brokers communicate effectively with clients during this pandemic," hosted by Insurance Business Canada on June 09 and sponsored, as well as moderated by, XRM Vision and Xpertdoc, will provide attendees with key insights about employing this technology, with a focus on TANDEM powered by XRM Vision.
TANDEM is a cloud-based lead-to-cash solution for group insurance brokers and it is the only fully integrated, scalable, cloud-based system dedicated to group insurance brokers in Canada. TANDEM not only offers management of the sales cycle, but also covers all accounting, policy management, commissions management, full customer service module, electronic signature, and document sharing capabilities.
The webinar on June 09 will explore how this solution, which has document automation technology from Xpertdoc embedded within it, helps brokers create highly personalized and compliant documents; streamlines the delivery and management of omnichannel crisis documents in one centralized, collaborative location; automates key administrative processes to free up time for building client relationships; and manages lead-to-cash processes within one cloud-based application.
The benefits for brokers and MGAs of adopting such a solution go far beyond the current crisis.
"Even prior to this global situation, brokers were spending a lot of time doing administrative tasks and this was impacting their relationships with clients because they didn't have the time to build a relationship with that client and create that fluid communication with them," said Valérie Durand, product owner at XRM Vision.
Where a CRM system like TANDEM can help is by automating many administrative tasks, which in turn allows insurance professionals to spend more time strengthening relationships with their clients since the document automation component of the software speeds up the time it takes to complete administrative tasks. These are documents that are crucial to an insurance professional's business, such as the renewal experience analysis, which is a document that can be up to 100 pages long and explains to the client why their insurance premium is increasing.
"MGAs and brokers have struggled with getting appropriate documents to their policyholders and with so many departments like claims and underwriting, there was a lack of consistency in the documents and getting them out in a timely manner," said Pamela Velentzas, corporate marketing and partner manager at Xpertdoc. "What we are striving to do is help carriers streamline their document process from creating the actual template – whether it's a policy, claims letter, or any kind of document around the insurance process – and then getting it out to delivery via the channel of their choice, so email, PDF, or SMS."
The adoption of a CRM software that has a document automation component is also beneficial for brokers because it helps to streamline internal collaboration for professionals working in larger brokerages, and brings all of the processes within an insurance transaction together into one tool, allowing them to access and harness the data within their system.
"The big struggle for those in the insurance space right now is how do they create documents by leveraging data that can be already in a CRM and use that information across other departments, but keeping the document itself consistent," added Velentzas. "We're helping them streamline that process within a couple of clicks within their core system versus having to use external sources like an Excel sheet to manage quotes or claims."
Moreover, a brokerage or MGA can use the data within that CRM to personalize communications. For example, a carrier who offers home and auto insurance can create a document listing all of its clients that have home insurance and send them a communication on auto insurance. If a client clicks on that email, that could in turn trigger another communication sent to them about rental insurance. The journey for each customer can be customized within the software in this way.
"The insurance landscape is changing in terms of communications to their policyholders and how easy it is now to really leverage the data in their systems for a more personalized experience – and that is done through the use of documents," said Velentzas. "Some brokers are used to older technology and maybe don't even realize that there is a better, faster way to generate communication to their customers that would save them time."
Consequently, even beyond the current COVID-19 crisis, this one-in-all tool is important for the continued success of insurance professionals down the road.
"This type of solution is the key to being able to at least maintain the amount of the market share that you have right now," said Durand. "If brokerage firms do not transition into the digital world, they are going to disappear."
To learn more about the upcoming webinar on June 09, "How can insurance brokers communicate effectively with clients during this pandemic," and to register, click here.