Insurance leader 'astounded' with results of women's leadership lab | Insurance Business Canada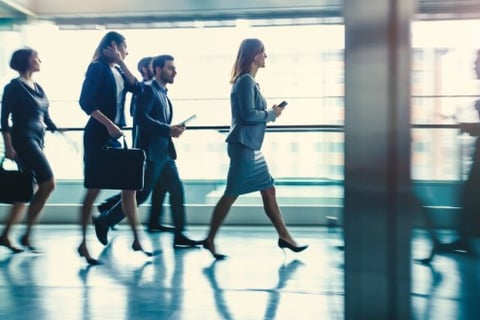 Nike hit the bullseye when it came up with the world-famous 'Just Do It' mantra in 1988. For three decades, the iconic phrase has been a motivational call for athletes around the world … and now it's the turn of women in insurance.
On May 07, Insurance Business Canada is hosting Women in Insurance Toronto, a premier conference designed to celebrate, inspire and boost the careers of women in insurance. The event will feature the industry's foremost women of influence and emerging leaders, encouraging others to eliminate self-doubt, "take a deep breath and just do it!"
Heather Matthews, senior vice president, National Claims Management Centre, Crawford & Company (Canada) Inc. is one of the featured speakers in a panel called: 'Lessons learned: The imposter syndrome & the value of mentorship'. Three years ago, Matthews set up a women's leadership lab at Crawford & Co, with the aim of providing female employees with a mentorship platform and support network. The results, she said, have been "astounding".
Read more: Women 'need to push harder against the glass ceiling'
"The lab has attracted a very diverse group of women as far as ages and where they are in their stages of life and their careers," Matthews told Insurance Business. "The feedback we've had from the group is that they love having a forum where they can get together, share their experiences, and help each other out. After three years, I'm still astounded at how personal it gets and how willing people are to open up, share their struggles and help each other.
"We've covered a lot of different topics. One session that comes to mind is called 'Sit up at the table.' This is all about encouraging women to be vocal and to make their voices heard. We need to have opinions on things and not be afraid to share those opinions. We need to eliminate self-doubt, put our hands up and be vocal. We've also done sessions on negotiating skills, time management, and how to strike the best work/life balance."
The Crawford & Co women's mentorship program is not just a one woman show with Matthews on centre stage. The female employees who attend take turns in running the monthly sessions and leading on different topics. They also welcome guest speakers from a wide range of industries, such as police officers, lawyers and professors, who address the group about the challenges they've faced in their careers, when and where they've come up against prejudice, and when they've had to fight to be at the table.
Read next: 'Knowledge is power' for women in insurance
"I've received a lot of positive feedback from women participating in the program. There's almost a collective sigh of relief with people thinking: 'Wow, I'm not the only one struggling with these things!'" Matthews added. "It's definitely had a positive impact. We're seeing more open communication, and more women feeling comfortable to bring forward their issues to the group rather than struggling on their own. We're also seeing women take learnings and tidbits from the group and taking them back to their own teams.
"Overall, I think confidence in the group has grown. I look at these women now when we put them into larger group scenarios like our national leadership conference and they're getting up to speak, they're putting up their hands, they're participating, and they're volunteering to be part of the organizing committees and so on. It's really making a positive change."
The power of mentorship is one of the topics Matthews and her fellow panelists will be discussing at Women in Insurance Toronto. She described mentorship as: "an extra voice, a sounding board, an affirmation, and a comfort zone" where people can work through challenges in a non-threatening way.
Learn more about how to create a support network at work by attending Women in Insurance Toronto at the Beanfield Centre on May 07, 2019. To sign up, click here.