Landmark year for Canadian carrier saw innovation, accolades, and heart | Insurance Business Canada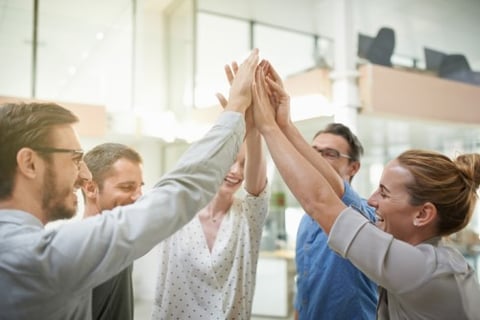 In a year marking the 100th anniversary of CNA Canada – during which time the company has organized celebration events across the country intended to show gratitude to brokers, its staff and their communities – receiving two nominations at the Insurance Business Awards couldn't come at a better time, and are a reflection of where the Canadian carrier has been as well as where it's going. A finalist for both the DKI Canada Award for P&C Insurer of the Year and Insurance Industry Employer of Choice, the nominations act as recognition of hard work and ambition paying off.
"It's a great honour to be nominated by our peers in the industry in two categories for the 2018 Insurance Business Awards. This is wonderful recognition for our team, who have worked tirelessly to establish CNA Canada as a market leader working effectively with our broker partners to meet evolving customer needs," said Nick Creatura, president and CEO of CNA Canada. "The Employer of Choice nomination resonates with the theme of our centennial celebration, CNA Canada 100, which is about being a socially conscious brand that cares about our legacy and our communities, and this attracts talent – a virtuous cycle. The P&C Insurer of the Year nomination recognizes the strength of our strategy and our product capabilities that we've developed and enhanced through a focus on talent, product and service."
The year hasn't just been one of celebration – it's also been a time of innovation for CNA Canada as it introduced enhancements to its marine cargo product and released oneworld+, a tailored suite of products designed to reflect the evolving needs of today's businesses.
The company's strategy of offering innovative solutions starts by delivering on customer demands, according to Creatura, which necessitates a policy that responds to a modern and interconnected world, meets expectations in its ability to respond to risks with wording and language that reflect the current environment and customer expectations, and is ready for the future with coverages that are designed to meet the evolving political, environmental, social and economic needs of today's clients.
Keeping those factors in mind, the refreshed marine cargo policy responds to natural disasters and severe weather conditions that have an impact on global supply chains, such as last year's hurricanes in the US, as well as cyberattacks and fraud, which threaten the global shipping market as evidenced by the Petya ransomware attack's impact on A.P. Moller-Maersk. The risks inherent to the global financial system, increasingly under strain and marked by growing uncertainty, are also recognized by the policy with coverages for related expenses or special charges incurred as a result of insolvency or financial default of the owners, charterers, managers or operators of the vessel.
Read more: 'New Bermuda Triangle' and melting ice caps threaten the global shipping industry
The benefits that the recent enhancements bring to brokers are likewise multi-fold.
"Quote to policy document in one click that benefits both the customer and broker by minimizing re-keying, ensuring fast issuance and demonstrates new innovative thinking; and electronic delivery straight to your inbox for enhanced speed and efficiency," listed Creatura, as just some of the advantages of the product for brokers. Others include market-leading cargo clauses, online certification and declaration management through CNAcargo.com, and a policy structure that allows for packaging with other CNA products.
The launch of oneworld+ further underscores CNA Canada's approach to innovation. What makes it stand out in the market, explained Creatura, is the tailored coverages and suite of products coupled with value-add services.
"Our oneworld+ offering is truly bespoke, designed to create tailored insurance solutions, demanded by our broker partners," he told Insurance Business. "Combined with our international capabilities, we are able to better serve our broker partners and customers by leveraging our world-class expertise across the organization, delivering a seamless, holistic experience."
While 2018 has been a landmark year for CNA Canada, it hasn't been without its challenges. Tornadoes, fires, and severe storms have taken a toll on Canadians and businesses from coast to coast. CNA helped its clients before, during and after natural catastrophes, and is promoting awareness around related issues, such as the importance of emergency planning.
Read more: Ottawa-Gatineau tornadoes cause nearly $300 million in insured damage
"We focus on leveraging global capabilities, before events we deliver preparation wise materials to clients and brokers," said Creatura. "In addition, in the event of a CAT we would activate our Catastrophe Operations Centre that would be fully operational and ready to manage claims for clients. Once the losses are reported, CNA's professional claim staff would be on hand in the Catastrophe Operations Centre to assist with policyholders' daily needs."
Yet, this carrier is contributing more than insurance and risk management services. It's community mindedness is brought to life through its partnership with Tree Canada, a charitable organization dedicated entirely to forestation and reforestation; its Acts of Kindness initiative, where CNA Canada staff contribute their time to charitable causes in the communities where they live and work; and volunteer work with other organizations, including Canadian Blood Services.
"It's a great opportunity for us to recognize all of the many contributions of CNA staff over the years as well as the tremendous support that we receive from our brokers, our clients, and our communities," said Creatura.