Leaving stripes at the door to help COVID-stricken communities | Insurance Business Canada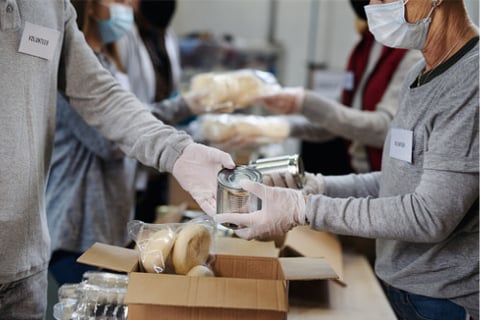 Since its founding in 1994, the Insurance Industry Charitable Foundation (IICF) has contributed more than US$42 million (approx. CA$52.4 million) in community grants to hundreds of non-profit and charitable organizations across the Americas and the United Kingdom. Furthermore, the insurance industry has used its collective strengths to help communities and enrich lives through over 300,000 hours of volunteer service and leadership.
Never has this work been more important than in the context of COVID-19, when everyone has been challenged by the global pandemic. While the foundation had to pivot away from in-person gatherings and events, the IICF managed to transition into a virtual fundraising and volunteer operating environment, through which it kept grant funds growing throughout the COVID crisis. One notable achievement was the raising of US$1.3million through the IICF Children's Relief Fund and the IICF Revitalising Communities Fund, which helped to provide 2.5 million meals to vulnerable children and families facing food insecurity during the pandemic.
Read next: Climate activists take aim at Lloyd's with a tipper truck
Hank Watkins (pictured), regional director and president of Lloyd's Americas, is currently serving as chair of the IICF International Board of Governors. He's been involved with the IICF for 10 years and is also a member of the IICF Northeast Board. Reflecting on the foundation's efforts during COVID-19, he said: "If there's any advantage of this pandemic that we've gone through it's that we've been given an opportunity to attend many more business and personal activities and events than we might have in the past when calendars and logistics of travel got in the way.
"There are currently five divisions for the IICF globally […] and I was able to participate in all of their annual events this year. Since December, we collectively raised about US2.2 million for distribution to our community gift grant recipients. We had a great turnout – all of it virtually, of course – and I think we were all pleasantly surprised at the way the industry continues to step up at this time of need not only to pay claims, which are significant for so many, but also from a contribution perspective. We've done a great job as an industry."
Watkins said his "biggest takeaway" from his decade of involvement with the IICF is the members' ability to enter conference rooms – virtual or in person – and to leave their competitive company stripes at the door in order to achieve a collective mission of helping people in need. In that sense, he described the IICF as similar to Lloyd's in that there's a lot of competing interests within the membership, but more importantly: "We all get together to collectively search for solutions, whether it's risk transfer problems for clients, or more broadly (and really importantly in this past year) to help the many needy members of our community."
Read more: Lloyd's appoints new rating agency and unveils rating
Lloyd's is one of the key partner companies of the IICF. In March of 2020, when the potential impacts of the COVID-19 pandemic became clear, Lloyd's announced its intent to fund a US$40 million initiative to alleviate immediate local needs, while also encouraging governments and the insurance industry to collaborate on sustainable solutions to future systemic risks. By December 2020, Lloyd's had allocated approximately US$20 million to more than 200 charities across the Americas, APAC and EMEA regions to help those most affected by the pandemic.
Of that US$20 million total, just over US$4.1 million went to 114 new charities nominated by Lloyd's colleagues around the world. In the Americas region, this included donations to City of Hope, Covenant House and Darkness Rising, a support group for African American actors affected by the closing of Broadway in New York, the Toronto Food Bank, Montreal Children's Hospital, Save the Children Columbia and United for Rio.
"We've also put together a US$20 million fund to study systemic risk, because this is certainly not going to be the last pandemic," Watkins added. "We have the ability at the crossroads of where we are in London to look at a number of systemic risk causes, whether they be cyber threat or climate change … and analyse the impacts on our industry and our broader societies. We're funding a lot of research with academic institutions and liaising with governments across the world to come up with a better way for us all to benefit societies and prevent the significant damage that was caused by this current systemic risk that we're facing."