We do our best to earn the respect of our brokers | Insurance Business Canada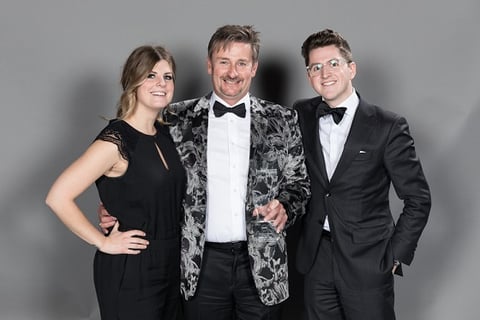 The Managing General Agent (MGA) scene in Canada is very strong – and it wouldn't survive without a thriving broker force.
One Canadian company making the most of the valuable distribution channel is Anderson McTague & Associates. Last week, the MGA won the ARAG Canada Award for MGA of the Year at the
Insurance Business Canada Awards 2017
– an accolade it attributes to its broker support.
"It's very humbling to be honoured with this award," said Chuck McTague, president of Anderson McTague & Associates. "Thanks must go to our Atlantic Canadian brokers who support us, because without them, we wouldn't be in this position.
"I also want to thank the entire team at
Anderson McTague
. Their dedication and hard work allows us to maintain and build on that strong relationship with our broker partners. This award comes down to everybody in the team working together and pulling in the same direction."
In recent years, there has been industry-wide speculation around the future of intermediary distributors in the insurance world. How will the role of the broker survive against the onslaught of
insurtech and direct-to-consumer models
?
The Atlantic Canada MGA is not worried about the future of the broker. In fact, McTague plans to invest in technology "to allow brokers to keep pace with the ever-changing environment."
"The service we provide to our broker partners is our number one focus," McTague told
Insurance Business
. "We respect the fact that our brokers continue to support us, so we do our very best to try to earn that respect back from them.
"We provide our broker partners with quick and efficient products and services, which is what they need because of the speed and pace of the industry right now. They need quick turn-around times and help with any problems they're having with accounts. We provide that quick service and help by insuring hard-to-place risks or
risks that are out of the ordinary
."
Moving forwards part of that broker service at Anderson McTague & Associates will include technology platforms and solutions. McTague hopes to have a "couple of exciting announcements for the broker force" in 2018 in order to keep service levels high.
"By winning this award, the bar is set higher," McTague added. "We always work hard to earn our brokers' respect and now we've won this award, we have to work even harder to maintain it."
Related stories:
Winners of the Insurance Business Canada Awards 2017
Young Gun describes 'balancing act' between broker partners and insurers