Working from home: a blessing or a curse? | Insurance Business Canada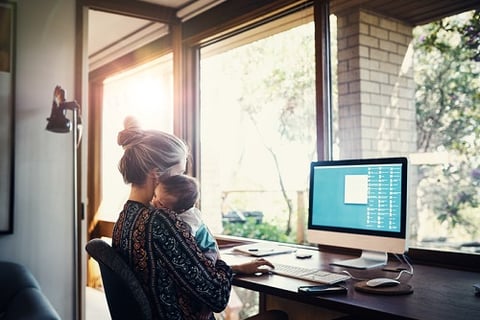 Advancements in technology have made working from home increasingly possible in recent years. In the business world, many women choose to work remotely, at least on a part-time or occasional basis, to allow for juggling family life. Avoiding a stressful commute can allow for better health and increased productivity. However, it isn't always plain sailing. Avoiding distractions at home can be challenging for some, while others find it hard to switch off at the end of the day. When working solo, you can also miss out on collaboration opportunities and team creativity.
Stacy Owen, senior insurance consultant, PrimeGroup Insurance, enjoys the freedom of working remotely to spend more time with her daughter, whilst still be available to her clients. "I can answer emails after she goes to bed if I need to," said Own. "I can answer emails on the road. It just gives me so much more flexibility. The quality of work-life balance is really nice because of all the remote technology available."
On the other hand, Jenny Crane, SVP, wholesale insurance intermediary, Hull & Company, is an advocate for working in the office.
"You kind of breathe off each other," she explained. "When we're together as a team we bounce ideas around and bring in an energy."
Another pitfall that many telecommuters fall into is allowing work to creep into their evenings and weekends.
"I do find it hard to turn off at the end of the day," said Nicole Ricigliano, senior underwriter at Markel Corporation. "I'm probably working twelve to thirteen hours a day when I work form home, as opposed to the eight hours when I work in the office." This is a struggle that many women face in finding the balance between work and personal life.
Getting in the right mindset to work productively from home is key. Susan Combs, CEO at Combs & Company, finds something as simple as wearing shoes will make her feel ready to work.
"When I put shoes on, I'm productive for the day" she said. "If I don't put shoes on, I feel like I'm just hanging out. It's important to have that discipline."