You've done the work - now get the awards | Insurance Business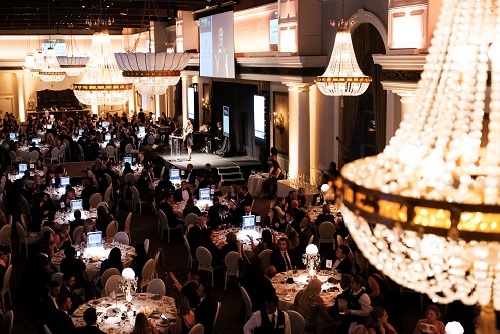 The industry event of the year is almost here.
Insurance Business Canada is pleased to announce the third annual Insurance Business Canada Awards taking place November 29 at the Liberty Grand in Toronto – an event sure to whip the industry into a frenzy.
Just like other Insurance Business Award ceremonies around the globe, this black-tie affair brings together over 600 insurance professionals from across the country to celebrate excellence in the industry over the past year. Successes in leadership, service, innovation and support, from individuals and organizations that have changed the insurance industry for the better will be recognized.
And that recognition is quite an experience – as previous Insurance Business Award winners are all happy to confirm.
"I think this is very special – we are being recognized for putting our customers first," said Stephanie Dudley from Northbridge Insurance, which won the DKI Canada Award for P&C Insurer of the Year in 2017.
"This is a really prestigious award, and I never saw myself standing up here winning it. It shows how much I have progressed in the industry," said Sharp Insurance's Nick Wong when accepting the South Western Group Award for Broker of the Year in 2017.
If you know someone – even yourself – who should be on the shortlist for these awards, now is the time to nominate.
With over 20 award categories that shine the spotlight on industry leaders and their significant contributions, there's an award for everyone.
Choose from categories like:
Organizational Awards
Brokerage of the Year (Fewer than 10 Staff)
Brokerage of the Year (10 Staff or More)
The Burns & Wilcox Canada Award for Big Brokerage of the Year
Brokerage / Network Cluster of the Year
Excellence in Customer Service by a Brokerage
The CNA Canada Award for Excellence in Philanthropy & Community Service
MGA of the Year
Insurance Industry Employer of Choice
Life & Health Insurer of the Year
P&C Insurer of the Year
The Winmar Award for Excellence in Claims Service
Digital Innovator of the Year
The IBC Magazine Readers' Choice Award for Best Service Provider
The IBC Magazine Readers' Choice Award for Best Advertising Campaign
The IV3 Solutions Award for Excellence in Risk Management
Individual Awards
Insurance Broker of the Year

The PAL Insurance Brokers Award for Young Gun of the Year
Woman of Distinction
The FIRST Insurance Funding of Canada Award for Lifetime Achievement in the Insurance Industry
The Empire Life Award for Life & Health Advisor of the Year
Business Development Manager of the Year
Get your votes in soon – nominations close August 12.