Canadian construction industry encounters hard market pressures | Insurance Business Canada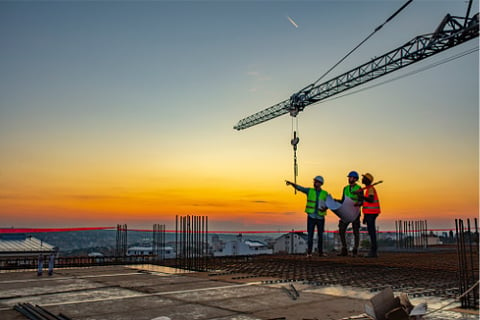 Construction businesses have encountered a unique set of challenges over the past year, from consolidation in the industry to legislative changes impacting their operations. In the meantime, the construction insurance marketplace has had its own set of hurdles to overcome, developing in several notable ways that brokers working in this space should be aware of as they advise their clients in 2021.
According to Navacord, the small pool of insurers who offered builders' risk insurance in 2020 continue to demand higher deductibles and rates, while also restricting coverage for some projects. At the same time, Canadian domiciled insurers, who have historically sat on the sidelines, are starting to provide more builders' risk capacity, though at higher rates than in previous years.
Find out more: Learn everything you need to know about Navacord here
Additionally, professional liability (errors & omissions) insurance has experienced its own challenges, as the line of business has been subjected to historic premium increases due to insurers either restricting the type of industries that they will cover or exiting the space altogether, reports Navacord.
More broadly, insurers are taking a highly cautious approach to classes of business that they determine to be "high risk" – a title that has been bestowed to many sub-sectors within the construction business. The impacts of this were seen throughout 2020, when commercial insurance buyers, particularly those deemed "high risk," saw significant premium increases.
Meanwhile, there have also been three changes introduced by the Canadian Construction Documents Committee (CCDC) in its CCDC 2 – 2020 Stipulated Price Contract.
"The limits that are required from any one individual contractor on the base form have increased from $5 million in GL liability to $10 million, and there has been an addition of contractors' pollution liability insurance, which is a trend we've seen happening over the last 10 years in any case, but now it's been formalized and recognized by the CCDC, making its way into their base contract form," said Peter Toole, vice president and insurance practice leader at Petrela, Winter & Associates (PWA), a Navacord broker partner. "There's also been an interesting change with how long coverage has to be in place on a builder's risk policy."
Leading into the contract changes, PWA has seen firsthand the effects that shrinkage in the market has had on insureds. The decline in supply has been accompanied by an increase in pricing and a downward pressure on the breadth of coverage that's being given out. Taken together, these factors have created what Toole calls "a unique environment, where contractors have less ability to transfer risk to the insurance market, compared to just a couple of years ago, while they also have an increased need to do so."
Higher hazard liability risks that are under the microscope in the hardening market include contractors, such as industrial roofing contractors and those that are providing winter maintenance, including snow removal and ice management, as well as plumbing contractors that are working with water, "which is now the largest property peril loss driver in the construction business," explained Gregory Petrela, president and managing partner at Petrela, Winter & Associates.
On the surety side in Canada, an industry that was once on pace to have a second successive profitable year in Q3 2020, with claims hovering around 30% of premiums taken in, is now experiencing roadblocks, according to Navacord. Today, uncertainty reins due to fears that COVID-19 will persist and challenges brought about by the pandemic will finally catch up to financially strapped contractors. In turn, surety underwriters making decisions on the credit worthiness of contractors are now a lot more nervous.
Read next: Pandemic pullback: Putting financial market changes into perspective
"There's been a range of responses [from sureties] – some have reacted more conservatively to the unpredictability of the environment we're in right now, and that means reduced credit for contractors, so more difficult credit decisions are being made with not as much being extended," said Woody Brown, surety advisor and partner at Petrela, Winter & Associates. "But some sureties have more confidence in their contractor, or they're confident that the flow of construction work is still coming."
The biggest surety-related concern moving forward is how much work contractors will be able to secure as they build up their backlog of projects, especially after potentially seeing revenue declines in 2020. Sureties are going to be very mindful of that, noted Brown, "because one of the biggest risks in contracting is adding work too quickly … Getting work too fast after a down year and having inadequate resources can get you into financial trouble … and could put a strain on your cash flow."
As construction insureds navigate this evolving insurance marketplace, Petrela, Winter & Associates is here to help. The brokerage's only focus is the construction business, which means all of its insurance professionals spend their time immersed in this business, analyzing risks and learning about the exposures facing their clients. As a result, the firm can add a ton of value to contractors.
"We have a big toolbox that we rely on that your typical generalist insurance broker simply wouldn't use or know exists as a result of our immersion and 100% dedication to the construction business," said Petrela. "Our strength as an office lies in having that intimacy of knowledge of the space and the markets that play in that field, and we use that credibility to get the best out of the market."