Finding a way out of the "dense pandemic fog" | Insurance Business Canada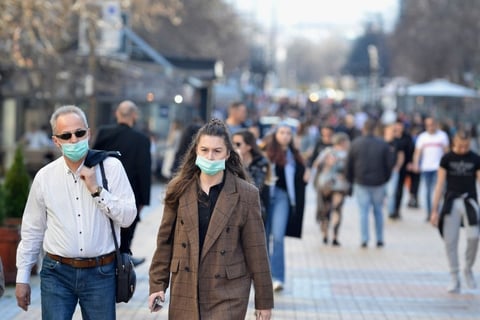 "We're currently in a bit of a dense pandemic fog, which is very difficult to see through."
That's how Lisa Guglietti, EVP and COO, P&C manufacturing, at The Co-operators Group, referred to the current underwriting performance of the property and casualty (P&C) insurance industry in Canada.
"There's no doubt that the pandemic has impacted some of the aggressive claims trends that we're seeing," she said at CatIQ Connect, "but a lot of these trends are temporary, and if you don't unpack that, it can really lead to a false sense of reality. Our job is to use our skills or knowledge to really ensure that we're oriented in the right direction."
She gave the analogy of driving through a dense fog. If you stop moving, you might get outpaced, you might get hit from behind, or you might lose your orientation and start heading in the wrong direction.
"Then you face a fairly surmountable challenge of not only reorienting yourself, but getting back on track," said Guglietti. "Knowing this, I think it's really imperative that we're looking through this [pandemic] fog in anticipation of what the world really looks like once we emerge from this current state.
"And from my perspective, I have no doubt that once this clears, our claims will continue to trend upwards in absence of systemic change or intervention. And the reason I feel that way is because when you look under the covers, there are pretty clear indicators that not all trends are moving in a favourable direction for us."
Read next: Broker on the key to supporting clients
One trend that has not been favourable for the insurance industry is the increase in the frequency and severity of catastrophic weather events, and the impacts that climate-related events are having on Canadian businesses.
In 2021, insured damages for severe weather events across Canada reached $2.1 billion, according to Catastrophe Indices and Quantification Inc. (CatIQ), making it the sixth highest loss year on record.
"That's starting to feel normal," said Guglietti, referring to the $2 billion insured CAT loss. "It's a bit of a scary statement. But I think back to how I reacted to Slave Lake, Fort McMurray, the Alberta flood, the Toronto flood, and then I think about the reaction to this year's Calgary hailstorm or the BC flood, and it feels different.
"The reality is, [dealing with weather events] is a bigger part of what we do day to day. We've all had to expand our capabilities, we all have to figure out how to deal with more volatility and more risk, hence my comment about it starting to feel a bit normal. The [CATs] are real, they're here, and likely, they're only trending to get worse over time."
Guglietti said the Canadian P&C insurance industry faces a challenge, and in order to remain relevant, insurers are going to have to expand their climate risk toolkits.
She said insurers will have to adapt their models to be more focused on loss prevention versus indemnity, and, with that, to empower clients through education, problem solving, and true partnership. She also encouraged insurers to make sure their pricing is forward-looking as opposed to being biased around historical events.
Read more: Canadian reinsurance leaders reflect on COVID, climate change, and the new normal
On the topic of true partnership with clients, she said: "I think one of the most important things that we do for our clients is to send them signals about the risks that they're facing. And I can say this because I'm an actuary - for the most part, we'd like to hide those signals in our price and our proprietary risk models, which really leads to a problem of asymmetric knowledge. We know more than they do.
"When prices go up, we tend to talk about the big trends, like catastrophes, large losses, cost to repair vehicles, and these are all very real and very true. But what I think we can do a better job of is really personalizing it for [each and every client] so that they understand what their drivers are and what or if they can do something about it.
"I think if we really want to help our clients, our businesses, our communities adapt to the current and new climate risks, we're going to have to start thinking about how we pull that story out of the packaged pricing, pull it out of the exclusions, and do that hard work of really having those conversations with them about risk, so that they can make those informed choices."
The good news is, Guglietti doesn't think there's a sector better placed to help Canadians manage their physical risk.
She commented: "We have the best tools, we have the best people, and we have the best foundation to build on. So, let's take this opportunity, and let's make those meaningful, yet potentially really difficult changes to our business model to help Canadians forge this path forward."