Lightning storm sparks new wildfires in BC | Insurance Business Canada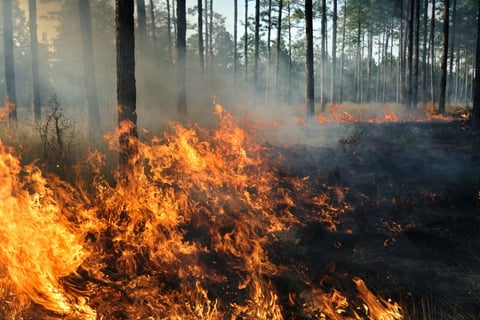 British Columbia's wildfire situation has grown more complicated, as a recent lightning storm has sparked new fires on Vancouver Island while crews continue to battle other weeks-long blazes elsewhere in the province.
According to Coastal Fire Centre representative Julia Caranci, there were more than 800 lightning strikes on Vancouver Island when the storm hit Wednesday, which led to 10 new wildfires in the northern and mid-island fire zones.
"Fortunately, at this time all of those fires are still considered spot fires and so we are getting to them quickly," Caranci said but she warned that more fires could be reported as the situation develops.
"The thing with lightning storms is that lightning fires can smoulder in the ground for hours and even days," the representative explained. "So it is highly likely that more fires could be reported from these strikes that we had today."
BC Wildfire Service superintendent of predictive services Neal McLoughlin said that the agency is currently monitoring a weather pattern coming from the US which could make conditions worse.
"It's going to bring convection and instability, which results in thunderstorms, and thunderstorms bring lightning so we are expecting new starts," McLoughlin told CBC News, additionally noting that the weather could also bring high winds that could fan the flames and spread them, while not bringing any rain.
"So although [rain] may subdue conditions for a day or two, our indices are going to continue to climb and we're not going to see enough rain to put the fires out."
Meanwhile, a wildfire continues to burn in the Okanagan region of BC, as cooler weather has helped fire crews control other blazes elsewhere in the province.
In a news conference Wednesday, BC Wildfire Service information officer Mikhail Elsay said that crews are facing difficulty fighting the 68-square-kilometre fire burning southwest of Penticton in the Okanagan.
"While we have been making good progress, this fire is still uncontained and out of control at this time, especially on the western flanks," the official said.
Thanks to new drone technology, crews have been able to identify which parts of the fire needed to be prioritized, Elsay explained. CBC News also reported that thanks to firefighting efforts, about four dozen households will be allowed to return to their properties.
But over 500 other homes remain under an evacuation order, which includes the entire community of Olalla. Another 1,000 homes have been placed under evacuation alert.