Yukon's 2022 wildfire season sets new historic record for area burned | Insurance Business Canada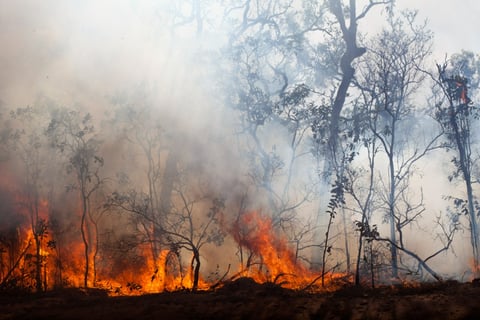 Wildfire season in Canada has not ended yet, but Yukon has reported that this year's total burned areas have surpassed the 25-year average.
Unusually dry and hot weather combined with lightning sparked over 160 fires last week in the territory. Firefighting was so intense that crews from BC were called on to control the flames.
As of July 13, 2022, Yukon saw 138,639 hectares burn due to wildfires. By comparison, the average area burned of the territory within a 25-year period was at 101,621, according to a report by the Canadian Interagency Forest Fire Centre (CIFFC).
It was also noted that the amount of area burned to date is more than five times the area burned last year during the same period. The total area burned in Yukon in 2021 from year start to July was only 22,648 hectares.
The latest report from the Yukon government also noted that the number of fires recorded for 2022 to date was at 244 – nearly six times more than the 42 wildfires in 2021.
When the fires began encroaching on neighborhoods and essential infrastructure, the Yukon government had ordered the evacuation of communities such as Stewart Crossing and the Silver Trail. But this week, the government rescinded the alert it had issued for communities in the Silver Trail area, including Moose Creek Lodge, Mayo, Elsa, Keno, and the Victoria Gold Mine site.
Cooler weather and increased rain had reduced fire activity and limited the formation of newer blazes, the government noted.
"Crews across the territory are working on getting fires out and under control during the downturn in weather," said Yukon Wildland Fire Management.
However, CBC News reported that an evacuation alert for Stewart Crossing remains in place.