What are the pressures facing the Canadian construction and roofing industry? | Insurance Business Canada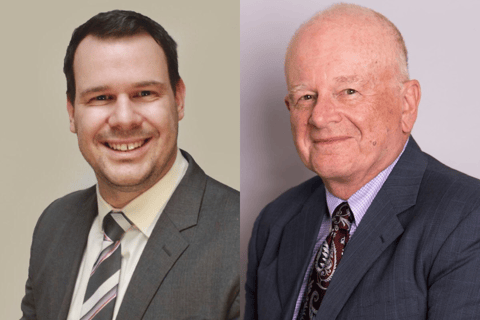 This article was produced in partnership with CNA Canada.
Gia Snape of Insurance Business sat down with two underwriting specialists from CNA Canada, Rob Herron and Mike Travis, to talk about the pressing issues within Canada's construction industry and roofing segment and how technological advancements are improving risk outcomes.
Economic uncertainties fuelled by mounting inflation and global supply chain delays are weighing into the construction industry – and underwriters are feeling the pressure. Project delays, material price increases, and labour shortages continue to impact premium costs for policyholders.
"In our builders' risk accounts, uncertainties are creating a visible impact on an individual basis," said Rob Herron (pictured), underwriting specialist and construction industry lead at CNA Canada.
"As a result, we receive broker inquiries to review insured values and requests for extensions. Supply chain effects have increased the difficulty of sourcing equipment and parts required for maintenance, significantly affecting our clients' contractor's equipment," Herron added.
Read more: What are the main uncertainties facing the construction industry?
The roofing sub-sector is facing similar challenges. Mike Travis (pictured), underwriting specialist at CNA Canada, states that from an enterprise risk management perspective, not all risks are transferable to an insurer, so industrial, commercial, and institutional (ICI) roofers are "taking a more robust approach to their overall enterprise risk."
"We have an influx of requests for business that is written on an adjustable basis, as opposed to charging fixed premiums for an annual period," Travis said. "The raw materials that go into the manufacturing of roofing products, like roof membranes, insulation boards, chemicals, adhesives, sealants – and more increased in price by about 20% in 2021. Disruption is not expected to abate anytime soon."
Across the construction industry, Travis also noted several trends: "More attention has been needed to insert price escalation clauses, product availability and substitute material provisions in tenders. The quotes contractors are making contain time-limited clauses contingent upon these price increases. We also see more emerging risks for contractors like cyber and management liability."
Labour crunch
Canada's construction industry is also grappling with a longstanding labour crunch exacerbated by COVID-19. According to BuildForce Canada's 2022-2027 Construction and Maintenance Looking Forward national forecast, approximately 156,000 workers, or about 13% of the construction workforce, will retire by 2027. However, the forecast estimated growth in worker demand at nearly 16,000, which means overall hiring needs will exceed 170,000 in five years. The pandemic has slowed the training and certification of new workers, impacting near-term labour availability.
These staggering numbers highlight organizations' need for succession planning and skill development to sustain Canada's construction workforce. Initiatives like Skilled Trades Ontario, a Crown agency launched in January, are also helping close the labour gap by improving training and access to services for tradespeople.
Travis noted that such efforts also promote construction trades like roofing as highly viable careers: "Roofing associations across Canada are trying to reposition the industry as a career destination. Many roofing installations in the ICI segment are the result of a team of architects, designers, estimators, consultants, project managers and skilled tradespeople."
Technology solutions
Work systems in industrial and commercial construction have changed dramatically over the last few years to make the best use of emerging technology. The advancements address the ongoing labour and supply issues in the industry and improve its risk profile.
"The uptake of technology can create shifts in the industry, hopefully improving the quality of the risks," Herron told Insurance Business.
One example of emerging technology improving risk outcomes for construction is automatic water sensors. Herron notes that water damage is one of the most significant risk factors in construction projects, making smart sensors an efficient way to detect leaks and prevent flooding.
"If we think about vertical construction projects – your high-rise condos, office towers, apartment buildings – often the case is that water is the largest exposure, rather than fire. Water moves down to multiple floors, potentially impacting elevators, which from a cost perspective is quite high," Herron explained.
Innovations also impact the roofing sector, making jobs safer and more efficient. A big trend is using drones or unmanned aerial vehicles (UAVs) to perform visual inspections on roofs, gather specifications and view completed work.
Using drones saves hours of manual labour, allows contractors to improve and increase the frequency of checks and reduces the risk of accidents. In a press release in March, WorkSafeBC said it received more than 4,000 claims for injuries from falls in 2021, with nearly 500 claims of serious injuries made from the construction sector.
Manufacturers and industry groups have also made noteworthy strides in promoting flameless alternatives for commercial roofing. Reducing the amount of torch-on modified bitumen work can lower personnel training costs and make job sites less hazardous. "Overall, the risk profile of many of these contractors will improve as they move towards alternate installation methods like cold applied or self-adhering systems," Travis pointed out.
There are advances in the non-traditional roofing systems, particularly the increased use of vegetated roof assemblies and solar photovoltaic panels. "The perceived benefit for the use of green roofs is the reduction of heat islands and water runoff. The use of solar panels is becoming more prevalent; providing a low cost, clean source of energy," explained Travis.
Read more: Tech helping construction industry clean up its carbon footprint
Technology is not just revolutionizing construction; it's also helping insurers better manage the exposures in the industry. Herron notes that as construction firms ramp up their tech use, insurers need to adjust their policies and they will likely do so through a warranty.
"Typically, a hot work warranty is applied, for exposures such as welding, cutting and open flame work. But as we move forward with technology, we may see an increase in warranties applied to ensure certain technologies are being utilized."
"Developing technology helps address exposures from a predictive state rather than a reactive state, providing a better opportunity to mitigate risks," Herron said.
As economic uncertainties continue to impact the construction and roofing industry, it is important for insureds and their brokers to stay vigilant when assessing and managing their risk. With labour shortages adding additional challenges to the industry, deploying new and innovative technologies and work methods are important.
[1] 'Canada Roofing' magazine; Spring/Summer 2022 Edition; Article, 'The Post-Covid World – What's Ahead for Construction' (John Kenny).
In Canada, products and services are provided by Continental Casualty Company, a leading specialist commercial property and casualty insurance provider for clients and brokers in all local geographies, backed by more than 100 years of experience. For more information, please visit CNA Canada at www.cnacanada.ca.
CNA is one of the largest U.S. commercial property and casualty insurance companies. Backed by more than 120 years of experience, CNA provides a broad range of standard and specialized insurance products and services for businesses and professionals in the US, Canada and Europe.