Managing construction safety and success | Insurance Business Canada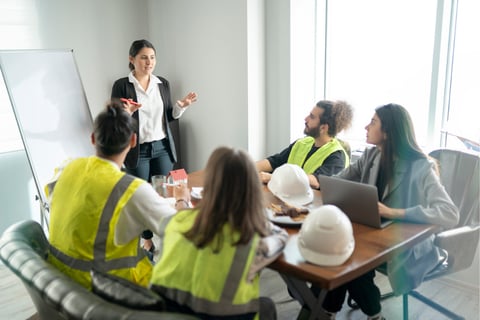 Any construction crew would know that a building is not made from just one substance – it is constructed out of a variety of materials and assembled through various means. And much like buildings, construction crews themselves are composed of various personnel and functions that work together to get projects done.
With so many contractors, designers, suppliers, trade workers, and even regulatory authorities involved, it can be tough for general contractors to ensure that everyone is on the same page and that the project is accomplished on time – even more so now when the COVID-19 pandemic and its economic effects continue to impact the construction industry. On top of the given complexity of construction projects, contractors now must account for things like enhanced workplace safety considering the pandemic, supply chain disruptions, labour shortages, and even inflation.
Specialty lines insurance firm Trisura Guarantee Insurance Company believes that because of these growing concerns, there is an urgent need for preparedness, as well as more frequent communication and planning. The company was named by Insurance Business Canada as 5-Star Construction 2022 winner under the professional liability category.
Read more: 5-Star Construction 2022
For Sara Ametrano, manager of content and communications at Trisura, contractors must work even more closely with their partners to not only ensure that a project is completed successfully, but also steers clear of any pitfalls.
"Clearly understanding today's complex landscape, including restrictions and potential interruption of supply, will play a critical role in revising or creating new contract wordings, policies and/or processes," Ametrano said. "In any business environment, a strong, open relationship and well-documented dialogue with all key business partners and trusted advisors should remain a top priority now more than ever."
Ametrano has also recommended that if there are projects that were interrupted due to the pandemic or other consequential reasons, contractors may want to consider seeking either legal or other professional advice. Professional advice can go a long way and can give contractors a wider view of the project and its potential exposures.
"To ensure a successful outcome when moving operations forward or drafting new plans, it is necessary to evaluate each of the following areas: scope of work, contractual obligations, the impact and associated costs of the disruptions, estimated costs remaining and the schedule for each stage of the project," she said.