SUM Insurance creates one-stop-construction-shop for brokers | Insurance Business Canada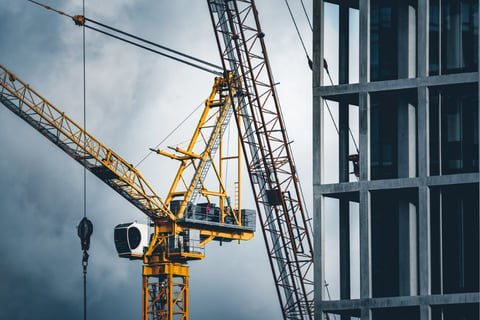 This article was produced in partnership with SUM Insurance.
Mallory Hendry, of Insurance Business, sat down with the team to dive into how SUM is meeting the needs of the construction sector not just with great products, but with a much-needed flexible approach.
Both brokers and insureds need insurance partners who speak their language, are sensitive to the volatile environment they're working in, and can provide the deep expertise and flexible approach required to tackle ever-changing conditions. In a hard market where there's a lack of underwriting capacity, appetite, and service, SUM Insurance is stepping up to do things differently.
"The insurance industry can't afford to continue to be conservative with this class," said Jeff Somerville, managing director of SUM Insurance. "The construction sector needs more, not less, insurance going forward, presenting an unprecedented opportunity to us."
A national MGA, SUM offers a suite of coverages for construction insurance needs – wrap-up liability, course of construction (builder's risk), and project specific EIL covers – but the trajectory of the robust sector drove SUM's interest in addressing it more fully. Despite the headwinds of inflation and rising interest rates, SUM's research indicates construction is forecasted to bring $127 billion to the Canadian economy by 2025, up from $80 billion in 2020. SUM seized the opportunity to broaden in-house capabilities, unite various product lines, and promote a one-stop-shop to brokers servicing this segment.
Bringing 15 years' experience in the construction space, Annick DeChamplain recently came aboard as national construction lead and senior GL underwriter. She developed the casualty construction portion of the MGA's enhanced product offering, earlier this year obtaining broader in-house authority and capacity for wrap-up liability.
"We provide value by harnessing our in-house underwriting expertise and competency in the market to the insurance capacity we have assembled for our new product offering," DeChampain said, adding brokers are looking for a responsive approach from experienced people who can provide insight on what to expect or what the terms and conditions should be.
"When brokers call, they're talking to a person who is able to provide turnaround almost the same day. That's something that really makes a difference in the industry and sets us apart from others in the marketplace."
Bob Bousfield, vice president and property practice leader, said there's not much he hasn't seen after more than three decades in insurance, but the current market is especially challenging. Some are withdrawing or restricting what they offer when it comes to builder's risk, including a competitor's hard stop at 24 months with no extensions offered. SUM avoids disappointment, Bousfield said, with a builder's risk product featuring five standard extensions: testing, soft costs, delayed start up, transit, and off-site.
"People living in the real world know it's hard to get drywall, or cement guys, or electricians, and know that these 18-month projects end up getting pushed and pushed and pushed," Bousfield said. "We offer common-sense solutions because we understand the construction manager is pulling their hair out already. One of our fortes is we can think, and, if something doesn't fit in one box, we're willing to try others."
Brian Tompkins, senior underwriter in SUM's commercial general liability practice, also sees the hard market giving rise to a lot of insurance providers who are "very much writing a product conducive to what their own aims are but that aren't effective in working with what contractors realistically deal with in their day-to-day."
"We provide certainty that we can accommodate a lot of these requests as opposed to concern that the policy they just took out isn't actually going to be effective," Tompkins said, pointing to SUM's advantage with their London placed casualty products which provides things like sudden and accidental pollution coverage on most construction risks, no aggregate limit, and easy insurance certificate/waiver of subrogation servicing.
"We adapt to the reality of the risk being presented rather than remain handcuffed to the often out-of-touch terms and conditions that some of the market sticks to."
From renovations to remote locations to large residential projects, whether it's an overlooked requirement – such as emergency repair work on a hydroelectric dam that needed wrap-up on an 11th-hour basis – or unique, one-off projects – for example, the installation of an MRI machine that involved cutting a hole in the hospital floor – SUM doesn't shy away from the tough, the unusual, or the time sensitive.
And for Tompkins, that willingness to make it work is key in combatting the uncertainty of the current environment. SUM "assists with the unexpected from many different angles because we're a broad authority who can action things as we need to as opposed to subscribing to a rigid system that would further turn off the construction industry with the way the insurance providers treat them."
"One of our core missions is to work collaboratively: we treat the process like a partnership," said Tompkins. "We're here to build long-term, effective business relationships by sourcing required insurance capacity and leveraging our underwriting acumen to keep the equation running smoothly."