Insurers, policyholders to brace for hail storm season | Insurance Business Canada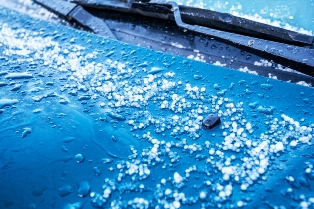 The beginning of June kicks off hail season in Canada –a particular concern in Alberta, where catastrophic wildfire-related damage has already pegged annual losses far above the average.
Rosa Nelson, vice president of sales and business development of
Intact
Insurance's Western Division, says that while it's difficult to know to what severity hail incidents will occur each year, the associated costs have increased over the past several years, though have since remained stable. "Eight to 10 years ago, we might not have seen such weather patterns and damage from hail," she says. "Over the last 5 years, we have had at least one bad storm per year in Alberta."
Damage arising from hail storms is the leading cause of severe thunderstorm loss, according to Steve Bowen of
Aon
Benfield and the Weather Channel, with the most common claim types being personal property homeowners and personal automobiles. Southern Alberta is at particular risk given its proximity to the mountains and rapidly shifting weather patterns.
The area sustained massive damages totalling $450 million in 2014, when tennis-ball sized hail pelted the Airdrie and Red Deer regions. In 2012, the province was struck with $700 million in hail-related costs.
The province is already coping with historic costs associated with massive wildfires, which have plagued the region since the beginning of May. However, the arid, hot conditions that led to the fire's rapid spread could indicate a milder-than-usual hail season.
"We are moving into storm season and hail season and the flipside to it is if it's dryer than usual, maybe we'll have less catastrophe claims relating to those types of activities," said Paul MacDonald, SVP & Chief Claims Officer at
RSA Canada
, in an interview with Insurance Business Canada. "It's very hard to predict – right now we're just trying to deal with this particular one."
Nelson adds that despite the huge costs absorbed thus far by insurers and reinsurers by the fires, the upcoming hail season is not expected to contribute significantly to losses this year.
"We factor in natural disasters when developing price and product, but do not rely on any one event - or any one peril - to significantly change or lead what we offer," she says.
The
Insurance Bureau of Canada
says it's especially important for auto owners to check with their brokers prior to a major storm to ensure their policies are up to date.
RELATED LINKS:
Liberals defend budget deficit plan